MSI MPG Z790 EDGE TI MAX WIFI LGA 1700 (14th,13th,12th Gen) DDR5 Intel Z790 SATA 6Gb / s ATX Motherboard 8x SATA 6Gb 5x M.2 slot Wi-Fi 7 Bluetooth 2.5Gbps LAN
MSI MPG Z790 EDGE TI MAX WIFI LGA 1700, Supports Intel Core 14th Gen / 13th Gen / 12th Gen, Pentium Gold and Celeron processors for LGA 1700 socket and Supports DDR5 Memory, up to 7800+(OC) MHz, Gigabit LAN 2.5G, Wi-Fi 7, Supports Bluetooth 5.4, Support for Microsoft Windows 11 Home & Windows 10 Home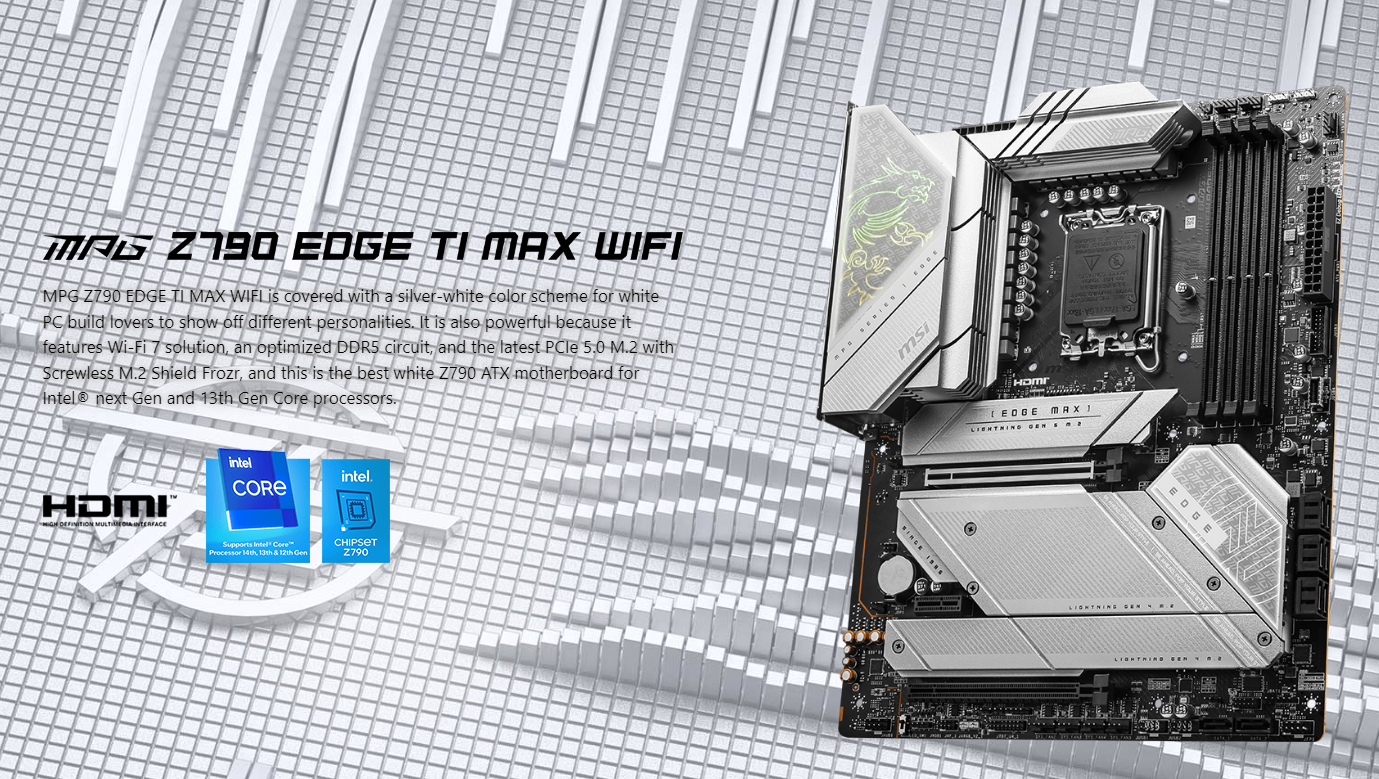 MPG Z790 EDGE TI MAX WIFI is covered with a silver-white color scheme for white PC build lovers to show off different personalities. It is also powerful because it features Wi-Fi 7 solution, an optimized DDR5 circuit, and the latest PCIe 5.0 M.2 with Screwless M.2 Shield Frozr, and this is the best white Z790 ATX motherboard for Intel® next Gen and 13th Gen Core processors.
MPG Z790 EDGE TI MAX WIFI
Supports Intel® Core™ Next-gen / 13th Gen / 12th Gen, Pentium® Gold and Celeron® processors for LGA 1700 socket

Supports DDR5 Memory, up to 7800+(OC) MHz

Lightning Fast Game experience: PCIe 5.0 slot, Lightning Gen 5 x4 M.2, USB 3.2 Gen 2x2

Enhanced Power Design: 16+1+1 Mirrored Power Arrangement, dual 8-pin CPU power connectors, Core Boost, Memory Boost

Premium Thermal Solution: Enlarged heatsink with heat-pipe, MOSFET thermal pads rated for 7W/mk, additional choke thermal pads and M.2 Shield Frozr are built for high performance system and non-stop gaming experience

2.5G LAN and Wi-Fi 7 Solution: Upgraded network solution for professional and multimedia use. Delivers a secure, stable and fast network connection

AUDIO BOOST 5: Reward your ears with studio grade sound quality for the most immersive gaming experience

High Quality PCB: 6-layer PCB made by server grade level material

Pre-installed I/O Shield: Better EMI protection and more convenience for installation
The MPG series brings out fashionable products by showing extremely unique styles and expressing a conceited attitude towards the challenge of the gaming world. With extraordinary performance and style, the MPG series defines the future of gaming fashion.
EASY TO BUILD : TOOL-FREE M.2 INSTALLATION
Industrial first Magnetic with patented Screwless M.2 Shield Frozr & EZ M.2 Clip provide the easiest way for M.2 Installation.
EASY TO USE
LESS STEPS, CONTROL EASILY
COOLING OVERVIEW
DIY 2.0 – INTEGRATING WITH THE SYSTEM ENVIRONMENT
Connect and synchronize with MSI coolers and cases with strategically positioned pin-header locations including a dedicated pump-fan header.
 FULLY FAN CONTROL
CONTROL IN ONE CLICK

FROZR AI COOLING
AUTO DETECT YOUR FAN
 WATER COOLING
DUAL PUMP FAN HEADER FOR OPTIMIZED WATER COOLING
Designed to support the most popular All-In-One & customized water cooling solutions on the market, MEG Z790 ACE MAX features the exclusive dual pump PIN headers to fit multiple water cooling solutions demands. The dedicated pump PIN header supports up to 3 amp, giving you full control of the water pump speed. A clearly marked 'keep-out-zone' allows for easy, safe installation and a perfect fit.
LIGHTNING GEN 5 PCI-E WITH STEEL ARMOR
FAST AND FUTURE-READY STORAGE
MSI MPG series motherboards support all the latest storage standards, which allows users to connect any ultra-fast storage device. Start games faster, load levels faster and have a real advantage over your enemies.
MEMORY
LATEST DDR5 MEMORY WITH SMT SLOT
A huge step of DDR performance enhancement with the latest DDR5 memory. Combines with dedicated SMT welding process and MSI Memory Boost technology, MPG Z790 EDGE TI MAX WIFI is ready to deliver the world class memory performance.
EASY OVERCLOCKING WITH XMP PROFILE
The XMP (Extreme Memory Profiles) in MSI BIOS are tested and certified by MSI OC LAB. It is easy to enable with auto power settings to get the best memory speed and stability.
BIOS & SOFTWARE
MSI CENTER
MSI brand new MSI Center unifies a suite of MSI software utilities into a single centralized application. Take control of advanced motherboards features and unleash endless possibilities.

CLICK BIOS 5
Get more from a loaded BIOS designed for ease of use. Fine-tune the motherboard for gaming performance, efficiency, or overclocking world records!
Choose from a preset XMP profile and automatically overclock compatible DDR memory.
VMD (VOLUME MANAGEMENT DEVICE)
Enable direct control and management of NVMe SSDs from the PCIe bus without additional hardware adaptors.
Conveniently flash or upgrade the BIOS in a few minutes from the CMOS Setup Utility.
Get immediate access to your critical hardware information in real-time including temperature, memory capacity, clock speed, and voltage.
Get extreme speed out of your system memory and get more performance.
A permanent search & favorite option in the top right corner moves you through the BIOS menus quickly.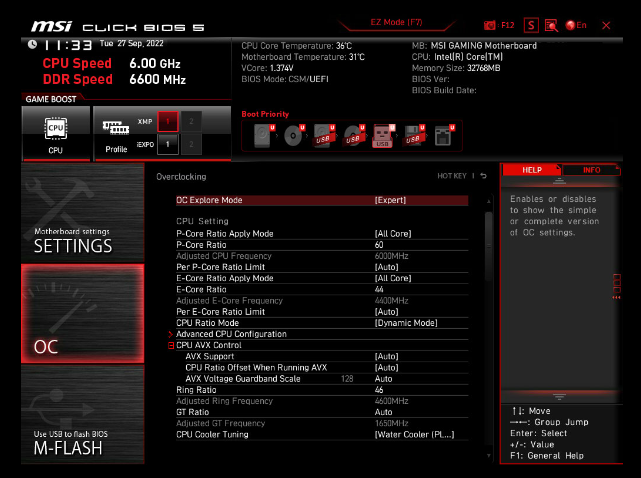 EXCLUSIVE UI OF AIDA64 EXTREME
MSI motherboards provide 60 days free trial of AIDA64 Extreme - MSI edition. AIDA64 Extreme is an almighty application for system information, diagnostics and benchmarks. With the application, you can monitor the detailed hardware and software information on PC and save it to file in multiple formats such as CSV and HTML.
OPT-IN TO CYBER SAFETY WITH NORTON 360 DELUXE
Multiple layers of protection for your devices, online privacy features including our Secure VPN, plus Dark Web Monitoring - all in a single solution. With MSI motherboards, you can enjoy a 60-day free trial of Norton 360 Deluxe.

The MSI trial offer is not available for existing Norton customers. If you have an active Norton subscription, you will need to opt-out of the existing subscription to be eligible for this offer. For Important Subscription, Pricing and Offer Details, please refer to NortonLifeLock License and Services Agreement. NortonLifeLock Product and Service Privacy Notices.
RESIZABLE BAR
Resizable BAR (Re-Size BAR) is an advanced PCI Express feature that enables the CPU to access the entire GPU frame buffer at once and improve performance.
AUDIO BOOST 5
THE ISOLATED ANALOGY STRUCTURE FOR AUDIO CONNECTORS
To provide clear voice, MSI develops a unique structure – Isolated Analogy Structure. The external metal framework of the audio connectors is separated from the internal layout, which ensures the sound quality crisp.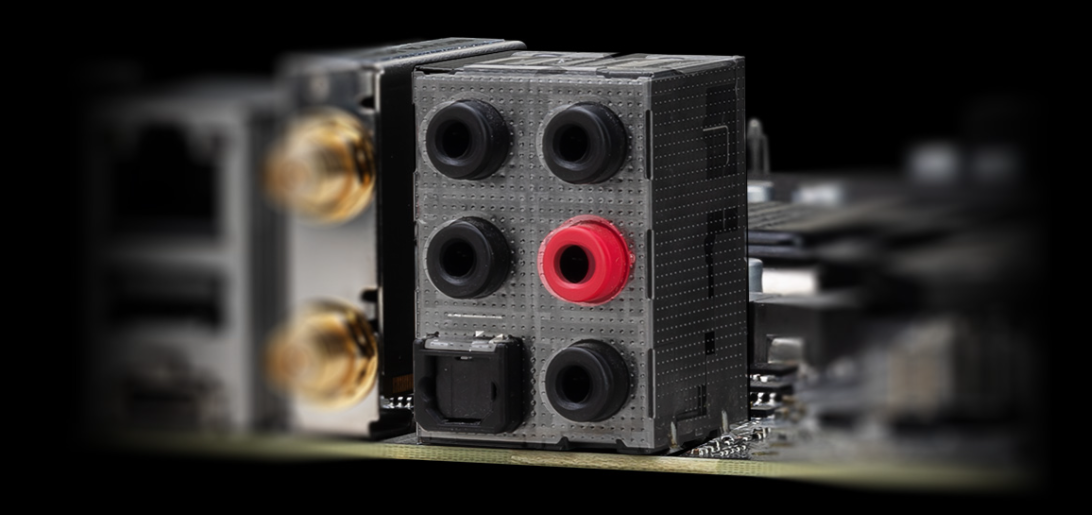 MYSTIC LIGHT
GLOW YOUR PC
Splash on some color and vibrant RGB lighting effects using MSI Mystic Light with 16.8 million colors and fancy LED effects. MSI Mystic Light provides you complete control of RGB lighting of your PC in one software.
EXTEND YOUR RGB EXPERIENCE WITH EASE
Add more color if you want! Mystic Light Extension pin header provides an intuitive way to control additional RGB strips and other RGB peripherals added to a system, without needing a separate RGB controller.
ADDITIONAL FAN AND ARGB HEADER
The MSI exclusive JAF header allows MSI's own Daisy-Chained fan to operate with a single cable. Alternatively, the JAF header can be converted into additional ARGB gen 1 and FAN headers by using a dedicated Y-cable, streamlining and optimizing the entire building process.
NETWORKING
DUAL 2.5G LAN WITH WIFI 7
HIGH-BANDWIDTH AND LOW-LATENCY NETWORK
MSI's premium network solution provides incredible data transfer speed for demanding users.
THE NEXT GEN WI-FI SOLUTION – WI-FI 7
Wi-Fi 7 is the latest wireless solution that takes a huge leap forward with multiple improvements to meet the traffic demand brought and the growing number of wireless devices.
*Windows 11 compatibility only
Wi-Fi 7 (802.11be) introduced higher speeds, wider channels, improved efficiency, and reduced latency over Wi-Fi 6 (802.11ax). It also improved battery life and provided better performance in crowded environments.
The Wi-Fi 7 provides maximum speeds to a whopping 5.8 Gbps! 2.4 times faster than previous Wi-Fi 6/6E standards, Wi-Fi 7 is set to be the wireless standard of the future.
Previous Wi-Fi generations have had to make do with 160MHz channel widths. Wi-Fi 7 brings this width up to 320MHz (on 6GHz) – ensuring better reliability during simultaneous transmissions at max speeds.
The higher QAM(Quadrature Amplitude Modulation) value, the more data each packet can carry. Wi-Fi 7 improves the modulation scheme from 1024-QAM to 4096-QAM – boosting peak transmission rates and network capacity.
Wi-Fi 7 enables devices to simultaneously send and receive data across several frequency bands and channels to meet the traffic demand brought and the growing number of wireless devices.
General
Brand
MSI
Model
MPG Z790 EDGE TI MAX WIFI
Specification
CPU Socket Type
Support Intel Core 14th, 13th and 12th Gen Processors, Intel Pentium Gold, Celeron Processor and Intel Processor 300(T)
LGA 1700
Chipset
Intel Z790
Memory
4x4x DDR5 UDIMM, Maximum Memory Capacity 192GB Memory Support 7800+(OC)/ 7600(OC)/ 7400(OC)/ 7200(OC)/ 7000(OC)/ 6800(OC)/ 6600(OC)/ 6400(OC)/ 6200(OC)/ 6000(OC)/ 5800(OC)/ 5600(JEDEC)/ 5400(JEDEC)/ 5200(JEDEC)/ 5000(JEDEC)/ 4800(JEDEC) MHz
Max. overclocking frequency:
• 1DPC 1R Max speed up to 7800+ MHz
• 1DPC 2R Max speed up to 6600+ MHz
• 2DPC 1R Max speed up to 6400+ MHz
• 2DPC 2R Max speed up to 5600+ MHz Supports Intel XMP3.0 OC
Supports Dual-Controller Dual-Channel mode
Supports non-ECC, un-buffered memory
Onboard Graphics
1x HDMI
Support HDMI™ 2.1, maximum resolution of 4K 60Hz* 1x DisplayPort
Support DP 1.4, maximum resolution of 8K 60Hz* *Available only on processors featuring integrated graphics. Graphics specifications may vary depending on the CPU installed.
Slots
2x PCI-E x16 slot
1x PCI-E x1 slot
PCI_E1 Gen PCIe 5.0 supports up to x16 (From CPU)
PCI_E2 Gen PCIe 3.0 supports up to x1 (From Chipset)
PCI_E3 Gen PCIe 4.0 supports up to x4 (From Chipset)
Storage
5x M.2
M.2_1 Source (From CPU) supports up to PCIe 5.0 x4 , supports 22110/2280/2260 devices
M.2_2 Source (From Chipset) supports up to PCIe 4.0 x4 , supports 2280/2260 devices
M.2_3 Source (From Chipset) supports up to PCIe 4.0 x4 / SATA mode, supports 2280/2260/2242 devices
M.2_4 Source (From Chipset) supports up to PCIe 4.0 x4 , supports 2280/2260/2242 devices
M.2_5 Source (From Chipset) supports up to PCIe 4.0 x4 , supports 2280/2260 devices
8x SATA 6G
RAID
Supports RAID 0, RAID 1, RAID 5 and RAID 10 for SATA storage devices
Supports RAID 0, RAID 1, RAID 5 and RAID 10 for M.2 NVMe storage devices * SATA_A1~A2 do not support RAID function.
LAN
2x Intel 2.5Gbps LAN
Wireless & Bluetooth
Wi-Fi 7 Solution
The Wireless module is pre-installed in the M.2 (Key-E) slot
Supports MU-MIMO TX/RX, 2.4GHz / 5GHz / 6GHz* (320MHz) up to 5.8Gbps
Supports 802.11 a/ b/ g/ n/ ac/ ax
Supports Bluetooth 5.4**, MLO, 4KQAM * 6GHz band support may depend on every country's regulations and Wi-Fi 7 will be ready in Windows 11 SV3.
** The Bluetooth version may be updated, please refer to the Wi-Fi chipset vendor's website for details. Bluetooth 5.4 support schedule depends on MSFT Windows 11 plan.
Audio
Realtek ALC4080 Codec
7.1-Channel USB High Performance Audio
Supports up to 32-Bit/384 kHz playback on front panel
Internal I/O
1x Power Connector(ATX_PWR)
2x Power Connector(CPU_PWR)
1x CPU Fan
1x Pump Fan
6x System Fan
2x Front Panel (JFP)
1x Chassis Intrusion (JCI)
1x Front Audio (JAUD)
1x TBT connector (JTBT, supports RTD3)
1x Tuning Controller connector(JDASH)
3x Addressable V2 RGB LED connector (JARGB_V2)
1x RGB LED connector(JRGB)
1x TPM pin header(Support TPM 2.0)
4x USB 2.0 ports
2x USB 3.2 Gen1 Type A ports
1x USB 3.2 Gen2 Type C ports
1x ARGB+FAN Header (JAF_1)
1x USB4 card connector (JTBT_U4_1, supports RTD3)
USB
4x USB 2.0 (Front)
4x USB 3.2 Gen1 Type A (Rear)
2x USB 3.2 Gen1 Type A (Front)
4x USB 3.2 Gen2 Type A (Rear)
1x USB 3.2 Gen2 Type C (Rear)
1x USB 3.2 Gen2 Type C (Front)
1x USB 3.2 Gen2x2 Type C (Rear)
LED Feature
4x EZ Debug LED
1x EZ LED Control switch
Back Panel Ports
Display Port
USB 3.2 Gen 1 5 Gbps (Type-A)
USB 3.2 Gen 2 10Gbps (Type-A)
2.5G LAN
Audio Connectors
HDMI
Clear CMOS
Flash BIOS
USB 3.2 Gen 2 10Gbps (Type-C)
USB 3.2 Gen 2x2 20Gbps (Type-C)
Wi-Fi / Bluetooth
Optical S/PDIF Out
Operating System
Support for Microsoft Windows 11 Home, Windows 10 Home
Physical Spec
Dimension
ATX 12.0" x 9.6"