MSI Infinite RS 13NUI-420US Gaming Desktop w / NVIDIA GeForce RTX 4090 GAMING TRIO 24GB GDDR6 (Core i9-13900KF & Liquid Cooling)
$4,099.00

$4,499.00

$400.00

Ground Shipping

FREE
OR
Intel 13th Gen Core i9-13900KF & 360mm Liquid Cooling, RTX 4090 GAMING TRIO (24GB) GDDR6, 32GB DDR5 4800MHz Memory, 2TB PCIe NVMe Gen 4.0 SSD M480 + 2TB (3.5") 7200RPM HDD, Win 11 Pro, Keyboard & Mouse Included
Infinite RS 13NUI-420US824142304259EX783810
In StockNew1 Year (USA)
MSI Infinite RS 13NUI-420US (Intel 13th Gen), Intel Core i9-13900KF (3.0GHz - 5.8GHz) Processor, 32GB (2x 16GB) DDR5 4800MHz Memory, 2TB PCIe NVMe 4.0 SSD + 2TB (3.5") 7200RPM HDD, NVIDIA GeForce RTX 4090 GAMING TRIO (24GB) GDDR6 Graphics Card, Microsoft Windows 11 Professional, Intel (2.5Gbps) LAN, WiFi 6E AX211, Bluetooth 5.2, HDMI, 4x USB 3.2 Type A (Gen 1), 3x USB 3.2 Type A (Gen 2), USB 3.2 Type C (Gen 1), USB 3.2 Type C (Gen 2), 2x USB 2.0, Keyboard & Mouse Included
Description
Specification
Benchmarks
Related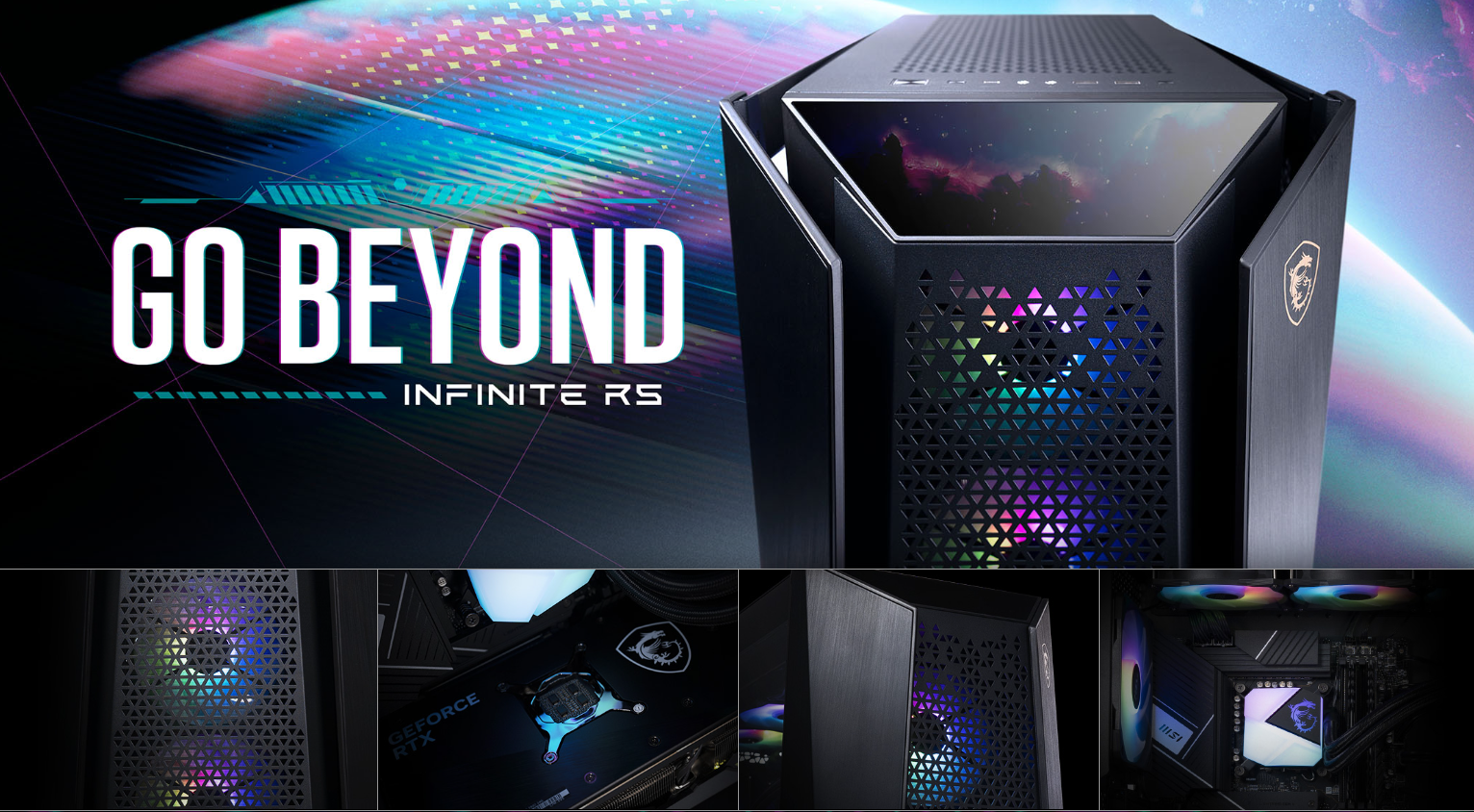 Infinite RS 13th
Windows 11 Home

Up to 13th Generation Intel® Core™ i9-13900KF gaming processor

Up to MSI GeForce RTX™ 4090 SUPRIM LIQUID graphics card

Upgrade-Friendly Design - Standardized Components for easy maintenance

MSI Z790 Chipset Motherboard - A durable, high-performance motherboard made for gaming and compatible with the latest 13th Gen Intel® processors

360mm CoreLiquid RGB Cooling - Keeps system stable and running great during long gaming sessions

MSI's LED Button - Customize your desktop with a myriad of lighting effects. Press and Hold for Mystic Light software compatibility.

Powerful Wi-Fi 6E for an ultra-fast wireless gaming experience

Supports the latest DDR5 memory

PCIe Gen 5 bandwidth support, improved workloads, and render capabilities

Enrich your experience with included MSI software.
INFINITY AND BEYOND
The PC for true gaming fanatics has arrived! Enter the Infinite RS - meant for those looking to unlock the ultimate experience modern gaming has to offer. Turn your settings to the MAX and be in the driver's seat of no-compromise gaming with stellar visuals and unparalleled FPS performance in AAA titles, even on high-resolution monitors. Assembled in the USA with high-quality MSI components, the Infinite RS pushes all boundaries to the extremes thanks to the combination of bleeding edge technology from Intel and NVIDIA ensuring users can harness the very best technology available in the market today.
13TH GENERATION INTEL® CORE™ I9 PROCESSOR : BEYOND PERFORMANCE
Built for gamers looking for maximum performance to play the latest games, while also having the capabilities to tackle other workloads. The Intel® Core™ i9-13900KF processor is equipped with 8 performance cores (P-core) and 16 efficiency cores (E-core), which can simultaneously help with the multitasking needs of gamers and provide a smooth gaming experience.
NVIDIA® GEFORCE RTX® 40 SERIES : BEYOND FAST
NVIDIA® GeForce RTX® 40 Series GPUs are beyond fast for gamers and creators. They're powered by the ultra-efficient NVIDIA Ada Lovelace architecture which delivers a quantum leap in both performance and AI-powered graphics. Experience lifelike virtual worlds with ray tracing and ultra-high FPS gaming with the lowest latency. Discover revolutionary new ways to create and unprecedented workflow acceleration.
840x2160 Resolution, Highest Game Settings, DLSS Super Resolution Performance Mode on RTX 40 Series, i9-12900K, 32GB RAM, Win 11 x64. All DLSS Frame Generation data and Cyberpunk 2077 with new Ray Tracing: Overdrive Mode based on pre-release builds.
ASSEMBLED IN USA GAME WITH LONGEVITY
Infinite RS systems are assembled in the USA for those who want a DIY-style rig without the initial headache of thoroughly planning their build and spending hours putting everything together, hoping every part functions correctly. Skip ahead and hit the ground running with quality components from MSI and its partners, knowing fully that everything is compatible out of the box. Want to upgrade your GPU, RAM or Storage capacity in a few years? The option is there with MSI systems thanks to standardized PC components, something not always possible from others.
*Components vary based on configuration. Check the compatibility of parts before upgrading.
RGB GAMING RIG TURN ON THE BRIGHT LIGHTS
Put your own stamp on your gaming rig with RGB lighting that lets you animate your battle station by simply pressing the MSI LED button to cycle through a large array of lighting options. Customize lighting even further with MSI Center Mystic Light software - Simply press and hold the LED button for 3 seconds to toggle software mode. Want to go stealth? Just press and hold the LED button for 7 seconds to game in darkness.
*The spec will vary according to country and territory, please check with your local MSI retailer for details.
CASE COOLING STAY FROSTY
Be alert and ready for action thanks to the combination of MSI's exclusive 360mm CoreLiquid CPU liquid cooler alongside the powerful 140mm multi-fan system within the Infinite RS. High thermals within a computer can cause lag or crashes during long gaming sessions. A 3-fan intake system and rear exhaust fans team up with the powerful radiator to bring cool air in and quickly get the hot air out so you can keep your head in the game for as long as it takes.
*This function may vary by model.
WIFI 6E EXTRAORDINARY WIRELESS EXPERIENCE
The latest Wi-Fi 6E delivers stunning speed while keeping the network connection smooth and stable even when sharing the network with numerous users. With its outstanding throughput and low latency, you just beat others to it.
*Compared to 802.11 ac with based on theoretical maximum speeds in 5GHz transmission.
*Wi-Fi 6E devices is backward compatible with older 2.4 and 5 GHz Wi-Fi 6 devices.
MOUSE AND KEYBOARD BUNDLE READY TO RUMBLE OUT OF THE BOX
The included MSI gaming mouse and keyboard bundle lets you get into the action from the start. The keyboard is built with mechanical-like plunger switches for a crisp typing experience while also providing various hotkeys and RGB lighting options. The comfortable gaming mouse lets you instantly cycle through five DPI presets to adjust your accuracy so you can clutch out any situation.
General
Brand
MSI
Model
Infinite RS 13NUI-420US
Color
PROSPECT 700RL
Highlights
MSI Infinite RS 13NUI-420US (Intel 13th Gen), Intel Core i9-13900KF (3.0GHz - 5.8GHz) Processor, 32GB (2x 16GB) DDR5 4800MHz Memory, 2TB PCIe NVMe 4.0 SSD + 2TB (3.5") 7200RPM HDD, NVIDIA GeForce RTX 4090 GAMING TRIO (24GB) GDDR6 Graphics Card, Microsoft Windows 11 Professional, Intel (2.5Gbps) LAN, WiFi 6E AX211, Bluetooth 5.2, HDMI, 4x USB 3.2 Type A (Gen 1), 3x USB 3.2 Type A (Gen 2), USB 3.2 Type C (Gen 1), USB 3.2 Type C (Gen 2), 2x USB 2.0, Keyboard & Mouse Included
Processor
Type
Intel 13th Gen Raptor Lake Core i9-13900KF Processor
# of Cores
24
# of Threads
32
Clock Speed
3.0 GHz
Max Turbo Frequency
5.8 GHz
Intel Smart Cache
36 MB
Chipset
Intel Z790
Operating System
Operating System
Microsoft Windows 11 Professional
Graphics
GPU (Graphic Accelerator)
NVIDIA GeForce RTX 4090 GAMING TRIO (24GB) GDDR6 Graphics Card
Memory
Standard Memory
32GB (2x 16GB) DDR5 4800MHz
Number of SODIMMS
4 Socket, Max Memory 128GB
Hard Drive & Optical Drive
HDD Capacity
2TB PCIe NVMe 4.0 SSD M480 + 2TB (3.5") 7200RPM HDD
Optical Drive
N/A
Communication
Network / Communication
LAN : Intel (2.5Gbps)
Wireless LAN : WiFi 6E AX211
Bluetooth 5.2
Audio
Audio
7.1 HD Audio (Realtek ALALC4080)
Slots / Interface
Expansion Slots
1x Mic in / 1x Headphone-out
Video Port
3x DisplayPorts (1.4a)
1x HDMI-out (2.1)
Front I/O Port
2x USB 3.2 Type A (Gen 1)
1x USB 3.2 Type C (Gen 1)
Rear I/O Port
2x USB 3.2 Type A (Gen 1)
3x USB 3.2 Type A (Gen 2)
1x USB 3.2 Type C (Gen 2)
2x USB 2.0
Input Device
Keyboard
Keyboard & Mouse Included
Touchscreen
N/A
Power
Power Supply
MPG A1000G
Physical Spec
Dimension
8.46" x 16.54" x 18.7"
Unit weight
52 lbs
Warranty
Manufacturer Warranty
1 Year Warranty