ASUS Zenbook Pro 16X OLED (UX7602ZM-XB96T) 16" 4K OLED (100% DCI-P3) Touchscreen Laptop w / NVIDIA GeForce RTX 3060 6GB GDDR6 - Tech Black (Core i9-12900H & Windows 11 Pro)
$2,999.99

Ground Shipping

FREE
OR
Intel 12th Gen Core i9-12900H, 4K OLED Touchscreen, RTX 3060 (6GB) GDDR6, 32GB LPDDR5 Onboard Memory, 2TB NVMe SSD, Thunderbolt 4, Win 11 Pro, Backpack, Stylus and USB-A to RJ45 Gigabit Ethernet Adapter included
UX7602ZM-XB96T195553632720EX781908
Pre-orderNew1 Year USA (1 Year Global)
Includes Free Item – $49.99 value

ASUS EOS Carry Bag - Grey (Water Resistant)
ASUS Zenbook Pro 16X (UX7602ZM-XB96T), Intel Core i9-12900H (2.5GHz - 5.0GHz) Processor, 16" 4K OLED (3840 x 2400) Touchscreen (100% DCI-P3) Display (HDR 400 nits Brightness), 32GB LPDDR5 Onboard Memory, 2TB NVMe PCIe 4.0 SSD, NVIDIA GeForce RTX 3060 (6GB) GDDR6 Graphics Card, Wi-Fi 6E (802.11ax), Bluetooth 5.2, 2x Thunderbolt 4, 1x USB 3.2 Type A (Gen 2), FHD IR Camera, Harman Kardon Audio, White Backlit Keyboard, Microsoft Windows 11 Professional, Backpack, Stylus and USB-A to RJ45 Gigabit Ethernet Adapter included.
Zenbook Pro 16X OLED
Incredible Comes From Originality
World's first laptop with innovative AAS Ultra design
Zenbook Pro 16X OLED is a no-compromise creator laptop with a wealth of innovative design features and a brand-new all-metal design. It uses a world-leading 16:10 4K OLED HDR NanoEdge touchscreen1, and it's powered by a 12th Gen Intel® processor and an NVIDIA® GeForce RTX™ 3060 GPU. The new Active Aerodynamic System Ultra (AAS Ultra) mechanism powers the auto-tilting keyboard that ensures a comfortable typing angle, and the system also enhances system cooling for maximum performance. There's an all-new White RGB intelligent lighting system that enables smart interactivity features. The innovative ASUS Dial allows precise fingertip control of creative parameters in Adobe® apps, while the new larger ASUS NumberPad features haptic feedback and enhanced pressure sensitivity for easier number entry. Zenbook Pro 16X OLED redefines what a creator laptop should be, and helps you take your creativity to the next level.
ASUS No.1 Creator: GFK and NPD combined retail data in Feb, 2022, NVIDIA Studio laptop of worldwide market.
ASUS No.1 OLED: GFK and NPD combined retail data in 2021 Q4~2022 Q1, worldwide market.
AAS ULTRA
Elevate your experience
The precision-engineered AAS Ultra mechanism raises the rear of the keyboard by up to 14.5 mm, tilting it by 7° when Zenbook Pro 16X OLED is opened. This positions it at the perfect angle for comfortable typing. It also enhances cooling by allowing 30% more airflow. This in turn reduces the laptop's surface temperature by up to 7°C2, increasing both comfort and CPU performance. And finally, the tilting mechanism directs the sound from the dual tweeters to create a better stereo image for enhanced listening pleasure.
DESIGN
Created to create
With its sophisticated matte Tech Black livery, glossy detailing and all-metal construction, Zenbook Pro 16X OLED has a totally sophisticated look and feel. The unibody is CNC-machined for solidity from super-tough aerospace-grade 6000-series aluminum alloy, and the anti-fingerprint coating on the outer surfaces keeps the elegant finish pristine. Meanwhile, the lid features the iconic spun-metal Zenbook finish with our new illuminated monogram logo placed proudly in the center.
PERFORMANCE
Unrivaled performance
Delivering the ultimate performance, the flagship 12th Gen Intel Core i9-12900H processor in Zenbook Pro 16X OLED is capable of handling any creative task, and the studio-grade NVIDIA GeForce RTX 3060 GPU supplies effortless graphics power. To unleash the full capabilities of this powerful combination, the ASUS IceCool Pro cooling system works with the AAS Ultra technology to keep everything cool and unthrottled, even at the maximum 140-watt combined TDP. Additionally, 32 GB of fast RAM and an ultrafast 2 TB PCIe® 4.0 x4 SSD ensure there are no memory or storage bottlenecks to slow your creativity down.
THERMAL TECHNOLOGY
Stay cool with AAS Ultra and IceCool Pro
Zenbook Pro 16X OLED uses high-performance components that need to be cooled effectively in order to reach their full potential. This starts with the ASUS IceCool Pro cooling system, which uses two quiet IceBlades fans, each with 97 3D-curved blades. These cool the 3D vapor chamber and the aerospace-grade 5 mm heat pipe from the CPU and GPU, and the hot air is vented efficiently to the exterior via the new AAS Ultra mechanism with its 14.5 mm keyboard lift. The result is that the CPU and GPU can run at up to an 140 W combined TDP in Performance mode without throttling, and can run quieter than 40 dB in Standard mode.
CPU
Ultimate creative power
Empower your creativity with the latest 12th Gen Intel Core i9-12900H processor. It has fourteen cores for effortless multitasking and a Turbo Boost speed of up to 5.0 GHz. Its 85 W maximum TDP gives you the edge when it comes to CPU-heavy tasks, so you'll be able to spend less time waiting and more time creating.
GPU
Studio-grade graphics
A high-performance GPU is essential when it comes to graphics-intensive graphics tasks such as cinematic-quality 3D rendering and high-resolution video editing. The studio-grade GeForce RTX 3060 GPU in Zenbook Pro 16X OLED has advanced AI-augmented features and capabilities that help it blitz through the toughest visual tasks. And for peace of mind, the best compatibility, performance and stability are assured by the NVIDIA Studio Driver.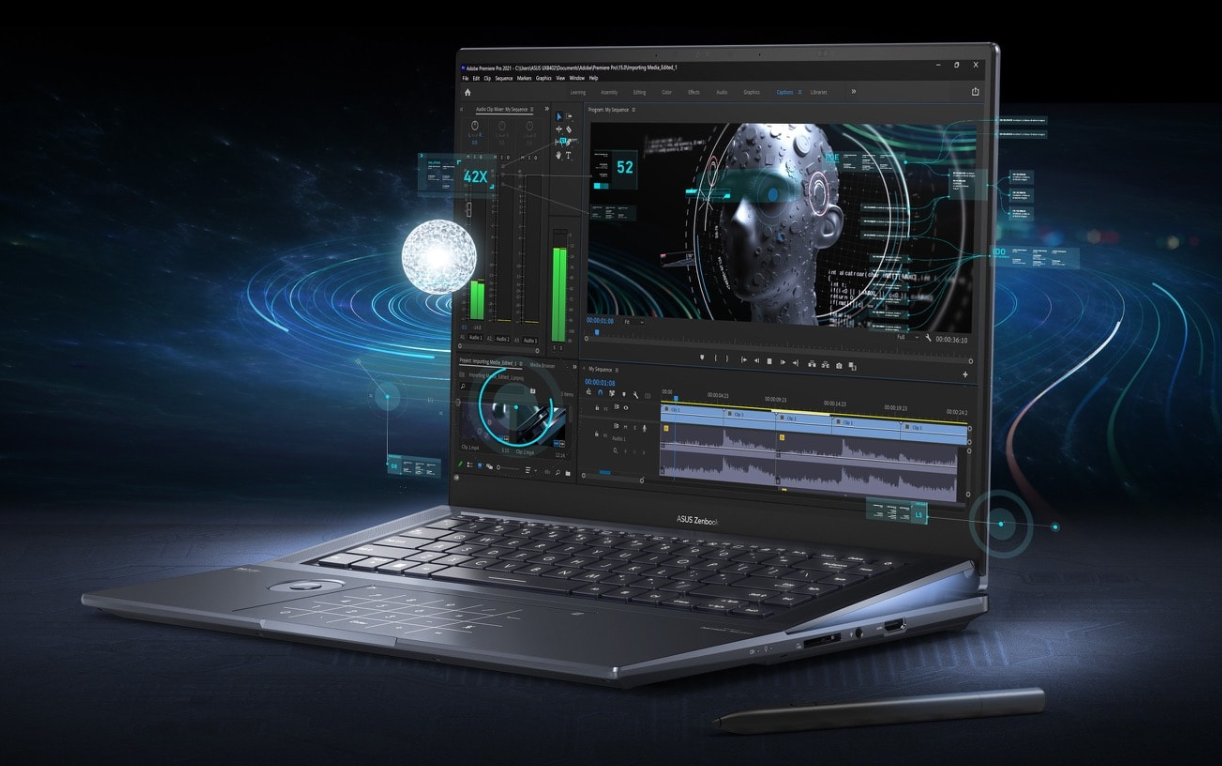 INTELLIGENT LIGHTING
Shine smartly
Zenbook Pro 16X OLED adds a whole new dimension to your creative experience with its intelligent lighting system. As well as an illuminated monogram lid logo, there's per-key White RGB keyboard backlighting, augmented by light bars on either side of the keyboard. This system enables a variety of smart interactive effects. When you power the laptop on or off, or switch performance modes, your laptop can display an exclusive light effect. If your battery's low on juice, all the lights will glow red. Plug in a USB device to see yet another light effect, and when you receive a new email you'll get a handy visual reminder. You can also configure a variety of animated ambient lighting modes to match your mood or the atmosphere of the room.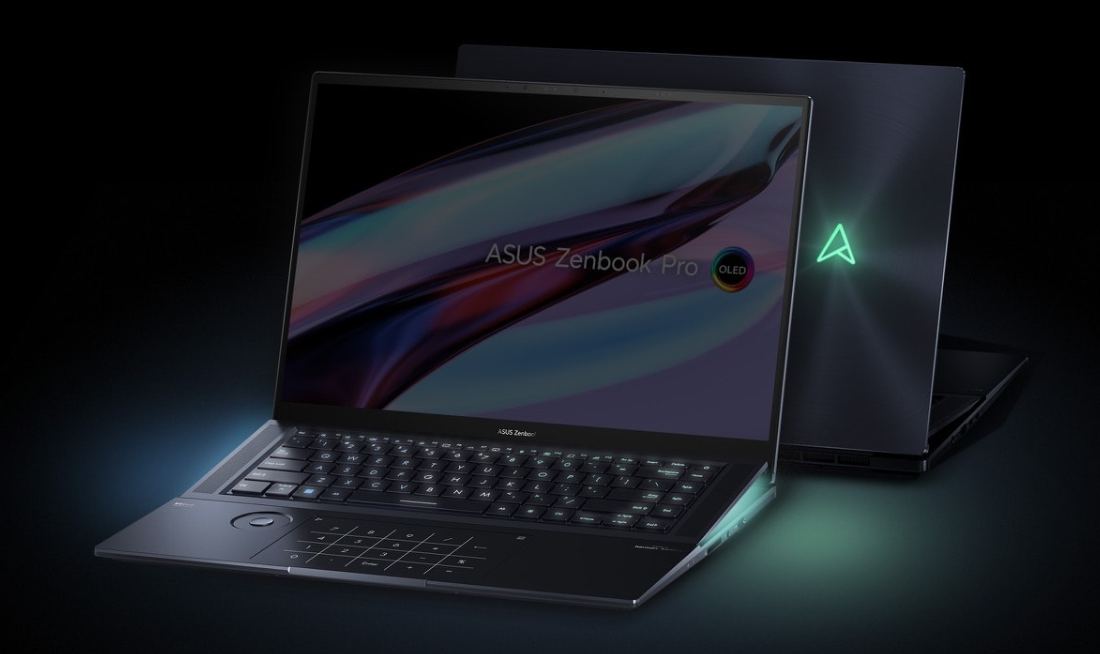 ASUS DIAL
Make magic happen with ASUS Dial
Discover new ways to work with the updated ASUS Dial, an intuitive physical rotary controller that gives you instant and precise fingertip control over parameters in your creative apps. It's now just 3.2 mm thin — 75% thinner than the previous generation7 — and is glass-covered for ultra-smooth operation. You can easily change brush size, change saturation, adjust layer opacity, or rapidly undo actions. You can also adjust screen brightness and volume, or vertical scroll to make your creative workflow smoother. ASUS Dial works seamlessly with Adobe Photoshop, Premiere Pro, Photoshop Lightroom Classic, After Effects and Illustrator, and it's fully customizable so you can define your own functions for use in any other apps!
PROART CREATOR HUB
Power up your imagination
ProArt Creator Hub features an overview dashboard, and allows you switch to different performance modes, calibrate your screen color, or customize your ASUS Dial. It's a personal portal where you can monitor your laptop's status, personalize settings, or optimize your workflow. You can also personalize your ASUS Dial for your preferred features, or setup the Customized Keys in Control Settings for endless creativity.
TOUCHPAD
Touch and feel
To further enhance your efficiency and creativity, Zenbook Pro 16X OLED is equipped with a new and enlarged haptic touchpad. Using linear resonant actuator (LRA) technology for the most precise haptic feedback, this 150 x 90 mm touchpad also has pressure sensors underneath the surface, so you can tap anywhere and it will understand what you want to do.
ASUS ERGOSENSE KEYBOARD AND ERGOSENSE TOUCHPAD
Brilliantly nuanced ErgoSense keyboard and touchpad
It's our mission at ASUS to elevate human interaction with technology to a higher and more intuitive level than ever before. The latest ASUS ErgoSense keyboard and ErgoSense touchpad are engineered to enable an unrivaled input experience that's in harmony with how you move, feel and touch. Your comfort is our highest priority. That's why ASUS the ErgoSense keyboard has an incredibly satisfying feel, with the optimum bounce and travel calculated with fine-tuned precision. Scrolling on ASUS ErgoSense touchpad is just like touching silk. Its surface has a special low-friction coating that's also fingerprint resistant, keeping your work area as clean as new. Experience ASUS ErgoSense keyboard and ErgoSense touchpad, and you'll soon find yourself cruising effortlessly through your work.
Dished key caps 0.2 mm
The 0.2 mm key-cap dish is designed to match the shape of your fingertips. The smooth-edged indent is carefully crafted for a comfortable yet precise feel, so your fingers are gently guided to the ideal contact point with the keys.
Long key travel 1.4 mm
Good tactile feedback is important to let you know that your key press has been registered. The long 1.4 mm key travel lets you type without having to use too much force. And underneath the key, there's a rubber dome crafted by keyboard experts here at ASUS. It guarantees your click force is met with just the right tactile bump you need for a nice grip.
Ultra-smooth touchpad
The hydrophobic coating applied to our touchpad has a high water-contact angle. This means the nanotech-like surface provides smoother feedback for every scrolling movement. It's like touching silk!
Anti-fingerprint touchpad
We apply a high-end PVD anti-fingerprint coating that ensures excellent resistance to wear and tear. This coating also makes the surface really easy to clean. And even after more than 10,000 slides, the touchpad will still be as smooth as new.
DISPLAY
World-leading 16:10 16" 4K OLED HDR display
For ultimate visual experience, Zenbook Pro 16X OLED features the a world-leading 16:10 4K OLED HDR NanoEdge touchscreen1,9 with stylus support. With an expansive 16:10 aspect ratio, the display is Dolby Vision certified and PANTONE Validated to ensure accurate color rendering. With 550 nits peak brightness, it's also VESA DisplayHDR™ True Black 500 certified for the deepest blacks to give you ultra-realistic detail in even the darkest scenes. Its cinema-grade DCI-P3 color gamut delivers ultra-vivid colors, and the 60 Hz refresh rate and 0.2 ms response time make even the fastest action scenes look super-smooth. To keep your eyes comfortable and safe during the longest viewing sessions, it's also TÜV Rheinland certified for low blue-light emissions.
ASUS SPLENDID TECHNOLOGY
Customizable color gamut for every need
The display's color gamut can be quickly and easily switched for different tasks or preferences. On top of the ultravivid native color setting, choose sRGB for creating web content or browsing, DCI-P3 for cinema content, or Display P3 for movie-grade colors finessed to fit everyday viewing in the real world.
PORTABILITY
Set your creativity free!
With Zenbook Pro 16X OLED, anyone can set their creativity free! Whether you're editing videos on top of the world, organizing your latest photo shoot on location, or previewing the latest scenes in the studio, ASUS Dial and ProArt Creator Hub are there to add precision to your inspiration!
CONNECTIVITY
Connect faster
Zenbook Pro 16X OLED is packed with all the I/O ports you need for easy connectivity to your devices and peripherals. The latest ultrafast Thunderbolt™ 4 USB-C® ports support fast charging, 4K UHD external displays and up to 40 Gbps data transfers, and there's also an HDMI® 2.1 port and a USB 3.2 Gen 2 Type-A port alongside the latest 985 MB/s SD Express 7.0 card reader. Communications and audio I/O are taken care of by the convenient audio combo jack.
INNOVATIVE CAMERA SYSTEM
Camera
The advanced webcam on Zenbook Pro 16X OLED is unlike anything that's gone before. ASUS 3D Noise Reduction technology ensures crisp real-time images, and its AdaptiveLock presence-detection feature secures the laptop when you have to move away from your desk. A color sensor automatically adjusts the display for the best images, and there are convenient AI video enhancements in MyASUS to enhance your video calls.

ASUS 3DNR technology
ASUS 3D Noise Reduction (3DNR) Technology significantly upgrades the webcam image clarity for clearer conference calls. The unique algorithm sharpens images and performs real-time de-noising to make sure everything looks crisp and clear during video calls.
IR camera, AdaptiveLock, fingerprint sensor
Our HD infrared camera with AdaptiveLock is powered by the new Intel Visual Sensing Controller, and works seamlessly with Windows Hello. This AI-powered feature senses when you move away from the laptop and locks the laptop for security, and logs right back in when you approach the laptop. For easy password-free login, there's also a fingerprint sensor on the power button.
Color sensor
There's also a color sensor that detects ambient light levels and automatically adjusts the brightness and color temperature of the screen to provide the best-looking image for your surroundings.
AI effects
The AI camera enhancements in MyASUS add a touch of class to your video calls. Background Blur protects your privacy and prevents unexpected events in the background spoiling video meetings. Light Correction keeps faces out of shadow by adjusting for backlighting and glare. 
NOISE CANCELATION
Next-level AI noise-canceling audio technology
With the increase of remote work and video conferences, we've implemented ASUS AI noise-canceling audio technology to ensure the best experience. This employs machine learning in order to isolate unwanted noise from human speech. The ClearVoice Mic feature in the MyASUS app can filter out ambient noise, and normalize all individual voices in Multi-presenter mode from different positions for optimum group conference-call quality. The ClearVoice Speaker feature filters out all ambient noise apart from human speech — so you'll hear what everyone else is saying. Try the demo to experience the amazing difference in different environment that ASUS AI noise-canceling technology can make.
AUDIO
Sound that rocks
For unprecedented audio quality, ASUS Zenbook Pro 16X OLED has a six-speaker sound system that's certified by the audio experts at Harman Kardon. There are two high-frequency tweeters and four low-frequency woofers that deliver powerful, immersive and crystal-clear sound, turning it into the ultimate audio machine for entertainment and communications.
The multi-dimensional sound of Dolby Atmos® indulges you in your favorite entertainment with sound that moves all around you with breathtaking realism in music, movies and TV.
Smart Amp — 350% louder sound, zero distortion
The volume-enhancing, distortion-suppressing dual-channel smart amplifier is equipped with a powerful DSP chip that can drive the twin speakers at the maximum volume possible while preventing long-term damage to the sensitive speaker voice coils. Creating or listening to audio in your videos, movies, music or games has never sounded better!

MOBILITY
Create anywhere
The slim 16.9 mm chassis and compact 2.4 kg11 chassis make Zenbook Pro 16X OLED easy to take with you, wherever your creativity demands.

BATTERY
Untiring stamina
When your creativity knows no bounds, you need a battery that can keep up with you. Providing up to nine hours autonomy, the high-capacity 96 Wh battery in Zenbook Pro 16X OLED will see you through even the most demanding work days.

SOFTWARE
Truly personalized workflow
MyASUS hosts a collection of handy ASUS apps and tools that help you get more out of your laptop, and GlideX is a cross-device screen-sharing solution. The ScreenXpert 3 helps you to manage app windows across displays connected to your ASUS PC. Simply puts you in full control of your workflow!
MYASUS
Your PC just got better
MyASUS provides easy access to ASUS apps that are designed to help you maintain your system, update your software, optimize your PC's performance, and contact ASUS for after-sales service and support.
GLIDEX
Your on-the-go work and play space
GlideX is a cross-device screen-sharing solution that uses wired or wireless connections to give you a bigger and better space for work and play. With Screen Mirror you can project your device's screen to PC for easier keyboard input on a bigger space; with Screen Extend you can create more space turning your tablet into a secondary display on the go. GlideX optimizes your workflow in the blink of an eye!
SCREENXPERT 3 FOR ASUS PCS
Manage app windows across displays connected to your ASUS PC
The ScreenXpert 3 — which you can download from Microsoft store or find in your PC's Start menu — helps you to manage app windows across displays connected to your ASUS PC. It also lets you turn your camera or microphone on and off and check their status on your PC's screen without using the keyboard. ScreenXpert 3 for ASUS PCs puts you in full control of your workflow!

MILITARY GRADE
Toughness you can rely on
Zenbook Pro 16X OLED has been tested to meet the ultra-demanding MIL-STD-810H U.S. military standard for reliability and durability. Tests consisted of a punishing regime designed to ensure survival in harsh environments, and included power-on drop tests, vibration tests, and operation at extremes of humidity, altitude and temperature. Zenbook Pro 16X OLED has also passed ASUS laptop stress tests that far exceed the standards set by the industry.
General
Brand
ASUS
Model
UX7602ZM-XB96T
Color
Tech Black
Highlights
ASUS Zenbook Pro 16X (UX7602ZM-XB96T), Intel Core i9-12900H (2.5GHz - 5.0GHz) Processor, 16" 4K OLED (3840 x 2400) Touchscreen (100% DCI-P3) Display (HDR 400 nits Brightness), 32GB LPDDR5 Onboard Memory, 2TB NVMe PCIe 4.0 SSD, NVIDIA GeForce RTX 3060 (6GB) GDDR6 Graphics Card, Wi-Fi 6E (802.11ax), Bluetooth 5.2, 2x Thunderbolt 4, 1x USB 3.2 Type A (Gen 2), FHD IR Camera, Harman Kardon Audio, White Backlit Keyboard, Microsoft Windows 11 Professional, Backpack, Stylus and USB-A to RJ45 Gigabit Ethernet Adapter included.
Processor
Type
Intel 12th Gen Alder Lake Core i9-12900H Processor
# of Cores
14
# of Threads
20
Clock Speed
2.5 GHz
Max Turbo Frequency
5.0 GHz
Intel Smart Cache
24 MB
Operating System
Operating System
Microsoft Windows 11 Professional
LCD
Size
16" 4K OLED WQUXGA (WQU), Glossy Touchscreen Display (100% DCI-P3) Pantone Validated w/ Stylus Support
Brightness : HDR 400 nits
Resolution
3840 x 2400 (16:10)
Video Camera
FHD camera with IR function to support Windows Hello with Privacy shutter
Graphics
GPU (Graphic Accelerator)
NVIDIA GeForce RTX 3060 (6GB) GDDR6 Graphics Card
Memory
Standard Memory
32GB LPDDR5 (Onboard)
Maximum Memory
Max Memory 32GB
Hard Drive & Optical Drive
HDD Capacity
2TB NVMe PCIe 4.0 Performance SSD
Optical Drive
N/A
Audio
Sound & Speakers
Smart Amp Technology
Built-in 4-way stereo speakers
Built-in array microphone
harman/kardon (Premium)
with Cortana and Alexa voice-recognition support
Communication
Network / Communication
Wi-Fi 6E (802.11ax) (Dual band) 2*2
Bluetooth 5.2
Slots / Interface
Card Reader
SD Express 7.0 card reader
I/O Ports
2x Thunderbolt 4 [Supports Display and Power Delivery]
1x USB 3.2 Type A (Gen 2)
1x HDMI 2.1
1x 3.5mm Combo Audio Jack
1x DC-in
1x SD Express 7.0 card reader
Input Device
Keyboard
White Backlit (Precision Touchpad) **Support NumberPad**
Touch screen
Security
BIOS Booting User Password Protection
Trusted Platform Module (Firmware TPM)
Trusted Platform Module (TPM) 2.0
McAfee LiveSafe™ 30-day trial
Fingerprint sensor integrated with Power Key
IR webcam with Windows Hello support
Power
Battery Pack
96WHrs, 3S2P, 6-cell Li-ion
AC Adaptor
ø6.0, 200W AC Adapter,
Output: 20V DC, 10A, 200W,
Input: 100~240V AC 50/60Hz universal
Physical Spec
Dimension
13.98" x 9.88" x 0.67" ~ 0.70"
Unit weight
5.29 lbs
Warranty
Manufacturer Warranty
1 Year International/
Eligible for 1YR free Domestic ADP upon registration with 1-way free shipping/
2-way FREE shipping for standard hardware warranty repair
Included in the Box
Included in the Box
Backpack
Stylus
USB-A to RJ45 gigabit ethernet adapter