MSI Creator P50 11TC-035US Gaming Desktop w / NVIDIA GeForce RTX 3060 ITX 12GB GDDR6 (Core i7-11700 & Windows 10 Pro)
MSI Creator P50 11TC-035US (Intel 11th Gen), Intel Core i7-11700 (2.5GHz - 4.9GHz) Processor, 32GB (2x 16GB) DDR4 3200MHz Memory, 1TB PCIe NVMe SSD, NVIDIA GeForce RTX 3060 ITX (12GB) GDDR6 Graphics Card, Microsoft Windows 10 Professional (64-Bit), RJ45 (2.5 GbE) Intel I225V, WiFi 6E (802.11ax), Bluetooth 5.2, HDMI, 1x Thunderbolt 4 Type C, 1x USB 3.2 Type C (Gen 2x2), 2x USB 3.2 Type A (Gen 1), 2x USB 3.2 Type A (Gen 2)
Description
Specification
Benchmarks
Expert Review
Related
Creator P50 11th
Windows 10 Home - MSI recommends Windows 10 Pro for business

(Free upgrade to Windows 11* when available)

Up to the 11th generation Intel® Core™ i7 processors

The latest MSI GeForce® RTX  Graphics Card

Dual Channel Memory with DDR4 Boost Technology provides the most smooth & fastest real-time previews

Thunderbolt 4 (Optional) delivers the fastest, most versatile connection to any dock, display, or data device & NAS

Connect and rapidly transfer data over a network with the high-bandwidth and low-latency 2.5G Ethernet LAN.

Wi-Fi 6E puts more emphasis on transmission security with speed up to 2.4Gbps

Support 5K2K Creating Experience

Exclusive Software – MSI Center & Creator OSD

4.72 liters in size, the most compact desktop PC for creators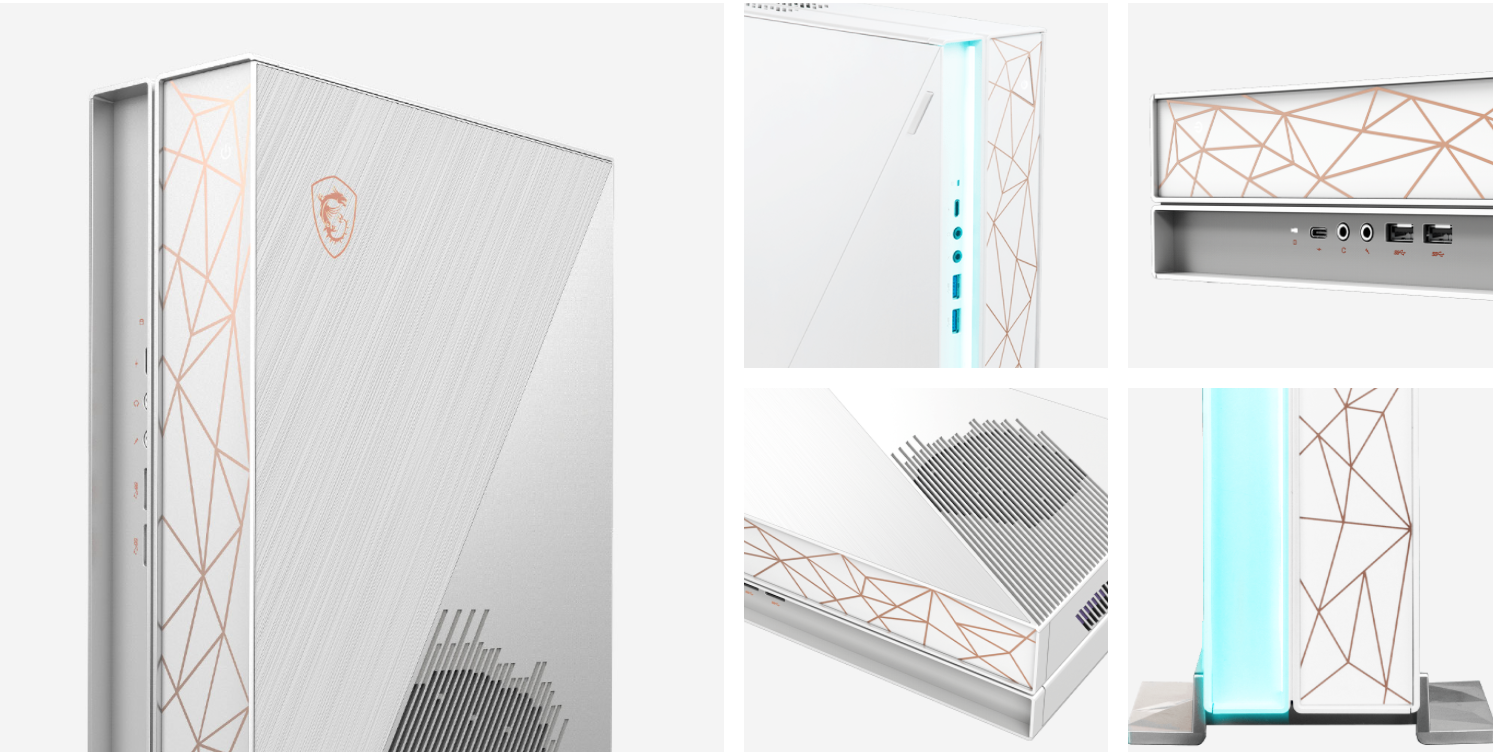 Elegant Moment
OUT OF THE BLUE INSPIRATION
Creator P50 series was inspired by the wireframe modeling made by creators that includes edge, lines and curves. The polygonal cutting pattern on the front panel of this 4.72 liters chassis reflects a creator's growth and transformation. With a brushed-metal design, it becomes your professional, clean & stylish creativity center.
The Power to Create Your Futuristic Dimension
Experience a 19% boost in computing from gen-to-gen. MSI Desktop equips the 11th Gen. Intel® Core™ i7 processor with the upmost computing power to bring you an unparalleled creation experience with inspirations & develop your next great idea.
*Performance compared to i7-10700. Specs varies by model.
Create with RTX On Nothing Holds Your Back Now
RTX high-performance Creator P50 containa the world's most powerful NVIDIA GeForce RTX™ GPUs, precision engineered into the Creator P50. Designed and tested specifically for creative workflows. Now, you can create your best work—fast. RTX On. 
Standing Out From The Creative Juices
The new GeForce RTX® Series has more cores and higher clocks for superfast performance compared to previous-gen GPUs. Make your creativities come to life with super-fast ray tracing; delivers physically accurate shadows, reflections, and lighting. Tap into Tensor Cores for super-power AI-processing. Advanced memory, performance boosts, processing technologies make these GPUs the perfect weapon for creators. Get your super powers.
Workflow Accelerated
Featuring the latest 11th Gen Intel Core™ processors, and its memory can support up to DDR4 3200MHz to delivers an unprecedented creation experience. Unleash the full potential with the latest SSD technology, the NVM Express. 4 times faster than traditional SATA SSD.

Bolt To The Next Power
Thunderbolt™ 4* brings Thunderbolt to USB-C at speeds up to 40 Gbps, creating one compact port that does it all – delivering the fastest, most versatile connection to any dock, display, or data device & NAS.Embracing a wide array of interface compatibilities so that you can edit, collaborate and share seamlessly.
Connect All of Your Creative Devices
Wi-Fi 6E puts more emphasis on transmission security and improves the signal between the interference problem can also be connected to more devices at the same time, thereby meeting the trend of higher and higher data transmission bandwidth requirements with speed up to 2.4Gbps.
Create Through The 2.5G LAN
Working on NAS? Connect and rapidly transfer data over a network with the high-bandwidth and low-latency 2.5Gbps Ethernet LAN. Integrated with the exclusive MSI LAN Manager, it prioritizes latency-sensitive application and allows you to take control of their experience.
Optimized For Multi-tasking
Not only expand your vision across multiple displays, but also the Creator P50 is tested and optimized to run these creation software including Photoshop, After Effects, 3Ds Max and much more to deliver efficient and seamless use of key applications.
SOUND CLEARLY. TUNE SMARTLY.
The AI-powered noise cancellation is trained through deep neural network (DNN), the model is generated with more than 500 million data, simulate the way human brain works. When a sound is heard, the model automatically recognizes and separate vocal sound from background noises; hence, filtering out all the unwanted Noise.
Professional Sound Quality
Only The Purest Sound Quality Accepted Powered by Audio Boost
Dedicated High Definition Audio Processor
MSI Center
The MSI Center takes optimization to the next level with A.I.; it helps to prioritize & allocate the resource on your hand to accelerate the performance of those software which you work with everyday.It also helps you to find the photos or materials with Tag and brings the most efficient experience for your daily works.
* The interface and functionality may differ due to version change.
Creator OSD
Color accuracy & color gamut are critical while creating. The MSI Creator OSD won't disappoint you with the most intuitive design. The Creator OSD takes optimization to the next level with easily adjustable color modes; it helps to find the most proper & accurate color gamut to you while creating everyday. See every detail with MSI Content Creation Series Monitor and enjoy the benefits of Creator OSD to make every detail as vivid as you want.
" With modern and simplistic techniques from wireframe modeling, the perfect asymmetric design not only makes the root deeper in the ground but also extends upward so that there is no distance between the sky and the ground. Such dialogue and consonance show the greatest intersection between humanity and technology."

Creator P50

General
Brand
MSI
Model
Creator P50 11TC-035US
Color
Creator P50 (White)
Highlights
MSI Creator P50 11TC-035US (Intel 11th Gen), Intel Core i7-11700 (2.5GHz - 4.9GHz) Processor, 32GB (2x 16GB) DDR4 3200MHz Memory, 1TB PCIe NVMe SSD, NVIDIA GeForce RTX 3060 ITX (12GB) GDDR6 Graphics Card, Microsoft Windows 10 Professional (64-Bit), RJ45 (2.5 GbE) Intel I225V, WiFi 6E (802.11ax), Bluetooth 5.2, HDMI, 1x Thunderbolt 4 Type C, 1x USB 3.2 Type C (Gen 2x2), 2x USB 3.2 Type A (Gen 1), 2x USB 3.2 Type A (Gen 2)
Processor
Type
Intel 11th Gen Rocket Lake Core i7-11700 Processor
# of Cores
8
# of Threads
16
Clock Speed
2.5 GHz
Max Turbo Frequency
4.9 GHz
Intel Smart Cache
16 MB
Chipset
Intel B560
Operating System
Operating System
Microsoft Windows 10 Professional (64-Bit)
Graphics
GPU (Graphic Accelerator)
NVIDIA GeForce RTX 3060 ITX (12GB) GDDR6 Graphics Card
Memory
Standard Memory
32GB (2x 16GB) DDR4 3200MHz
Number of SODIMMS
2 Socket, Max Memory 64GB
Hard Drive & Optical Drive
HDD Capacity
1TB PCIe NVMe SSD
Optical Drive
N/A
Communication
Network / Communication
LAN : RJ45 (2.5GbE) Intel I225-V
Wireless LAN : WiFi 6E (802.11ax) 2.4Gbps Tri Band 2.4GHz, 5GHz, 6GHz
Bluetooth 5.2
Audio
Audio
7.1 HD Audio (Realtek ALC1220P-VB2)
Slots / Interface
Video Port
1x HDMI-out (2.1)
3x DP-out (1.4a)
2x mini-DP-in (via Thunderbolt)
Front I/O Port
1x Thunderbolt 4 Type C
2x USB 3.2 Type A (Gen 1)
Rear I/O Port
1x USB 3.2 Type C (Gen 2x2)
2x USB 3.2 Type A (Gen 2)
Input Device
Power
Power Supply
330W
Physical Spec
Dimension
13.93" x 3.84" x 9.90" (w/ stand)
13.63" x 9.15" x 2.83" (w/o stand)
Unit weight
7.76 lbs
Warranty
Manufacturer Warranty
1 Year Warranty