ASUS ROG Strix GT35 (G35CZ-XB998) Gaming Desktop w / NVIDIA GeForce RTX 3090 24GB GDDR6X (Core i9-10900KF & Windows 10 Pro)
$4,499.00

Ground Shipping

FREE
OR
Core i9-10900KF & Liquid Cooler, RTX 3090 (24GB) GDDR6X, 32GB DDR4 3200MHz Memory, 1TB PCIe NVMe SSD + 2TB (3.5") HDD, Windows 10 Pro, Keyboard & Mouse Included
G35CZ-XB998195553066174EX755847
Not In StockNew1 Year (USA)
ASUS ROG Strix GT35 (G35CZ-XB998), Intel Core i9-10900KF (3.7GHz - 5.3GHz) Processor, 32GB (2x 16GB) DDR4 3200MHz Memory, 1TB PCIe NVMe SSD + 2TB (3.5") 7200RPM HDD, NVIDIA GeForce RTX 3090 (24GB) GDDR6X Graphics Card, Microsoft Windows 10 Professional (64-bit), Wi-Fi 6 (802.11ax), Bluetooth 5.0, 4x USB 3.2 Type A (Gen 1), 3x USB 3.2 Type A (Gen 2), 2x USB 3.2 Type C (Gen 1), 1x USB 3.2 Type C (Gen 2), 2x USB 2.0 Type A, Keyboard & Mouse Included
Description
Specification
Benchmarks
Expert Review
Compete at a new level with a tournament-ready gaming desktop built to deliver an exhilarating esports experience with Windows 10 Pro. Up to an NVIDIA® GeForce RTX™ 3090 graphics card amps up your frames per second to make fast-paced gaming silky smooth. A powerful 10-core Intel® Core™ i9 CPU accelerates content creation and can even be overclocked with an AI-enhanced system that makes overclocking easier for everyone. The GT35's high end performance is bolstered by a cooling-focused, multi-chambered chassis design and liquid cooling system. Aura Sync accents and Keystone II technology deepen the customization options, allowing it to truly become the perfect machine for every gamer.
DESIGN
ENGINEERED FOR ESPORTS
Competitive esports play demands high frame rates sustained over long lengths of time. To achieve that, the GT35 has an aerodynamic chassis with widened vents that stealthily direct more cool air through to the internal liquid cooling system, elevating cooling for peak performance and beyond. Participating in esports competitions and LANs is easier with a built-in carrying handle for portability, and two SSD hot-swap bays that make switching player profiles easy. Special, EMI-shielded glass lets you look inside the chassis itself and watch the high-powered components at work.
PERFORMANCE
ELEVATE YOUR EXPERIENCE
Take your game to the next level with an exhilaratingly equipped gaming powerhouse. Fast-paced gameplay is smooth as silk with a GeForce RTX™ 3090 graphics card, giving you a competitive edge in any arena. A formidable 10-core 10th Gen Intel® Core i9 CPU slices through even your most intensive workloads, and can even be overclocked to take your system responsiveness to the next level. AI Overclocking technology makes it easy for anyone to auto-tune and optimize their performance. With space for as much as 128GB of high-speed DDR4-2933 RAM, even the most serious power users can multitask to their heart's content.
GAME & BENCHMARK TEST
GEARED FOR THE LATEST GAMES
Everything from fast-paced esports to AAA masterpieces runs smooth as silk on the GT35. Take in the sights of XX Game in stunning 4K Ultra visuals at up to XX FPS, or hop into a XX Game match and experience the competitive advantage of a XX FPS gameplay, even in the thick of battle.
THERMAL
DEDICATED CHAMBERS IMPROVE AIRFLOW
Comprehensive cooling is what enables the high-level, sustained performance required for heavy gaming and multitasking. Designed with a unique, multi-zone chassis that keeps the CPU, graphics card, and power supply in separate bays to minimize thermal interference and lower ambient temperatures, the GT35 is able to push processor clocks and frequencies higher for better overall performance.
PERSONALIZATION
YOUR DEVICE, YOUR WAY
Deep personalization options let you create the perfect PC experience. Keystone II technology gives you quick access to a number of handy functions, from instantly launching your favorite apps to unlocking a hidden Shadow Drive. Armoury Crate software with built-in overclocking tools allows you to tailor your system performance precisely to your specifications. Aura Sync lets you customize the appearance of your PC's components and peripherals with unique lighting effects, and coordinates that look across your entire environment to set the perfect mood for gaming, working, and more.

SYSTEM
SUPERIOR SYSTEM SPEED
The ROG Strix Z490-F Gaming motherboard is engineered for overclocking. Its thermal design includes a U-shaped heatsink that allows rapid and even heat transfer from the VRM to the extended MOS heatsink for better performance and wattage resistance. This efficiently cooled VRM delivers clean power to the CPU, allowing it to reliably sustain peak clock speeds. Dedicated heatsinks also keep the dual M.2 PCIe 3.0 storage slots cool, allowing them to operate at the optimum temperature for consistent and reliable performance. Cooling performance is managed by our AI Cooling function that optimizes motherboard-connected fans based on your system's current load and temperature.
CONNECTIVITY
HASSLE-FREE COMPATIBILITY
Hook up your favorite devices and get in-game fast. The G35DX features one reversible Type-C™ (USB-C™) port with peak interface bandwidth of 10Gbps via USB 3.1 Gen 2, plus six Type-A USB 3.2 Gen 2 ports that offer ample space for your gaming mouse, keyboard, and more. Use the HDMI 2.0b with a 4K monitor or TV to play UHD movies, videos, and games at up to 60Hz. Onboard 2.5G Ethernet offers up to a 2.5x improvement over standard Ethernet connections for ultrafast file transfers, while Intel Wi-Fi 6 Gig+ (802.11ax) provides blazing fast online access on compatible connections for work and play anywhere.
EXCLUSIVE SOFTWARE
UNIFIED SYSTEM TUNING
ROG Armoury Crate unifies system and lighting controls to put essential settings at your fingertips in a single utility. You can easily define and customize Scenario Profiles that automatically make adjustments when you launch your favorite titles.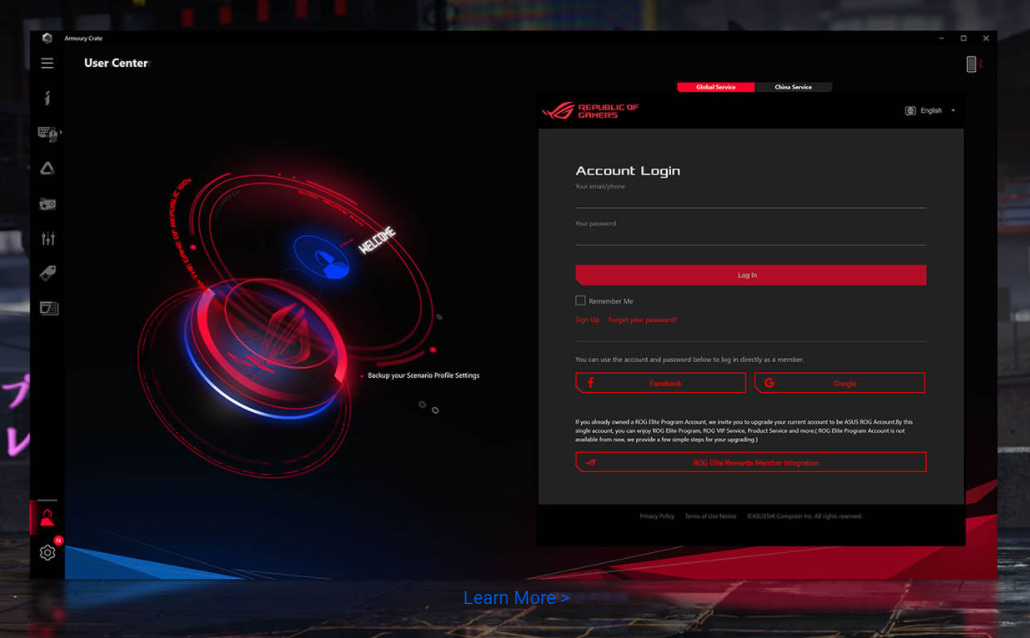 BUNDLED PERIPHERALS
BUNDLE PERIPHERALS
Bundle up with an impressive array of gaming peripherals and accessories. The ROG Strix Flare RGB mechanical gaming keyboard comes with Cherry MX switches, a customizable illuminated badge, and dedicated media keys for gaming. Mouse with precision with the ROG Gladius II, equipped with a DPI switch for superior sensitivity control. Both accessories are Aura Sync compatible, so you can customize and coordinate RGB lighting across your ecosystem of accessories.
*Bundled peripherals may vary according to regions. Please check with local vendors for exact offers.

General
Brand
ASUS
Model
G35CZ-XB998
Color
Star Black
Highlights
ASUS ROG Strix GT35 (G35CZ-XB998), Intel Core i9-10900KF (3.7GHz - 5.3GHz) Processor, 32GB (2x 16GB) DDR4 3200MHz Memory, 1TB PCIe NVMe SSD + 2TB (3.5") 7200RPM HDD, NVIDIA GeForce RTX 3090 (24GB) GDDR6X Graphics Card, Microsoft Windows 10 Professional (64-bit), Wi-Fi 6 (802.11ax), Bluetooth 5.0, 4x USB 3.2 Type A (Gen 1), 3x USB 3.2 Type A (Gen 2), 2x USB 3.2 Type C (Gen 1), 1x USB 3.2 Type C (Gen 2), 2x USB 2.0 Type A, Keyboard & Mouse Included
Processor
Type
Intel 10th Gen Comet Lake Core i9-10900KF Processor
# of Cores
10
# of Threads
20
Clock Speed
3.7 GHz
Max Turbo Frequency
5.3 GHz
Intel Smart Cache
20 MB
Chipset
Intel Z490
Operating System
Operating System
Microsoft Windows 10 Professional (64-bit)
Graphics
GPU (Graphic Accelerator)
NVIDIA GeForce RTX 3090 (24GB) GDDR6X Graphics Card
Memory
Standard Memory
32GB (2x 16GB) DDR4 3200MHz
Number of SODIMMS
4 Socket, Max Memory 128GB
Hard Drive & Optical Drive
HDD Capacity
1TB PCIe NVMe SSD + 2TB (3.5") 7200RPM HDD
Optical Drive
N/A
Communication
Network / Communication
Wi-Fi 6 (802.11ax)
Bluetooth 5.0 (Dual band) 2*2
Audio
Audio
SupremeFX S1220A CODEC
Slots / Interface
Front I/O Port
2x USB 3.2 Type A (Gen 1)
2x USB 3.2 Type C (Gen 1)
1x Headphone
1x Microphone
Rear I/O Port
1x USB 3.2 Type C (Gen 2)
2x USB 3.2 Type A (Gen 1)
2x USB 2.0 Type A 3x USB 3.2 Type A (Gen 2)
1x Mic-in
1x Center / Sub Woofer
1x Front Speaker Out (Line Out)
1x RJ45 2.5G Ethernet
1x Rear Speaker Out
1x Line-in
1x S/PDIF-Out
1x HDMI-Out
1x DisplayPort
Input Device
Keyboard
Keyboard & Mouse Included
Power
Power Supply
1000W
Power Efficiency Level
80 PLUS (PLATINUM)
Physical Spec
Dimension
10.98" x 17.05" x 19.72"
Unit weight
33.07 lbs
Warranty
Manufacturer Warranty
1 Year Warranty