ASUS ROG STRIX SCAR 15 (G533QR-DS76Q) 15.6" 165Hz QHD IPS-Level Gaming Laptop w / RTX 3070 Max Performance (AMD Ryzen 7 5800H)
ASUS ROG STRIX SCAR 15 (G533QR-DS76Q), AMD Ryzen 7 5800H (3.2GHz - 4.4GHz) Processor, 15.6" 165Hz QHD (2560 x 1440) IPS-Level 3ms Display, 16GB (2x 8GB) DDR4 3200MHz Memory, 1TB PCIe NVMe SSD, NVIDIA GeForce RTX 3070 Max Performance (8GB) GDDR6 Graphics Card w/ ROG Boost, Microsoft Windows 10 (64-bit), Intel Wi-Fi 6 (802.11ax), Bluetooth 5.1, HDMI 2.0b, USB 3.2 Type C (Gen 2), 3x USB 3.2 Type A (Gen 1), Optical Mechanical Keyboard Per-Key RGB
Description
Specification
Customer Reviews
Related
ROG STRIX SCAR 15
Beat the Best. Be the Best.
Compete at the highest level of Windows 10 Pro gaming with the ROG Strix SCAR 15. Take on any challenge with the powerful AMD Ryzen™ 9 5900HX CPU and GeForce RTX™ 3080 GPU. Go all-in on esports speed with an ultrafast panel up to 300Hz/3ms, or immerse in lush detail with a high-resolution WQHD 165Hz option. Input every strike with precision on a responsive optical mechanical keyboard. With a competitive edge this sharp, you can dominate any arena.

DESIGN
VICTORY HINGES ON YOU
Win with athletic style at your next esports tournament. Clean cuts across the lid mirror the cutting-edge power inside. Customizable Armor Caps add a pop of color to your chassis. Artful Aura Sync accents illuminate your creativity. Light shines brightly from the metallic ROG logo and optical mechanical keyboard with per-key personalization. More LEDs emit an even glow around the base of the chassis and across the strategic slice beneath the screen.
PERFORMANCE
COMPETE AT THE HIGHEST LEVEL
Accelerate work and play on a machine tailored to deliver triple-digit frame rates. Leading-edge graphics up to a GeForce RTX™ 3080 GPU enable ultrafast and fluid gameplay. An overclockable AMD CPU up to a Ryzen™ 9 5900HX runs on up to 54W of sustained power when the GPU is active and 80W on its own, and is paired with up to 64GB of DDR4-3200 RAM to slice through heavy workloads. Two M.2 NVMe SSDs running in RAID 0 accelerate load times and nearly double the throughput of a single drive. Up to 2TB of storage means you can take a huge games collection wherever you go.
*RAID will be supported in a future AMD driver update. Please check with your regional ROG representative for more details.
*Tested on ROG Strix SCAR17 with NVIDIA® GeForce RTX™ 3080 graphics card, AMD Ryzen™ 9 5900HX processor, and 32GB DDR4 RAM.
DISPLAY
VISUALIZE VICTORY
Play at pro speed on the latest gaming panels. The Strix SCAR 15 has up to the world's fastest laptop display with a 300Hz/3ms panel that lets you experience the game with tournament-level fluidity. Target tracking is smoother with minimal blur thanks to a 3ms grey-to-grey response time. For a satisfying balance between high speed and resolution, a WQHD 165Hz/3ms display option brings immersive 2K details into high-refresh territory. It covers 100% of the wider DCI-P3 color space and lets you see more shades in compatible films and other media.
COOLING
CUTTING-EDGE COOLING BOOSTS PERFORMANCE
Game in stealth with quieter, more effective cooling. Liquid metal compound on the CPU improves heat transfer for easier dissipation. Upgraded fans boast 84 blades apiece, each reshaped to push more air with less noise and turbulence. Air flows through four heatsinks and fan outlets to rapidly expel heat. You can customize system settings on a per-app basis, so cooling and acoustics are optimized automatically for the task. All these improvements allow ROG Boost to overclock the GPU in Turbo mode, and they open up extra thermal headroom to pursue even higher GPU clocks and also overclock the CPU.
Learn More About Liquid Metal Technology
KEYBOARD
OPTICAL SWITCHES ENHANCE PRECISION
Our optical mechanical keyboard switches actuate nearly instantaneously and much faster than standard alternatives, enabling more responsive input, superior accuracy, and extreme durability. A longer travel distance adds comfort, while curved caps keep your fingers centered. Per-key Aura Sync illumination lets you highlight key commands for different games, and offers a fun way to light up your world.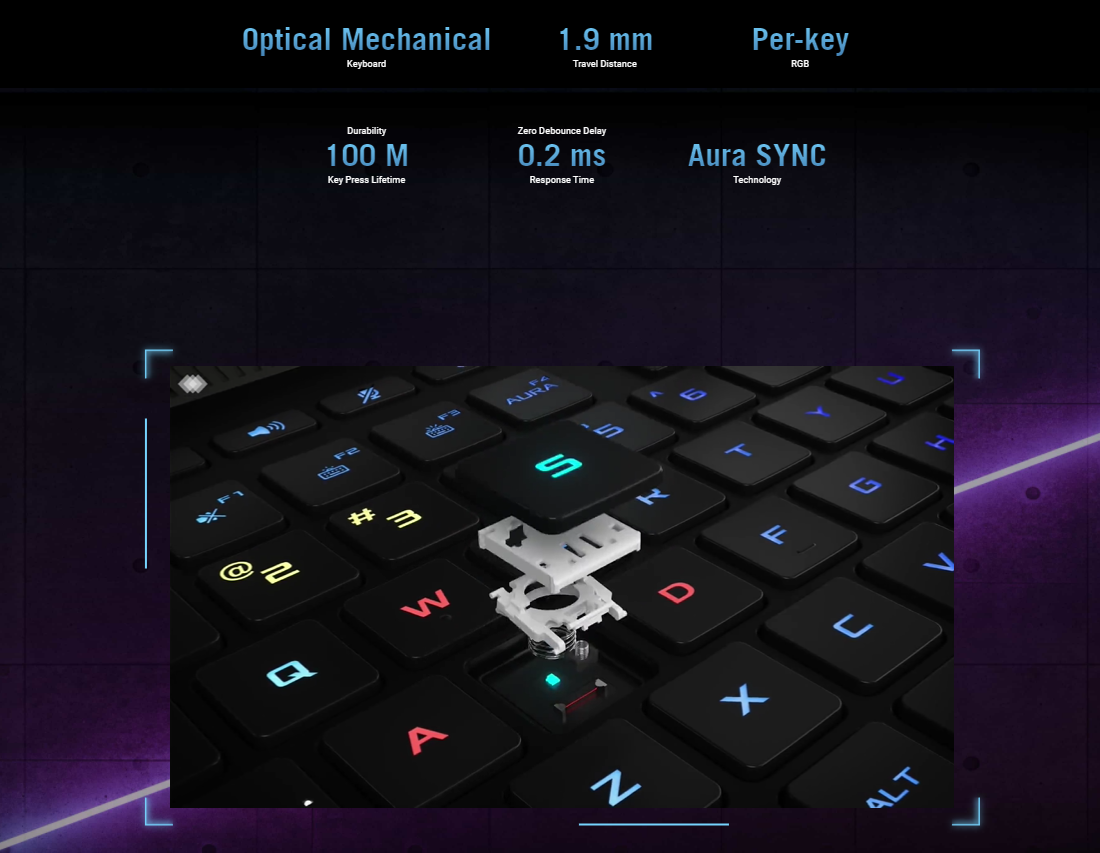 AUDIO
IMMERSE IN CRYSTAL CLEAR SOUND
Virtual 5.1.2-channel surround sound powered by Dolby Atmos technology puts you in the center of the action. Twin tweeters fire sound directly at you, while dual Smart Amp woofers bounce bass off the table. Two-Way AI Noise Cancelation removes excess noise from incoming and outgoing audio, making your multiplayer team chat, streaming, and other communications crystal clear.
BATTERY
LIVE LONGER
Unplug and do more on the move with a high-capacity 90Wh battery. Extend your battery life away from wall sockets with Type-C charging from compatible power packs. For everyday activities like web browsing and streaming video, you can work off a smaller USB-C adapter up to 100W and travel even lighter with a single charger for your laptop and phone.
AURA SYNC
AURA SYNC LETS YOUR PERSONALITY SHINE
Dim the lights and let Aura Sync take center stage. RGB LEDs accent the entire laptop, including per-key control that lets you highlight crucial commands for quick recognition. Coordinate your lighting across an entire ecosystem of Aura Sync devices to create your ideal gaming environment. Set the mood for competitive play. Link effects to in-game events. Show your true colors and personalize your gaming experience.
KEYSTONE II
TRANSFORM YOUR EXPERIENCE
Keystone II offers a versatile new way to personalize your machine and protect your personal data. These physical, NFC-enabled keys fit neatly into the chassis, adding a subtle accent along the trim. When docked, Keystones can unlock access to personalized settings that transform your machine, quick-launch apps or games of your choice, reveal a hidden Shadow Drive for covert private storage, and more.
CONNECTIVITY
FAST WI-FI 6 NETWORKING
Game at gigabit speeds where compatible connections are available with Wi-Fi 6 (802.11ax). It boosts peak interface bandwidth , increases efficiency and reliability on crowded networks, and offers lower latency for less lag in-game. ROG RangeBoost enhances reception by evaluating the signal strength of four internal antennas and then picking the best pair to use for your location, minimizing dead spots and increasing range by up to 30%.
I/O PORTS
COMPREHENSIVE CONNECTIVITY
Versatile I/O ports keep you connected anywhere. Hook up next-gen devices to amp up your setup at Gen 2 speeds via the USB 3.2 Type-C™ with DisplayPort™ 1.4 and USB Power Delivery. Three Type-A USB 3.2 Gen 1 ports are ready for your favorite gaming gear, while HDMI 2.0b lets you connect a 4K monitor or TV at up to 60Hz. The key ports are strategically positioned at the back to keep cable clutter out of your space.
EXCLUSIVE SOFTWARE
ARMOURY CRATE
ROG Armoury Crate unifies system and lighting controls to put essential settings at your fingertips in a single utility. You can easily define and customize Scenario Profiles that automatically make adjustments when you launch your favorite titles. Pairing these customizations with the ROG Keystone II lets you quickly load your fine-tuned settings.
General
Brand
ASUS
Model
G533QR-DS76Q
Color
Black
Highlights
ASUS ROG STRIX SCAR 15 (G533QR-DS76Q), AMD Ryzen 7 5800H (3.2GHz - 4.4GHz) Processor, 15.6" 165Hz QHD (2560 x 1440) IPS-Level 3ms Display, 16GB (2x 8GB) DDR4 3200MHz Memory, 1TB PCIe NVMe SSD, NVIDIA GeForce RTX 3070 Max Performance (8GB) GDDR6 Graphics Card w/ ROG Boost, Microsoft Windows 10 (64-bit), Intel Wi-Fi 6 (802.11ax), Bluetooth 5.1, HDMI 2.0b, USB 3.2 Type C (Gen 2), 3x USB 3.2 Type A (Gen 1), Optical Mechanical Keyboard Per-Key RGB
Processor & Chipset
Processor
AMD Ryzen 7 5800H Processor
# of Cores
8
# of Threads
16
Clock Speed
3.2 GHz
Max Turbo Frequency
4.4 GHz
Cache
16 MB
Software
Operating System
Microsoft Windows 10 (64bit)
LCD
LCD Display
15.6" 165Hz QHD IPS-Level 3ms Display
Resolution
2560 x 1440 (16:9)
Graphics
GPU (Graphic Accelerator)
NVIDIA GeForce RTX 3070 Max Performance (8GB) GDDR6 Graphics Card w/ ROG Boost
Total Graphics Power (TGP)
115W TGP, up to 130W w/ Dynamic Boost
Memory
Standard Memory
16GB (2x 8GB) DDR4 3200MHz
Maximum Memory
2x Socket (two slots installed w/ 8GB each)
Hard Drive & Optical Drive
Hard Drive
1TB PCIe NVMe SSD
Optical Drive
N/A
Network & Communication
Network
Gigabit Ethernet LAN
Intel Wi-Fi 6 (802.11ax)
Bluetooth 5.1 (Dual band) 2*2
Interfaces/Ports
Card Reader
N/A
I/O Ports
1x USB 3.2 Type C (Gen 2) w/ Power Delivery and Display Port
3x USB 3.2 Type A (Gen 1)
1x RJ45 LAN port
1x 3.5mm Combo Audio Jack
1x HDMI 2.0b
Input Devices
Keyboard
Optical Mechanical Keyboard Per-Key RGB
Audio
Audio
2x 4W speaker with Smart Amp Technology
2x 2W tweeter
Power
Battery Pack
90WHrs, 4S1P, 4-cell Li-ion
AC Adapter
ø6.0
240W AC Adapter
Output: 20V DC, 12A, 240W
Input: 100~240C AC 50/60Hz universal
Physical Characteristics
Machine Dimension
13.9" x 10.2" x 0.9" ~ 1.1" (W x D x H)
Weight
5.5 lbs
Warranty & Support
Accidental Damage Warranty
1 Year International/
Eligible for 1YR free Domestic ADP upon registration with 1-way free shipping/
2-way FREE shipping for standard hardware warranty repair
exc***@***pam.com
Pros:
ExcaliberPC ordering process, Very capable discrete mobile GPU, decent connectivity options
Cons:
ASUS bloatware
Solid gamer laptop, obscene power for normal users
What I liked This laptop is obscenely powerful and while it isn't quite to the level of the QS series from ASUS it combines everything great about AMD & Nvidia into a very compact and reasonably quiet platform. Gaming-wise there's just no way for the power and heat-limited mobile GPUs to compete with their desktop brethren. But if you don't need to game with max eye candy on the latest AAA titles then this is a solid purchase for at least 3-4 years. For general computing tasks (browsing, etc.) it is obscenely overpowered and I would never buy it just for that reason. This laptop is going to be my daily-driver, an HTPC, and casual gaming system. For any big AAAs or games needing to push max frames I still have a beefy gaming machine to use. What I didn't like The biggest gripe I have with the machine is the obscene level of ASUS bloatware installed onto and because it is tied so closely into management of the laptop you can't get rid of all of it (looking at you Crate). Nothing new here though with regards to prebuilt laptops and/or PCs, just wish more freedom was given to choose. My next biggest gripe is that the Keystone seems fairly useless as a feature and seems to only serve as an ugly port that could've held almost two more USB ports and/or allow for even more cooling. Just make the keystone a standard USB port (or two). Provide a USB key like YUBIKEY with your own branding, etc. ;) Ordering experience Last but certainly not least, big props to the customization and fulfillment staff from ExcaliberPC. If you are needing a PC or laptop quickly and want to add customizations to them then paying the extra $25 is not wasted on these folks. They got my order processed, customizations completed, contacted me with questions or issues, and shipped it out in a single day. Everything arrived as ordered and I just want to say a big thanks to ExcaliberPC for making this a great first buying experience. You can count on repeat business from me.