MSI Aegis R 10SC-017US Gaming Desktop w / NVIDIA GeForce RTX 2060 Super 8GB GDDR6 (Core i7-10700F & RGB Air CPU Cooler)
$1,449.00

Ground Shipping

FREE
Will Arrive On Mar 4, 2021
OR
Core i7-10700F & RGB Air CPU Cooler, RTX 2060 Super (8GB) GDDR6, 16GB DDR4 3000MHz Memory, 512GB SATA SSD + 1TB 7200RPM HDD (3.5-inch), VIGOR GK 30 Keyboard & Clutch GM11 Mouse Included
Aegis R 10SC-017US824142214671EX733030
Not In StockNew1 Year
Graphics Card

RTX 2060 Super (8GB)

RTX 2080 (8GB)
Processor

Core i7-10700F
Memory (RAM)

16GB DDR4 3000MHz
Storage

512GB SATA SSD + 1TB HDD

1TB SATA SSD
Operating System

Windows 10
MSI Aegis R 10SC-017US, Intel Core i7-10700F (2.9GHz - 4.8GHz) Processor, 16GB (2x 8GB) DDR4 3000MHz Memory, 512GB SATA SSD +1TB 7200RPM HDD (3.5-inch), NVIDIA GeForce RTX 2060 Super (8GB) GDDR6 Graphics Card, Microsoft Windows 10 (64-bit), Gigabit LAN, AX201 (WIFI 6), Bluetooth 5.1, HDMI, 6x USB 3.2 Type A (Gen 1), 1x USB 3.2 Type C (Gen 1), 2x USB 2.0, VIGOR GK 30 Keyboard & Clutch GM11 Mouse Included
Description
Specification
Benchmarks
Expert Review
Aegis R 10th
Windows 10 Home

Up to 10th Gen Intel® Core™ i7 processor

Up to MSI GeForce® RTX 2070 SUPER™

MSI's LED Button - Customize your desktop with 60 lighting effects.

Latest Wi-Fi 6 (802.11ax) for redefined wireless gaming experience

Easy to upgrade with standard MSI components and case
WIELD THE POWER
Wield the power and become the world's best with the Aegis R. Packed with the latest 10th Gen. Intel® Core™ i9 processor and NVIDIA® GeForce® RTX graphics cards, it's the most powerful gaming desktop that is born for Esports and deliver an exceptional gaming experience.
ESPORTS READY GAMING DESKTOP
Sourced from the finest material, built with precision manufacturing and rigorously tested for durability, the Aegis R defines Esports ready PC that delivers extraordinary gaming performance.
*Actual Specification may vary by configuration.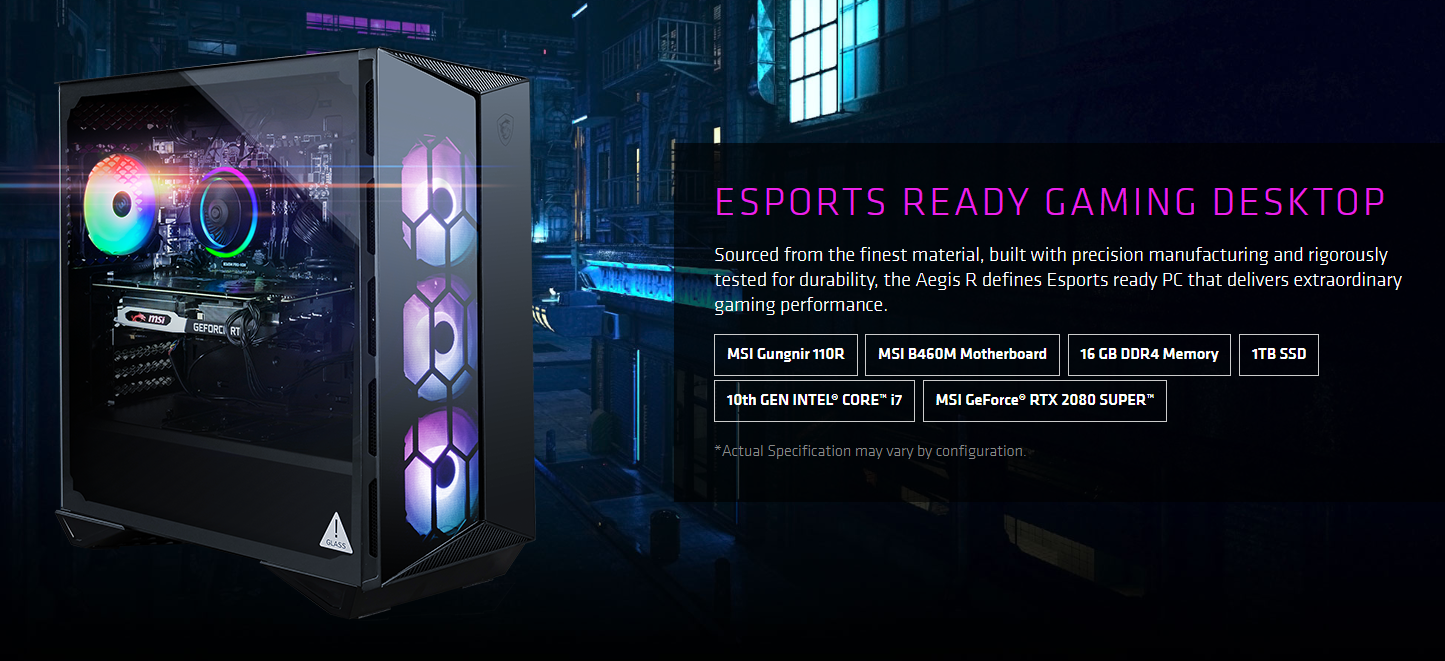 OUTPLAY THE COMPETITION
Experience a 40% boost in computing from last generation. MSI Desktop equips the 10th Gen. Intel® Core™ i7 processor with the upmost computing power to bring you an unparalleled gaming experience.
*Performance compare to i9-9900K.
**Spec varies by model
RTX. IT'S ON. NVIDIA GEFORCE RTX™ 20 SERIES GRAPHICS
NVIDIA GeForce RTX™ delivers the ultimate laptop gaming experience. These sleek, powerful gaming rigs are powered by the new NVIDIA Turing GPU architecture and the revolutionary RTX platform. RTX graphics bring together real-time ray tracing, artificial intelligence, and programmable shading.
A PERSONAL TOUCH
With the built in RGB lighting, animate and take your gaming experience to the next level by simply pressing the MSI LED button.
COOL WHILE GAMING
The Aegis R features four system cooling fans; three in the front pulling cool air to circulate inside desktop and one in the rear to push out all the heat, exiting the build.
THE LATEST WIFI 6 TECHNOLOGY
The Aegis R features the latest Wi-Fi 6 802.11ax standard, and speed up to 2.4Gbps, which is 3x times faster than the Ethernet LAN. The latency is also 75% lower than Wi-Fi 5. With Wi-Fi 6 technology, MSI is destined to break the speed myth of wireless connection.
*Optional. May vary by SKU and country. Only supported with AX200 series configuration, and may require driver update.
PRO-LEVEL GAMING PERIPHERALS
Supplement your gaming experience with MSI Vigor GK30 keyboard and Clutch GM11 mouse. The perfect storm of MSI gaming peripherals and Aegis RS delivers users a pro-level gaming environment.
*Keyboard and Mouse included only on select Aegis R models.
RAPID CLICKING WITH GREAT PRECISION
Engineered with OMRON switches that last over 10 million clicks and a Pixart optical sensor that delivers up to 5000 DPI, the GM11 provides pin-point level of precision in the heat of battle.
SOLID BASE WITH MECHANICAL-LIKE SWITCHES
Mechanical-like plunger switches with 3-part construction provide a crisp typing experience with over a 12 million press per key life span.
DRAGON CENTER
The exclusive and brand-new UI merges all the MSI software functions into one specific application – MSI Dragon Center. Not only integrates all the MSI software functions, but also sync all the MSI desktop products to work together, providing the best user experience. No more messy programs or ICONs, just one click and you can enjoy all the functions in Dragon Center.
MSI Gaming Mode provides the most suitable setting for your whole gaming system, bring you the best gaming experience with one click!
Need more power from your CPU and memory to get more FPS? MSI Game Boost enables one-second overclocking, giving you the performance boost you need.
When enabled, it optimizes your devices for even better transfer speeds and can provide up to 20% increase in USB performance, saving a lot of time when transferring data.
With an intuitive interface, OC Setting allows you to tune settings to increase system stability, maximize performance and optimize your system's cooling features.
Total Fan Control allows you to take control of your fans. You can also set up to 4 temperature targets for CPU and motherboard, which will adjust the fan speeds automatically.
A single click sets all your key components to their highest performance and makes sure other software applications won't impact your virtual adventure
Never miss out on important updates. MSI Live Update automatically downloads and installs the latest drivers, BIOS and software so you can focus on your game.
General
Brand
MSI
Model
Aegis R 10SC-017US
Color
Gungnir 110R (50L)
Highlights
MSI Aegis R 10SC-017US, Intel Core i7-10700F (2.9GHz - 4.8GHz) Processor, 16GB (2x 8GB) DDR4 3000MHz Memory, 512GB SATA SSD +1TB 7200RPM HDD (3.5-inch), NVIDIA GeForce RTX 2060 Super (8GB) GDDR6 Graphics Card, Microsoft Windows 10 (64-bit), Gigabit LAN, AX201 (WIFI 6), Bluetooth 5.1, HDMI, 6x USB 3.2 Type A (Gen 1), 1x USB 3.2 Type C (Gen 1), 2x USB 2.0, VIGOR GK 30 Keyboard & Clutch GM11 Mouse Included
Processor
Type
Intel 10th Gen Comet Lake Core i7-10700F Processor
# of Cores
8
# of Threads
16
Clock Speed
2.9 GHz
Max Turbo Frequency
4.8 GHz
Intel Smart Cache
16 MB
Chipset
Intel B460
Operating System
Operating System
Microsoft Windows 10 (64-bit)
Graphics
GPU (Graphic Accelerator)
NVIDIA GeForce RTX 2060 Super (8GB) GDDR6 Graphics Card
Memory
Standard Memory
16GB (2x 8GB) DDR4 3000MHz
Number of SODIMMS
4 Socket, Max Memory 64GB
Hard Drive & Optical Drive
HDD Capacity
512GB SATA SSD +1TB 7200RPM HDD (3.5-inch)
Optical Drive
N/A
Communication
Network / Communication
LAN : 10/100/1000 Mbps Wireless LAN : AX201 (WIFI 6) Bluetooth 5.1
Audio
Audio
7.1 HD Audio (Realtek ALC1200) + S/PDIF
Slots / Interface
Expansion Slots
1x Mic in / Headphone-out
Video Port
3x DisplayPorts
1x HDMI-out
Front I/O Port
2x USB 3.2 Type A (Gen 1)
1x USB 3.2 Type C (Gen 1)
Rear I/O Port
4x USB 3.2 Type A (Gen 1)
2x USB 2.0
Input Device
Keyboard
VIGOR GK 30 Keyboard & Clutch GM11 Mouse Included
Touchscreen
N/A
Power
Power Supply
500W
Physical Spec
Dimension
16.93" x 8.46" x 17.72" (L x W x H)
Unit weight
29.98 lbs
Warranty
Manufacturer Warranty
1 Year Warranty