(FACTORY REFURBISHED) ASUS ROG G703GI-XS74 17.3" 144Hz (3ms) IPS G-Sync Full HD Gaming Laptop w / GTX 1080 8GB GDDR5X (Coffee Lake Core i7-8750H)
$1600 off, 144Hz (3ms) IPS Display w/ NVIDIA G-Sync, Supports HyperDrive Extreme (Up to 8700MB/s, 3x NVMe SSDs Required), Core i7-8750H, GTX 1080 8GB, 32GB DDR4 2666MHz Memory, 512GB PCIe NVMe SSD (RAID 0) + 1TB SSHD, AURA Individual Per Key RGB Lighting (2.5mm Key Travel), Win 10 Pro
G703GI-XS74_FACTORY REFURBISHED889349985649EX727039
1 In StockFactory Refurbished30 days
ASUS ROG G703GI-XS74 (Coffee Lake), Intel Core i7-8750H (2.2GHz - 4.1GHz) Processor, 17.3" 144Hz (3ms) IPS G-Sync Full HD (1920 x 1080) 72% NTSC Display, 32GB (2x 16GB) DDR4 2666MHz Memory, 512GB PCIe NVMe SSD (2x 256GB) RAID 0 + 1TB SSHD (8GB SSD Cache), NVIDIA GeForce GTX 1080 (8GB) GDDR5X Graphics Card, Microsoft Windows 10 Professional (64-bit), Intel 9560 Gigabit WIFI, Bluetooth 4.1, HDMI 2.0, Mini Display Port 1.4, Thunderbolt, USB 3.1 Type C, 3x USB 3.1 Type A, ASUS AURA Individual Per Key RGB Lighting Keybord (2.5mm Key Travel)
ROG G703 is a beast of a gaming laptop that has the power to take on today's gaming desktops, thanks to its factory-overclocked 8th Generation Intel® Core™ i9 processor and overclockable NVIDIA® GeForce® GTX 1080 graphics. G703 is the key that unlocks supreme levels of gaming, so you can play AAA games on Ultra graphics settings without compromises. Continually pushing the envelope, ROG has torn up the gaming laptop blueprint, becoming the first to integrate an ultra-responsive IPS-level 144Hz display with a 3ms response time into its laptops. G703 features HyperDrive Extreme storage, which uses exclusive technology to combine three NVMe PCI Express® (PCIe®) SSDs in RAID 0 configuration for read speeds of up to 8700MB/s, so games load up in a blink of an eye.
PERFORMANCE
REDEFINING THE GAMING LAPTOP
Simply saying that G703 has gaming desktop levels of performance* would be an understatement. It's powered by a factory-overclocked Intel Core i9-8950HK that's capable of hitting an incredible 4.8GHz — surpassing base speed by more than 10%! Similarly, its NVIDIA GeForce GTX 1080 GPU and 8GB of GDDR5X VRAM are factory-overclocked as well, and can reach speeds of up to 1974MHz and 10.3GHz respectively! This graphics prowess lets you enjoy the latest AAA titles at their maxed-out settings for immersive gaming experiences. The ROG-exclusive Gaming Center puts all this performance at your fingertips, with an intuitive dashboard that lets you push G703 to its limits with a mouse click.
* Actual performance may vary according to system configuration.
FACTORY-OVERCLOCKED CPU
Regular Intel Core i9 CPUs can reach speeds of up to 4.3GHz, but the factory-overclocked CPU that powers G703 hits 4.8GHz right out of the box — that's a boost of over 11%! It runs 900MHz, or 23%, faster than the standard Intel Core i7-8750H CPUs used in most gaming laptops. It also supports Intel Hyper-Threading, Speed Shift, and Turbo Boost 2.0 technologies to handle every task quickly and efficiently.
POWERFUL GPU
The newest NVIDIA GeForce 10-Series graphics architecture offers the highest possible gaming laptop performance, new gaming technologies, and unmatched VR experiences. The NVIDIA GeForce GTX 1080 GPU used in G703 features 2560 NVIDIA® CUDA™ cores and a maximum boosted clock speed of up to 1974MHz. GeForce GTX 10-Series also supports Microsoft® DirectX® 12, enabling the newest visual effects and rendering techniques for gaming experiences that are more realistic than ever before!
POWERFUL DDR4 MEMORY
Benefit from improved speed and lower power consumption with up to 64GB of DDR4 2666MHz dual-channel RAM. With an 11% performance boost over 2400MHz RAM, get ready to take your gaming experience to new heights.
Ultimate Gaming Platform
Unleash your gaming dominance with the revolutionary new GPUs that turn your mobile rig into a sleek, powerful gaming weapon. GeForce GTX 10-Series GPUs have come to laptops, powered by the game-changing NVIDIA Pascal™ architecture. This means you can experience unbeatable energy-efficiency, innovative new gaming technologies, and breakthrough VR immersion wherever you game.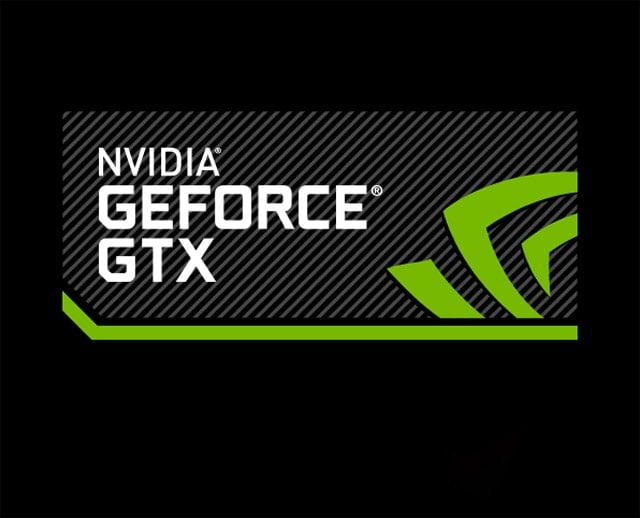 Performance
GeForce GTX 10-Series GPUs give you up to 3x the performance of previous-generation GPUs. They're built with ultra-fast FinFET, the latest high-bandwidth memory technologies, and support for DirectX 12 features to deliver the fastest, smoothest gaming notebook experiences.
The Latest Gaming Technology
These innovative GPUs were created to meet the demands of next-generation displays, including VR, ultra-high-resolution, and multiple monitors. NVIDIA GameWorks™ technologies give you extremely smooth, cinematic gameplay, plus revolutionary NVIDIA Ansel™ that lets you capture 360-degree in-game images and view them in VR.

VR Ready
Discover next-generation VR performance, the lowest latency, and plug-and-play compatibility with leading headsets — driven by NVIDIA VRWorks™ technologies. VR audio, physics, and haptics let you hear and feel every moment.
SSD
HYPERDRIVE EXTREME — WORLD'S FASTEST RAID 0 STORAGE IN A LAPTOP
HyperDrive Extreme uses exclusive technology to combine up to three NVMe PCIe 3.0 x4 SSDs to provide G703 with the world's fastest RAID 0 storage available in a gaming laptop — so your games load up faster. Having two out of the three SSDs directly connected to the CPU helps avoid DMI bottlenecks, allowing for speeds of up to 8700MB/s.
* Actual performance may vary according to system configuration.
DISPLAY
ULTRA-RESPONSIVE 144HZ DISPLAY
G703 features the most responsive IPS-level laptop display available. This Full HD panel features NVIDIA G-SYNC™ technology and a 144Hz refresh rate to provide you with smooth and seamless graphics never before seen on a laptop. Get ready to play the latest AAA games at maxed-out settings without lag, visual tearing, or stutter! In addition, an ultrafast 3ms gray-to-gray (GTG) response time reduces motion blur and ghosting, the display even features an anti-glare coating to get rid of those distracting reflections.
* Actual specification may vary according to configuration.
SMOOTH VISUALS AT 144HZ
With a refresh rate of 144Hz, fast-moving visuals are no match for ROG G703. Take in all the minute details and enjoy supersmooth gameplay, even at the highest graphics settings. This lets you react instantly to what's happening onscreen – giving you an advantage in action, first-person shooters, racing, real-time strategy and sports titles.
* Actual specification may vary according to configuration.

SEAMLESS GAMEPLAY WITH NVIDIA G-SYNC™
NVIDIA G-SYNC™ technology synchronizes the display's refresh rate with the GPU's frame rate to make gameplay silky smooth. G-SYNC minimizes stuttering, reduces input lag, and eliminates visual tearing all without affecting system performance. You get the smoothest, fastest, and most immersive experience across a broad range of games.

KEYBOARD
AURA RGB LIGHTING
Exclusive Aura RGB lighting technology allows you to customize light effects right down to individual keys. You can even create unique color patterns for each game to help you find and master its controls. The keyboard used in G703 features N-key rollover and anti-ghosting technologies, and a highlighted WASD key group to provide precise control; while a 2.5mm travel distance, a 0.3mm keycap curve, and a durable anti-slip palm rest ensure you stay comfortable. In addition, unique hotkeys allow instant access to Xbox Game bar, ROG Aura, Gaming Center, and XSplit Gamecaster.
AURA SYNC
AURA SYNC FOR ULTIMATE PERSONALIZATION
Aura Sync technology gives you the freedom to customize and sync up light effects with Aura Sync-supported gaming mice, headsets, and other peripherals to give your entire gaming setup a consistent look and feel. With a full spectrum of colors to choose from, as well as eight different lighting modes that can be accessed via the Aura control panel, Aura Sync technology lets you express your gaming persona, or the feel of the game you're currently playing.
THERMAL
ANTI-DUST COOLING SYSTEM
The patented Anti-Dust Cooling (ADC) system enables G703 to clean itself of harmful dust and particles. Acting like an immune system, dust, dirt and other particles are ejected from the chassis through two dedicated tunnels via centrifugal force, preventing build-up in the thermal fins to increase system stability and lifespan. Two high-performance, dual-outlet fans blow air through ultrathin fins, while the unique heat-pipe architecture cools the CPU, GPU and chipset power components independently.
ANTI-DUST COOLING SYSTEM
The ADC system is a patented centrifugal fan module with two anti-dust tunnels. It works on the principle of centrifugal force, which acts on any object moving in a circular path, pushing it away from the center from which it is moving. Dust and other particles in the fan module are blown along the fan walls, and eventually out of the chassis through the anti-dust tunnels. This prolongs the lifespan and increases the stability of the system. Fan noise also decreases since the fans aren't overworked.


UPGRADED 12V FANS
Compared to regular 5V fans, the two powerful 12V fans found in G703 spin 20% faster, improve airflow by up to 41%, and increase air pressure by up to 92%. In order for regular 5V fans to achieve the same performance, it requires more power, thus making the system unstable — a major disadvantage when in the midst of a fierce firefight.

ULTRATHIN FIN DESIGN
The special copper alloy cooling fins used in G703 are just 0.1mm thin — half the thickness of regular fins. Narrower fins allow for more fins to be used in the cooling module, this increases the surface area for heat dissipation by up to 16%, while at the same time reducing air resistance by 7%.

FAN OVERBOOST
While the dynamic fans automatically adjust their speed according to CPU and GPU temperatures, you also have the option to select the Overboost, default Auto, or Silent modes to suit the situation at hand. A single press of the function key allows you to quickly and easily regulate fan performance to control noise levels and power consumption. Fan Overboost is the most aggressive setting, providing the fastest fan speed for the cooling required to fully exploit the power of G703. Silent mode lowers the fan speed, ideal when you're after some peace and quiet.
MULTIPLE COMPONENT COOLING
The unique heat-pipe design cools not only the CPU and GPU independently to avoid thermal throttling, but also keeps chipset power components below 80°C — increasing system reliability and lifespan.
CONSOLE GAMING
XBOX INTEGRATION
It's time to break boundaries between gaming platforms. G703 has exclusive Xbox features to offer a combination of unparalleled computing power and gaming console-like convenience. The integrated Xbox Wireless module lets you connect up to eight Xbox One controllers without the need for an external USB dongle, while the Xbox hotkey fires up the Xbox Game bar, so you're ready to record and broadcast gameplay, or hook up with friends on Xbox Live across Xbox One, Windows 10, tablet and smartphone. You can even play Xbox Play Anywhere digital titles on either Xbox One or Windows 10, at no additional cost. Your progress, including all save points, add-ons and achievements, goes with you.

AUDIO
AMP UP YOUR AUDIO
With an incredible 32-bit/384kHz sound output, ESS® Sabre delivers a sample rate that's 8x greater than CD quality, for richer and more detailed audio experiences.
G703 delivers an unmatched sound experience. Two 2W tweeters located at the base of the display channel high-frequency audio waves directly towards you while two large, 3W woofers in the chassis reflect sound off of the table to deliver a perfectly balanced sound spectrum ranging from low to high frequencies. Further, smart amplifier technology protects the speakers while boosting in-game volume up to 200% with increased dynamic range and bass. The Sonic Studio III audio suite simulates a 7.1-channel surround-sound signal for an immersive and accurate 3D audio experience, even on standard stereo headphones. In addition, Sonic Radar III uses audio cues to provide you with an onscreen overlay to pinpoint the enemy's exact location even before you make contact.
Sonic Studio III
Sonic Studio III is a useful suite of tools to support all of your in-game audio needs. A control panel gives you access to five different audio modes, and even lets you manually adjust settings. This software suite includes noise cancelation, voice-volume stabilization, and echo cancelation during recording. Even when you're using earphones, it's able to simulate a 7.1-channel surround sound signal to create an immersive gaming experience.

Sonic Radar III
The immersive Sonic Radar III audio engine processes sounds more accurately than ever, so you're always aware of what's going on around you. Use the on-screen arrow to hone your enemy-pinpointing skills, and enjoy visualized audio detail that eliminates the need to crank up the volume — the perfect tool for practice rounds and tuning untrained ears.
I/O PORTS
TRINITY DISPLAY TECHNOLOGY
G703 comes with the latest and fastest display connections available — Thunderbolt™ 3, Mini DisplayPort 1.4 and HDMI 2.0. The lightning-fast Thunderbolt 3 port with a Type-C™ connector delivers transfer rates of up to 40Gbps — four times the bandwidth of USB 3.1! All ports support 4K UHD output at 60Hz, too, so you have the freedom to connect up to three external monitors simultaneously to play games, multitask or enjoy truly immersive cinematic experiences.

VR READY
TRANSCENDING REALITY
With its NVIDIA GeForce GTX 1080 graphics, supported by the exclusive Anti-Dust Cooling system, G703 blurs the boundary between the real and virtual world. G703 provides you with super-smooth, stutter-free gaming visuals and is plug-and-play compatible with leading VR headsets. Experience fully-immersive VR environments, explore new worlds, and transcend reality!

SOFTWARE
ROG GAMING CENTER
ROG Gaming Center is your hub to a multitude of exclusive apps to improve your gaming experience. This integrated control deck provides quick access to all the functions you need on a single dashboard — monitor system information, configure individual game-launch profiles, adjust audio settings, allocate more bandwidth to your online games or overclock your system components. You can even remotely control Gaming Center with your smartphone or tablet.
* Software and compatibility may vary by product model.

Aura RGB
Aura RGB lets you customize the colors of the keyboard right down to each individual key. Take control and choose from ten lighting presets, including Breathing, Color Cycle or Rainbow modes. Create individual key colors for every game to master its controls, and customize the ROG logo to match your mood or style. You can even activate Aura Sync via Aura RGB as well.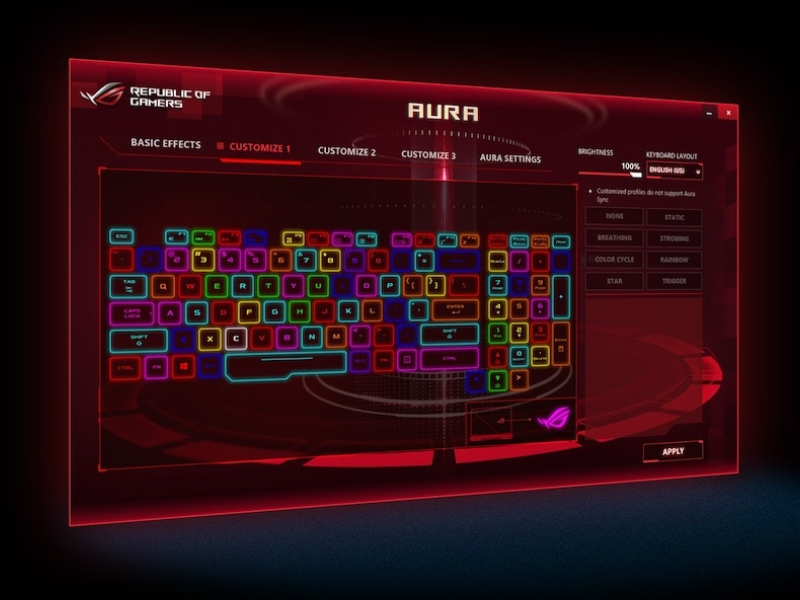 XSplit Gamecaster
A lifetime subscription to XSplit Gamecaster Standard lets you live stream and broadcast directly to internet streaming platforms, or make recordings for easy sharing online. It allows you to make in-game annotations to highlight what's happening on screen. You can even interact with your audience while broadcasting on Twitch.
GameVisual
ROG GameVisual software provides six preset modes for different game genres, plus loads of exciting multimedia and customization settings. ROG software engineers have fine-tuned each setting to deliver exceptional visuals that perfectly complement each specific game genre. First Person Shooter (FPS) mode, for example, enhances visibility in dark environments — so you'll see details denied to your enemies, for a clearer shot with every pull of the trigger.
GameFirst V
ROG GameFirst V technology maximizes throughput for your game! It prioritizes network packets for increased bandwidth for online gaming and streaming. Auto mode prioritizes all of your applications based on a choice of four preset scenarios; while Manual mode lets you categorize programs and prioritize them accordingly. In addition, ROG First ensures ROG routers and ASUS RT-series routers prioritize packets according to the GameFirst V settings in your ROG laptop.
Android / iOS App
Keep ROG Gaming Center close at hand with the Android or iOS app on your smartphone or tablet, so you can access it without interrupting your game. What's more, they're free to download from Google Play™ and the App Store.
General
Brand
ASUS
Model
G703GI-XS74
Color
ROG Metallic Copper Style
Highlights
ASUS ROG G703GI-XS74 (Coffee Lake), Intel Core i7-8750H (2.2GHz - 4.1GHz) Processor, 17.3" 144Hz (3ms) IPS G-Sync Full HD (1920 x 1080) 72% NTSC Display, 32GB (2x 16GB) DDR4 2666MHz Memory, 512GB PCIe NVMe SSD (2x 256GB) RAID 0 + 1TB SSHD (8GB SSD Cache), NVIDIA GeForce GTX 1080 (8GB) GDDR5X Graphics Card, Microsoft Windows 10 Professional (64-bit), Intel 9560 Gigabit WIFI, Bluetooth 4.1, HDMI 2.0, Mini Display Port 1.4, Thunderbolt, USB 3.1 Type C, 3x USB 3.1 Type A, ASUS AURA Individual Per Key RGB Lighting Keybord (2.5mm Key Travel)
Processor & Chipset
Processor
Intel Coffee Lake Core i7-8750H Processor
# of Cores
6
# of Threads
12
Clock Speed
2.6 GHz
Max Turbo Frequency
4.1 GHz
Cache
9MB
Chipset
Mobile Intel HM370 Express Chipsets
Software
Operating System
Microsoft Windows 10 Professional (64-bit)
LCD
LCD Display
17.3" 144Hz (3ms) IPS G-Sync Full HD Anti-Glare Wide View 72% NTSC Display
Resolution
1920 x 1080 (16:9)
Graphics
GPU (Graphic Accelerator)
NVIDIA GeForce GTX 1080 (8GB) GDDR5X Graphics Card
Memory
Standard Memory
32GB (2x 16GB) DDR4 2666MHz
Maximum Memory
4 Sockets, Max Memory 64GB
(two slots installed w/ 16GB each, two slots open)
Hard Drive & Optical Drive
Hard Drive
512GB PCIe NVMe SSD (2x 256GB) RAID 0 + 1TB SSHD FireCuda (8GB SSD Cache)
Optical Drive
N/A
Network & Communication
Network
Built-in Gigabit Ethernet LAN
Intel 9560 Gigabit WIFI (2x2 802.11 ac) Wave 2
Bluetooth 4.1
Interfaces/Ports
Card Reader
SD
I/O Ports
3x USB 3.1 Type A (Gen.2)
1x USB 3.1 Type C (Gen 2)
1x Thunderbolt
1x Microphone-in jack
1x Headphone-out Jack
1x RJ45 LAN Jack for LAN insert
1x HDMI 2.0
1x mini Display Port 1.4
Webcam Resolution
Webcam
HD Web Camera
Input Devices
Keyboard
ASUS AURA Individual Per Key RGB Lighting Keybord (2.5mm Key Travel)
Security
Password Protection
BIOS Booting User Password Protection
Notebook Lock
Kensington lock hole
Audio
Audio
2 x 2W speakers + 2 x 3W speakers with Smart AMP technology
Array microphones
ESS 32-bit Hi-Fi DAC
Power
Battery Pack
71WHrs, 4S2P, 8-cell Li-ion
AC Adapter
ø6.0
280W*2 AC Adaptor;
Output: 20V DC, 14A, 280W*2
Input: 100~240C AC 50/60Hz universal
Physical Characteristics
Machine Dimension
16.7" x 12.6" x 2.0" (W x D x H)
Weight
10.4 lbs
Warranty & Support
Accidental Damage Warranty
1-Year International
1-Year ADP with 1-way Free Shipping
30-Day Zero Bright Dot
1-way FREE shipping for standard warranty repair
24-7 tech support