ASUS ZenBook 13 (UX333FA-DH51) 13.3" Full HD (Glossy) Ultrabook - Slate Gray (Whiskey Lake Core i5-8265U)
ASUS ZenBook 13 (UX333FA-DH51), Intel Core i5-8265U (1.6GHz - 3.9GHz) Processor, 13.3" Full HD (1920 x 1080) Display, 8GB LPDDR3 2133MHz Memory (Onboard), 256GB PCIe NVMe SSD, Intel HD Graphics Card, 802.11 AC Wireless LAN, Bluetooth 5.0, USB 3.1 Type C, USB 3.1 Type A, USB 2.0, HD IR/RGB Combo Camera, Harman Kardon Audio, Illuminated Chiclet Keyboard (1.4mm Key Travel), Microsoft Windows 10 (64-bit)
Creativity. Style. Innovation. These are the qualities that define the elegant new ZenBook 13. Everything in this take-anywhere masterpiece — it's the world's smallest 13-inch laptops* — is designed to give you the freedom to discover your creative power, including its breathtaking frameless NanoEdge display. You'll appreciate not only the tremendous power within and the thoughtful attention to detail — such as the exclusive ErgoLift hinge and NumberPad touchpad — but also the timeless beauty of the design, with its sensational Royal Blue or Icicle Silver finish enhanced by the new Rose Gold trim panel. ZenBook 13 is waiting: are you ready to unleash your creative power?
Design
The most compact design ever
ZenBook 13 heralds a new era of ultraportable design, with an ultracompact, ultralight chassis. Featuring the 4-sided NanoEdge display, the ZenBook 13 is the world's most smallest 13-inch laptop. In fact, the ZenBook 13 is smaller than an A4-size paper, and is 14% smaller than the previous generation ZenBook 13 (UX331).
NanoEdge Display
Unbounded beauty
Designed to give you the most screen area in the least physical space, the new frameless four-sided NanoEdge design of ZenBook 13 is simply breathtaking: it makes any visuals more immersive, with less distraction for your eyes. The ultraslim bezels1 are just 2.8mm thin at the sides, 3.3mm at the bottom and a mere 5.9mm at the top to accommodate the camera. The effect is truly stunning — it's like an infinity pool for your eyes! And with this ultra-compact display, ZenBook 13 is only about the size of an A4 sheet — in fact, it's the one of the smallest 13-inch laptops around.


Display
Spectacular visuals
Creativity demands a great screen, so ZenBook 13 has a crisp, clear, high-resolution display that makes any visuals look their best, with wide viewing angles and vivid, accurate colors. It also features exclusive ASUS technologies — including ASUS Splendid and ASUS Tru2Life Video — that fine-tune display parameters to ensure optimum eye comfort and color performance, for any kind of content.
ErgoLift Hinge
Designed with you in mind
With any ZenBook, your comfort is one of our top priorities. ZenBook 13 goes the extra mile with its exclusive ErgoLift hinge, an engineering masterpiece designed to automatically tilt the keyboard to the most comfortable typing position. But that's not all: the carefully calculated tilt improves cooling and audio performance, too.
More comfortable typing
A slight positive tilt on your keyboard helps reduce discomfort during long typing stints, something that's not usually taken into account in laptop design. The innovative ErgoLift hinge on ZenBook 13 changes all that: it automatically adds a gentle 3° tilt to the keyboard when you open the laptop for a comfortable, more desktop-like experience. With a maximum opening angle of 143°, it opens wider than most laptops too, so you have more freedom to choose the best screen angle. And when you close ZenBook 13 the ErgoLift mechanism is completely hidden, so it doesn't affect the sleek profile.
More efficient cooling
When the ErgoLift hinge mechanism tilts the keyboard, it also creates an important extra ventilation space that allows more airflow around the underside of the chassis. With this improved ventilation, ZenBook 13 keeps its cool even when you're pushing through to meet those tough deadlines.
More immersive audio
The extra space underneath ZenBook 13 created by the ErgoLift hinge has yet another benefit: it allows the powerful speakers to work at their best, delivering clearer sound with improved bass response.
COLOR
Extraordinary elegance
None of the traditional ZenBook style has been lost, though: there's the iconic Zen-inspired spun-metal finish on the lid and a choice of prestigious Royal Blue or sophisticated Icicle Silver finishes, both newly enhanced with a contrasting Rose Gold trim panel above the keyboard for an extra touch of luxury. The elegant Royal Blue color is inspired by the awesome beauty of a golden sunrise over the deep-blue ocean. The sophisticated Icicle Silver reflects the stunning contrasts of native gold and moonlight silver, a harmonious pairing celebrated in this classic theme.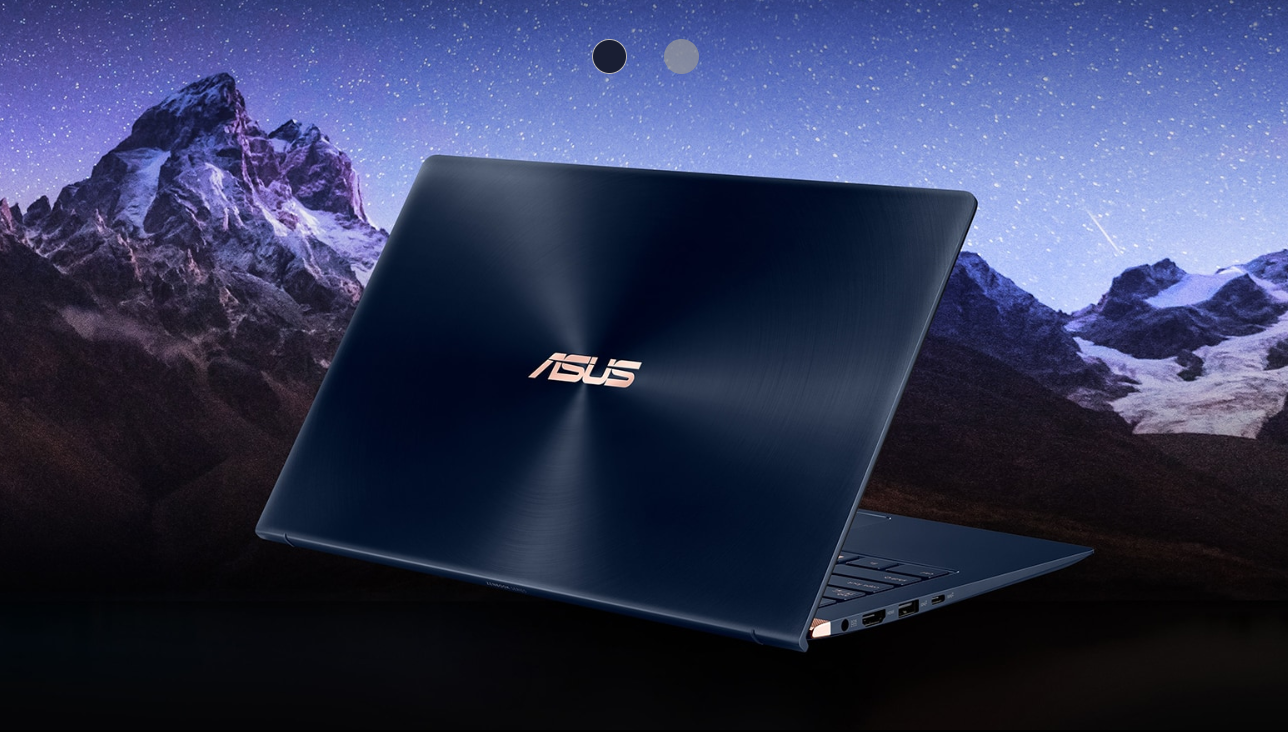 Performance
Unbounded performance
Designed to empower your creativity, ZenBook 13 doesn't sacrifice performance for size. It's built to give you all the raw power you need for effortless on-the-go computing. Featuring the latest Intel® Core™ processors and packed with high-quality, high-performance components, ZenBook 13 will never keep you waiting. Whether you're creating complex documents, mining data, retouching photos, editing videos, or simply taking a gaming break, ZenBook 13 lets you do more — and do it quicker.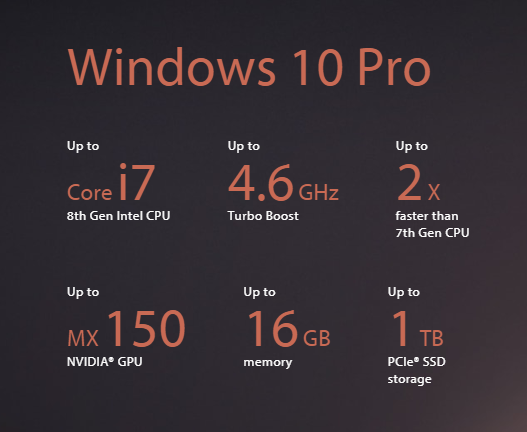 The powerful 8th Gen Intel® Core™ i7 processor
ZenBook 13 delivers state-of-the-art performance in an ultrathin form factor. At its heart is the latest 8th Generation Intel Core i7 processor, which is more than twice as fast as the previous generation, with up to 16GB of RAM for effortless, super-smooth multitasking.
Speed for professionals
A high-performance solid-state disk with a PCIe® 3.0 x4 interface gives ZenBook 13 the fastest storage available, allowing ultra-quick boot times and zero-wait app loading. And with 16GB of high-speed LPDDR3 RAM — clocked at an amazing 2133MHz — ZenBook 13 can handle multiple demanding tasks without skipping a beat.
NVIDIA discrete graphics
The GeForce MX150 discrete graphics chip in ZenBook 13 uses the groundbreaking NVIDIA Pascal™ architecture to give you desktop-level performance in a laptop. With its dedicated video memory, the MX150 is up to 2.4x faster than a standard integrated graphics chip using shared memory, so whatever your creative graphics task — such as video rendering, photo editing or 3D modeling — ZenBook 13 delivers the silky-smooth speed you need.
Ubiquity
Mobility without bounds
As a mobile professional, you need to stay connected — at the fastest speed possible. ZenBook 13 is equipped with gigabit-class Wi-Fi and ASUS Wi-Fi Master technology, so you can enjoy ultrafast downloads and smooth streaming with greater range and more stable network connections than ever before. Additionally, the latest Bluetooth® 5.0 brings you all the benefits of the latest low-power peripherals and accessories.
ASUS Wi-Fi Master
ZenBook 13 incorporates ASUS Wi-Fi Master technology, so you'll enjoy faster and more reliable Wi-Fi connections at greater distances than ever before. This exclusive technology brings you the full benefit of the up-to-12x-faster, MU-MIMO-capable dual-band 802.11ac Wi-Fi in ZenBook 13, with speeds of up to 1734Mbps4 With Wi-Fi Master, you can enjoy streaming FHD YouTube videos at distances of up to 300 meters or even more4. And even when you're using USB 3 devices — which can cause wireless interference — you can still stream smoothly when you're up to 225 meters or more away from your router, 65 meters farther than on standard laptops without the benefit of Wi-Fi Master!
Battery
All-day battery for non-stop lifestyles
ZenBook 13 is powered by a high-capacity battery that won't let you down, however long and demanding your working day is. Extended journeys or day-long meetings are no problem for ZenBook 13, even when power outlets are in short supply!
Keyboard and Touchpad
No-compromise productivity
For easy productivity on the go, ZenBook 13 is equipped with full-size backlit keyboard that delivers a superb typing experience. It's a masterpiece of ergonomics, with just the right amount of key travel. And of course, the ErgoLift hinge ensures it's always tilted at the perfect angle for comfort. ZenBook 13 also introduces the exclusive new NumberPad, a touchpad with a switchable numeric keypad for speedy data entry.
Introducing NumberPad
NumberPad solves the age-old problem of the lack of a numeric keypad on compact laptops. Just long-press the NumberPad icon at the top right corner of the touchpad, and an illuminated numeric keypad appears. Tap the icon again to return to normal touchpad mode — it's not magic, but it's close! With NumberPad you can quickly perform data entry or calculations, and in touchpad mode the glass covering provides super-smooth and precise fingertip control with multitouch gesture support.
Evolved function keys
Attention to every useful detail is a key part of the ASUS design philosophy. We've introduced an evolutionary new way of using the humble Fn key to access your laptop's features, such as the volume or display brightness. In the past, you'd press the Fn key first to use these features: now, the function keys operate the advanced features by default. If you want to access the standard function keys (F1-F12) simply use the Fn key combination.

Five-Layer Construction NumberPad Technology
With our patent-pending construction, the NumberPad has LEDs underneath the touchpad. When NumberPad is activated, the LEDs light up so the user can see the numbers on the touchpad. The NumberPad features a special five-layer construction, so that its numbers look sharp and clear when turned on; but when turned off, the NumberPad looks like any other touchpad.
The best Windows experience
The laptop that recognizes you!
ZenBook 13 and Windows 10 put you in total control of your laptop — without lifting a finger. The advanced biometric hardware works seamlessly with Windows Hello and Cortana, so you can wake up your laptop and log in using just your face, and command ZenBook 13 with your voice. Once you've experienced the convenience of hands-free computing, you'll wonder how you ever managed without it!
Hands-free face login
The advanced infrared (IR) camera on ZenBook 13 has see-in-the-dark capabilities that ensure fast, reliable hands-free face login with Windows Hello — even in dim environments. From wake-up to login takes only around a few seconds, and unlike some rivals with awkwardly placed cameras, on ZenBook 13 it's sensibly located on the slim top bezel of the NanoEdge display — yet another thoughtful ZenBook design detail.
The new ultra-thin webcam
To retain the camera at the top-bezel location, we used an ultra-thin camera module with has a 4-element lens to produce sharper images and low noise.
Cortana, your long-distance assistant!
Cortana is your voice-controlled digital personal assistant, and the far-field capability of the powerful microphone array on ZenBook 13 means you can interact reliably from further away — up to 4 meters away even in noisy environments like a kitchen or living room.
Meet Amazon Alexa
Use your voice to control your day
Alexa6 is a cloud-based voice service that helps you with tasks, entertainment, general information, and more. Using Alexa is as simple as asking a question. Just ask to play music, read the news, control your smart home, tell a joke, and more — Alexa will respond instantly.
Connectivity
Every connection you need
When you're working on the go, it's vital to be able to connect with anything and everything. ZenBook 13 features the revolutionary USB-C™ port for any-way-up connections and superfast USB 3.1 Gen 2 data transfers. And you'll also find a USB 3.1 Type-A port, a USB 2.0 port, an HDMI port and a microSD card reader, so it's easy to connect to all your current and future peripherals.
Audio
Immersive Harman Kardon audio
To create the next generation of ASUS SonicMaster audio technology, the ASUS Golden Ear team worked with renowned home and automotive audio experts Harman Kardon. The results are astonishing. A tailored mix of superior hardware — including smart amplifier technology that delivers louder sound with no distortion — and cleverly designed software ensure that ZenBook 13 gives you the ultimate audio experience.
Quality
Ultratough: military-grade durability
ZenBook 13 meets the ultra-demanding MIL-STD-810G military standard for reliability and durability, undergoing a punishing test regime that includes extended tests for operation in harsh environments including extreme altitudes, temperatures and humidity. It has also passed ASUS internal laptop tests that far exceed the standards set by the industry.
General
Brand
ASUS
Model
UX333FA-DH51
Color
Dark Royal Blue
Highlights
ASUS ZenBook 13 (UX333FA-DH51), Intel Core i5-8265U (1.6GHz - 3.9GHz) Processor, 13.3" Full HD (1920 x 1080) Display, 8GB LPDDR3 2133MHz Memory (Onboard), 256GB PCIe NVMe SSD, Intel HD Graphics Card, 802.11 AC Wireless LAN, Bluetooth 5.0, USB 3.1 Type C, USB 3.1 Type A, USB 2.0, HD IR/RGB Combo Camera, Harman Kardon Audio, Illuminated Chiclet Keyboard (1.4mm Key Travel), Microsoft Windows 10 (64-bit)
Processor & Chipset
Processor
Intel Whiskey Lake Core i5-8265U Processor
# of Cores
4
# of Threads
8
Clock Speed
1.6 GHz
Max Turbo Frequency
3.9 GHz
Intel Smart Cache
8 MB SmartCache
Operating System
Operating System
Microsoft Windows 10 (64-bit)
LCD
Size
13.3" Full HD (1920 x 1080) Anti-Glare with wide 178° viewing angles (Glossy)
Video Camera
HD IR/RGB Combo Camera
Graphics
GPU (Graphic Accelerator)
Intel HD Graphics Card
Memory
Standard Memory
8GB LPDDR3 2133MHz Memory (Onboard)
Maximum Memory
8GB
Number of SODIMMS
N/A
Hard Drive & Optical Drive
HDD Capacity
256GB PCIe NVMe SSD
Optical Drive
N/A
Audio
Sound & Speakers
ASUS SonicMaster stereo audio system with surround-sound; smart amplifier for maximum audio performance
Array microphone with Cortana and Alexa2 voice-recognition support
3.5mm headphone jack
Long-travel voice coils for improved low-frequency response
Certified by Harman Kardon
Communication
Network / Communication
Integrated 802.11 AC Wireless LAN
Bluetooth 5.0
Slots / Interface
Card Reader
Micro SD
I/O Ports
1x USB 3.1 Type A (Gen 1)
1x USB 3.1 Type C (Gen 2)
1x USB 2.0
1x Headphone-out & Audio-in Combo Jack
1x HDMI
Input Device
Keyboard
Illuminated Chiclet Keyboard (1.4mm Key Travel)
Touchpad
Glass-covered with integrated NumberPad; intelligent palm-rejection
Precision Touchpad (PTP) technology supports up to four-finger smart gestures
Power
Battery Pack
50WHrs, 3S1P, 3-cell Li-ion
Power Adapter
45W power adapter
(Output: 19V DC, 45W)
(Input: 100-240V AC, 50/60Hz universal)
Physical Characteristics
Machine Dimension
11.9" x 7.4" x 0.7"(W x D x H)
Weight
2.6 lbs
Warranty
Manufacturer Warranty
1 - Standard 1 Year North America Warranty
0 - 30 days Zero Bright Dot Guaranty LCD replacement (ZBD)
2 - Free 2-way Standard Shipping for warranty related services
24 - Technical Support: 24/7 (except holidays)
ASUS Notebook Hotline: +1-888-678-3688 (Toll-free)
One Year Accidental Damage Protection (ADP):
To register go to http://notebookcare.asus.com/Content/US/ADP/ADP.aspx
What's in the Box
Included Accessories
Sleeve
Type A to LAN Cable
Included Software
ASUS Battery Health Charging
ASUS Splendid
Quiet Fan