1TB Samsung 970 EVO Plus M.2 NVMe SSD
$299.00

Ground Shipping

FREE
OR
Up to 3,500 MB/s (Seq. Read) | Up to 3,300 MB/s (Seq. Write) | 600K IOPS (Ran. Read) | 550K IOPS (Ran. Write)
MZ-V7S1T0B/AMEX694865
In StockNew5 Year (USA)
The 970 EVO Plus reaches sequential read/write speeds up to 3,500/3,300 MB/s, up to 53% faster than the 970 EVO. The latest V-NAND—which brings greater NAND performance and higher power efficiency—along with optimized firmware, a proven Phoenix controller, and Intelligent TurboWrite boost.
Description
Specification
FAQ
Samsung 970 EVO
The SSD that goes further
Accelerate into next-gen computing. The Samsung 970 EVO delivers breakthrough speeds, best-in-class reliability, and a broad range of capacity options up to 2TB*. The latest V-NAND, new Phoenix controller, and Intelligent TurboWrite technology enhance high-end gaming and 4K & 3D graphic editing.
*1GB=1,000,000,000 bytes by IDEMA. A certain portion of capacity may be used for system file and maintenance use, so the actual capacity may differ from what is indicated on the product label.
Next level SSD speed
Feel the NVMe difference. The 970 EVO transforms high-end gaming and streamlines graphic intensive workflows with the new Phoenix controller and Intelligent TurboWrite technology. Get stunning sequential read/write speeds of 3,500/2,500 MB/s*, up to 32% faster writes than the previous generation.
* Performance may vary based on SSD's firmware version, system hardware and configuration. Performance measurements based on IOmeter 1.1.0. Write performance measurements are based on Intelligent TurboWrite technology.
* Test system configuration: Intel Core i7-7700K CPU @4.2GHz, DDR4 2400MHz 32GB, OS-Windows 10 Built 10240, Chipset–ASUS PRIME Z270-A
* The sequential write performances after TurboWrite region are: 300 MB/s(250GB), 600 MB/s(500GB), 1,200 MB/s(1TB) and 1,250 MB/s(2TB). For more information on the TurboWrite, please visit samsungssd.com
Design Flexibility
The next advancement in NVMe SSD. The 970 EVO fits up to 2TB onto the compact M.2 (2280) form factor, greatly expanding storage capacity and saving space for other components. Samsung's innovative technology empowers you with the capacity to do more and accomplish more.

Exceptional Endurance
The new standard in sustainable performance. Get up to 1,200 TBW* with a 5-year limited warranty, achieving 50 percent higher than the previous generation. The 970 EVO provides exceptional endurance powered by the latest V-NAND technology and Samsung's quality.
* TBW: Terabytes Written
* Warrantied TBW for 970 EVO: 150 TBW for 250GB model, 300 TBW for 500GB model, 600 TBW for 1TB model, 1,200 TBW for 2TB model.
* 5-years or TBW, whichever comes first. For more information on the warranty, please find the enclosed warranty statement in the package.

Unparalleled Reliability
Achieve a new level of drive confidence. Samsung's advanced nickel-coated controller and heat spreader on the 970 EVO enable superior heat dissipation. The Dynamic Thermal Guard automatically monitors and maintains optimal operating temperatures to minimize performance drops.
Samsung Magician
Advanced drive management made simple. The Samsung Magician software will help you keep an eye on your drive. A suite of user-friendly tools helps keep your drive up to date, monitor drive health and speed, and even boost performance.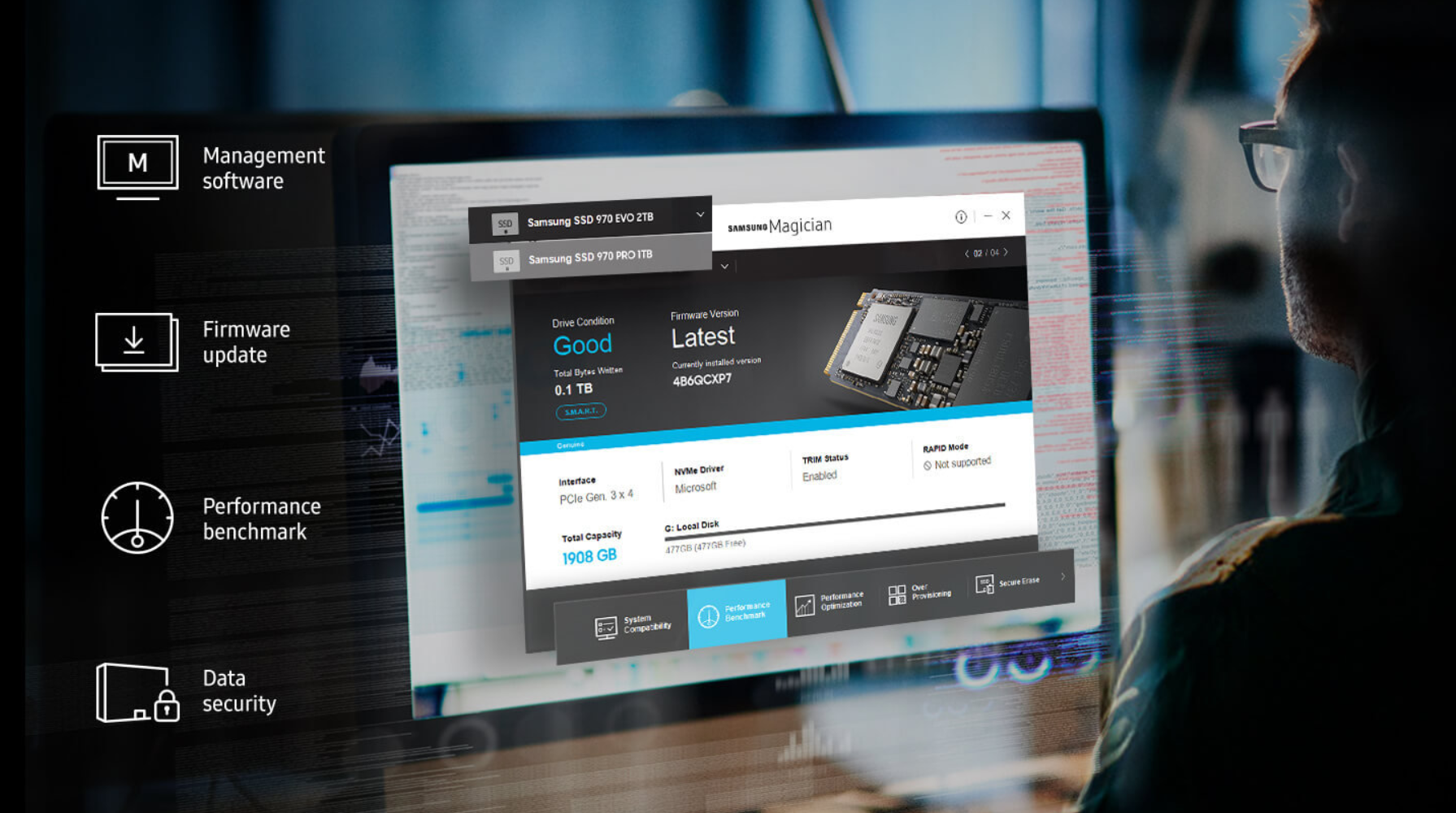 General
Brand
Samsung
Series
970 EVO
Model
MZ-V7E1T0BW
Highlights
Samsung 970 EVO Series MZ-V7E1T0BW Internal Solid State Drive (SSD), M.2 (2280) Form Factor, 1TB Capacity, Up to 3,400 MB/s (Seq. Read), Up to 2,500 MB/s (Seq. Write), Samsung Phoenix Controller, Samsung V-NAND 3bit MLC Storage Memory, Samsung 1 GB Low Power DDR4 SDRAM SDRAM Cache Memory, 1.5 Million Hours Reliability (MTBF).
Specifications
Application
Client PCs
Capacity
1 TB (1 GB=1 Billionbyte by IDEMA)
Form Factor
M.2 2280
Interface
PCIe Gen 3.0 x4, NVMe 1.3
Dimension
Max 80.15 x 22.15 x 2.38 (mm) (W x H x D)
Weight
Max 8.0g
Storage Memory
Samsung V-NAND 3-bit MLC
Controller
Samsung Phoenix Controller
Cache Memory
1 GB Low Power DDR4 SDRAM
Software
Magician Software for SSD management
Installation Kit
Not Available
Warranty
5 Year Limited Warranty or 600 TBW Limited Warranty
Special Feature
TRIM Support
TRIM Supported
S.M.A.R.T Support
S.M.A.R.T Supported
GC (Garbage Collection)
Auto Garbage Collection Algorithm
Encryption Support
AES 256-bit Encryption (Class 0), TCG/Opal, IEEE1667 (Encrypted drive)
WWN Support
Not Supported
Device Sleep Mode Support
Yes
Performance
Sequential Read
Up to 3,400 MB/sec
Sequential Write
Up to 2,500 MB/sec
Random Read (4KB, QD32)
Up to 500,000 IOPS
Random Write (4KB, QD32)
Up to 450,000 IOPS
Random Read (4KB, QD1)
Up to 15,000 IOPS
Random Write (4KB, QD1)
Up to 50,000 IOPS
Environment
Average Power Consumption (system level)
Average: 6.0 Watts
Maximum: 9.0 Watts (Burst mode)
Power consumption (Idle)
Max. 30mW
TRIM Support
1.5 Million Hours Reliability (MTBF)
Operating Temperature
0 °C to 70 °C (Measured by SMART Temperature. Proper airflow recommended)
Shock
1,500 G & 0.5 ms (Half sine)
What is V-NAND technology?
Shedding light on a whole new standard of capacity and performance.
Samsung V-NAND technology overcomes the capacity limitations of traditional 2D NAND technology with its revolutionary vertical design.
V-NAND also applies innovative Charge Trap Flash (CTF) technology which prevents data corruption caused by cell-to-cell interference.
The synergy of both structural and material innovations leads to improved speed, power efficiency, and endurance.
Vertical expansion breaks through horizontal limit
Samsung revolutionized the storage industry by shifting the planar NAND to a vertical structure. Samsung V-NAND technology features a unique design that stacks 48 layers on top of one another instead of trying to decrease the cells' pitch size. Samsung used Channel Hole Technology (CHT) to enable cells to connect vertically with one another through a cylindrical channel that runs through stacked cells.
Material innovation that no one can match
Samsung has shifted the paradigm of material used for NAND. Samsung applies the innovative CTF technology which uses a non-conductive layer of Silicon Nitride (SiN), temporarily trapping electrical charges to maintain cell integrity.
This non-conductive layer wraps around the control gate of the cell, acting as an insulator that holds charges to prevent data corruption caused by cell-to-cell interference.
Vertical architecture paves the way for amplified capacity
Layering cells vertically in three-dimensional stacks provides much greater cell density. Samsung V-NAND technology lets heavy-workload users and data centers store and handle more data with greatly improved capacity.
Samsung V-NAND enables up to 100 layers of cells to be stacked with the potential to scale the density up to 1 Terabit. The 2D planar NAND density ceiling can only reach the minimum density of V-NAND.
Innovative algorithms equal faster performance
Traditional planar NAND memory requires the creation of sets of complex program algorithms to prevent data corruption caused by cell-to-cell interference. However, Samsung V-NAND is virtually immune to cell-to-cell interference.
V-NAND does not need to go through a complex program algorithm to write data, and this enables the memory to write data up to two times faster than traditional 2D planar NAND flash memory.
Unprecedented power efficiency
Since V-NAND technology has eliminated the issue of cell-to-cell interference, its programming steps are greatly reduced. As a result, power consumption is substantially lowered by up to 45 percent compared to planar NAND memory.
Embedded high endurance to store your valuable data
Samsung V-NAND provides up to twice the endurance of planar NAND. V-NAND decreases its electric field because its cells are slightly larger, and employs CTF-based insulators eliminating the risk of cell-to-cell interference, resulting in superior retention performance.
In comparison between 3-bit and 2-bit, Samsung 3-bit V-NAND shows endurance similar to that of 2-bit planar NAND, and even better performance in heavy workloads. V-NAND also shows a sustained P/E cycle for longer periods of time.