(OPEN-BOX) GIGABYTE P55Wv7-KL3 15.6" Full HD IPS Gaming Laptop w / GTX 1060 6GB (Kabylake)
No Box, Notebook & Adapter only
P55Wv7-KL3_OPEN-BOX813567024927EX681134
In StockOpen Box1 Year
GIGABYTE P55Wv7-KL3 (Kabylake), Intel Core i7-7700HQ (2.8GHz - 3.8GHz) Processor, 15.6" Full HD (1920 x 1080) IPS Anti-Glare Display, 16GB (1x 16GB) DDR4 2400MHz Memory, 256GB SATA SSD + 1TB 7200RPM HDD, DVD Super Multi Drive, NVIDIA GeForce GTX 1060 (6GB) GDDR5 Graphics Card, Microsoft Windows 10 Home, Gigabit LAN, Wireless 802.11 AC, Bluetooth 4.2, HDMI 2.0, Mini DisplayPort, USB 3.1 Type C, 3x USB 3.0, Full-sized Backlit Keyboard (2.2mm Key Travel)

P55W R7 
NVIDIA® GeForce® GTX 1060 GDDR5 6GB

7th Gen Intel® Core i7-7700HQ Processor

M.2 PCIe Gen.3 X4– Max. 2000MB/s

Rapid & Massive Dual-storage: 1TB M.2 PCIe SSD + 2TB HDD (optional)

DDR4 2400MHz – Up to 32GB

USB 3.1 Type-C – 10Gbps / 5V 3A

HDMI 2.0 – 4K at 60Hz

XSplit Gamecaster + Broadcaster for Streaming and Recording

Recommended for VR 
NVIDIA® GeForce® GTX 1060: The Ultimate Performance 
The new NVIDIA® GeForce® GTX 10 series GPU features the latest Pascal™ architecture, breaking the limits of laptop performance. The new GPU delivers not only the ultimate performance and efficiency, but also easily provides an immersive Virtual Reality (VR) experience and smooth high-res gameplay. Hardcore gamers can now possess over-the-top performance on the mobile platform with crystal clear, captivating motion graphics, and jaw-dropping visuals.

THE ULTIMATE PC GAMING PLATFORM
Get Game Ready with GeForce® GTX. GeForce® GTX delivers the fastest performance, with the most advance gaming technologies (NVIDIA GameWorks™) and the best gaming ecosystem (GeForce Experience™).
NVIDIA® Ansel
Ansel is a revolutionary new way to capture in-game shots and view in 360. Compose your screenshots from any position, adjust them with post-process filters, capture HDR images in high-fidelity formats, and share them in 360 degrees using your mobile phone, PC, or VR headset.
HDR Ready
HDR Ready games and movies are rendered in rich, vibrant colors to deliver sharper and more realistic images.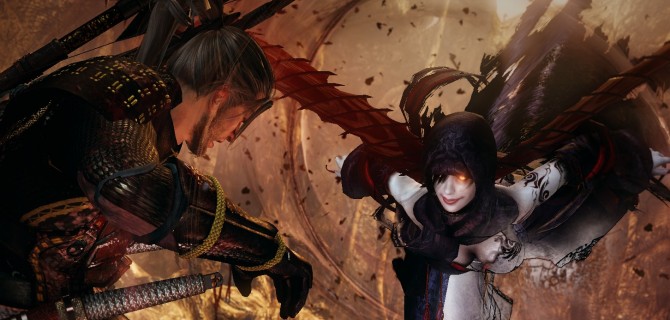 VR Works
Discover next-generation VR performance, the lowest latency, and plug-and-play compatibility with leading headsets—driven by NVIDIA VRWorks™ technologies. VR audio, physics, and haptics let you hear and feel every moment.
7th Gen Intel® Core™ i7 Processor : Here comes the new generation of performance.
With the latest "Kaby Lake" architecture, the 7th Generation Intel® Core™ i7 Processor outperforms its predecessor in every aspect, added with HEVC10b and VP9 decoding for outstanding 4K capabilities and extra extended mobility. Experience seamless next generation performance.
M.2 PCIe SSD - Massive Storage with Speed in Overdrive (optional)
Innovative PCI Express 3.0 SSD technology with the next generation form factor, M.2 is the newest incarnation of the solid state drive. With a single drive having a read speed of 2000 MB/s, the M.2 easily is 4x faster than any traditional SATA SSD technology available. With this boost in speed, the loading and installing time for programs and games will be greatly decreased. Moreover, system boot speed increases, thus greatly improving and accelerating the user experience!
DDR4 - Data Storage's Limit Breaker
DDR4 is breaking through the limits of data storage. Better than its predecessor DDR3 in every way, DDR4 is essential for any high-resolution game, or data-intensive application. It runs at a frequency of 2400 MHz, which allows games to run faster and smoother like never before! DDR4 also possesses more storage with a max capacity of 16GB per stick, double that of DDR3. Whether you are gaming or working, DDR4 will be able to provide superior performance!

Full HD Wide View Display for Crisp & Rich Vision
The 1080p Full HD display with great viewing angle realizes premium viewing experience plus astonishing color accuracy and crystal clear images when screen sharing. The Full HD matte (anti-glare) display panel diffuses light and eliminates reflections, upgrading your viewing experience and creating the most realistic gaming experience.

HDMI 2.0 – Higher Frame Rate, Higher Potential
The era of true 4K Ultra-HD is upon us! The untapped potential of 4K resolutions is realized through HDMI 2.0! Unlike HDMI 1.4 which only supports 8-bit color and 30 FPS, HDMI 2.0 can display games like never before! Supporting up to 18 Gbps transfer, the true potential of 4K resolution is realized through 12-bit color and 60Hz refresh rate! Finally see your favorite games how they were meant to be seen, in true high definition!
USB 3.1 Type C – Upgraded Convenience
The frustrations of turning a USB over and over trying to get it to plug has ended. With the introduction of USB 3.1 Type C universal connector, connecting a USB is no longer a fuss. Not only is it easier to plug, it also has twice the throughput of USB 3.0, transferring 100GB video in as little as 80 seconds. Being able to transfer data faster and possesses much improved pluggability greatly improves any user's daily routine!

XSplit Gamecaster + Broadcaster: Cast your Game Anytime, Anywhere
Live stream on a laptop has never been easier. Now set up your stage and share the greatest gaming moments with XSplit Gamecaster + Broadcaster! Fully optimized social media integration is ready for real-time chats—keeping you notified yet focused in the game. It takes just one click to stream your gameplay to Twitch. Host your game like a pro! The show starts wherever you flip open your laptop.
*Free 3-month Xsplit Gamecaster + Broadcaster Premium License
TriDef® SmartCam– Custom Stream Modding
To facilitate being the full streaming solution each unit includes TriDef® SmartCam software, you are now able to remove backgrounds without the hassle of using a green screen. Through the SmartCam application you can now apply live filters, and fully control your background, not only while streaming, but also through other video applications such as Skype.
*Free 90-day TriDef SmartCam License.
Blu-ray Rewritable: High-definition Playback (Optional)
P55 comes with a Blu-ray Rewritable Drive, supporting Full HD quality video playback. Blu-ray holds more data in a single disc, great for either high-definition gaming, multimedia or massive data backup. 
Premium Backlit Keyboard
The full-sized chiclet keyboard creates snappy yet responsive typing experience for long-hour operation. The 2.2mm key travel with outstanding response makes typing as effortless as what users expected on their desktop systems.
Phenomenal Design: Lead the pack
The P55 features aerodynamic streamlines in quality matte black finish, creating an all new unique design element. Take on the competition with the beast. P55 will definitely distinct you from the crowd either in any gatherings or your next LAN party.
Dolby Digital Plus™: Surround Sound Anywhere, Everywhere
Dolby Digital Plus™ creates a realistic game-play environment that lets you hear every window smash, feel every explosion, and experience every wipeout as if they're really happening. Surround Virtualizer creates a virtualized surround sound experience of stereo or multichannel content over built-in speakers or over headphones. Whether you're playing games, watching Blu-ray movies, or streaming videos, your P55 is an awesome multi-entertainment hub when it has advanced Dolby Digital Plus™.
Fan Tweak: Customized Stability
Fan Tweak tailors your fan speed to different user scenarios, striking a perfect balance between system stability and needs for tranquility. Under "Customize" mode, you can further adjust the maximum fan speed, embracing the great performance and quiet environment on your own. The 4 modes offer for all-condition tweak options.
Smart Dashboard Readies You for Any Challenge
The best policy to win any game is to make sure your system is 100% with you. Smart Dashboard presents the real-time monitor on your system information, including CPU & GPU loads, temperature, fan speed, network conditions and power scheme. A simple glance is all it takes to keep track of how your system works.
General
Brand
GIGABYTE
Model
P55Wv7-KL3
Highlights
GIGABYTE P55Wv7-KL3 (Kabylake), Intel Core i7-7700HQ (2.8GHz - 3.8GHz) Processor, 15.6" Full HD (1920 x 1080) IPS Anti-Glare Display, 16GB (1x 16GB) DDR4 2400MHz Memory, 256GB SATA SSD + 1TB 7200RPM HDD, DVD Super Multi Drive, NVIDIA GeForce GTX 1060 (6GB) GDDR5 Graphics Card, Microsoft Windows 10 Home, Gigabit LAN, Wireless 802.11 AC, Bluetooth 4.2, HDMI 2.0, Mini DisplayPort, USB 3.1 Type C, 3x USB 3.0, Full-sized Backlit Keyboard (2.2mm Key Travel)
Specifications
Operating System
Microsoft Windows 10 Home
CPU
Intel Core i7-7700HQ (2.8GHz - 3.8GHz)
Display
15.6" Full HD (1920x1080) IPS Wide Viewing Angle Anti-Glare Display LCD
System Memory
16GB (1x 16GB) DDR4 2400MHz (2 Slots, Max 32GB)
Chipset
Mobile Intel HM175 Express Chipset
Video Graphics
Intel HD Graphics 630
NVIDIA GeForce GTX 1060 (6GB) GDDR5 Supports NVIDIA Optimus Technology
Storage
256GB M.2 SATA SSD + 1TB 7200RPM Hard Drive
Optical Disk Drive
Super Multi DVD RW
Card Reader
SD Card Reader
I/O Port
1x USB 3.1 (Type C)
3x USB 3.0 (Type A)
1x HDMI 2.0
1x Mini DisplayPort
1x Mic-in
1x RJ45
1x Earphone-out 1x SD Card Reader
1x DC-in Jack
Audio
2x 2 Watt Speaker, Microphone, Dolby Digital Plus Home Theater
Communication
LAN: 10/100/1000Mbps Ethernet
Wireless LAN: 802.11 ac (a/b/g/n compatible)
Bluetooth: Bluetooth V4.2+ LE
Webcam
HD Camera
Keyboard type
Full-sized Backlit Keyboard (2.2mm Key Travel)
Security
Implements TPM by CPU, supports Intel® Platform Trust Technology (Intel® PTT)
Kensington Lock
Battery
Li-ion 6-cell 5400mAh, 63Wh
Adapter
180W
Dimension
14.92(W) x 10.59(D) x 1.05~1.33(H) inch
Weight
5.73 lbs (w/6-cell battery)
Warranty
2 Years Global Warranty