MSI Infinite A 8RG-242US (Mystic Light RGB LED) Gaming Desktop w / Core i7-8700 & GTX 1070Ti ARMOR 8GB GDDR5 (Air Cooled)
Core i7-8700 , GTX 1070Ti ARMOR 8GB (VR Ready), 256GB PCIe NVMe SSD + 2TB HDD, Gaming KB Mouse included, Supports 4K Video and 4K Game, Mystic Light RGB LED
Infinite A 8RG-242US824142163214EX680518
Not In StockNew1 Year
Includes Free Item – $20.00 value

MSI Gaming Mouse Pad (Not for sale)
MSI Infinite A 8RG-242US, Intel Core i7-8700 (3.2GHz - 4.6GHz) Processor, 16GB (2x 8GB) DDR4 2400MHz Memory, 256GB PCIe NVMe SSD + 2TB 7200RPM (3.5") HDD, NVIDIA GeForce GTX 1070Ti ARMOR (8GB) GDDR5 Graphics Card, Microsoft Windows 10 Home, Gigabit LAN, Intel Dual Band Wireless-AC 3168, Bluetooth 4.2, DisplayPorts, HDMI, 2x USB 3.1 Type C, 4x USB 3.1 Type A, 3x USB 2.0, Mystic Light RGB LED, Gaming KB Mouse included
Description
Specification
Benchmarks
GAMING NEVER STOPS
The MSI Infinite gaming PC is built for gamers with a never-ending desire to GAME. Housing world's best gaming hardware and featuring many tools to truly play the way you want, the Infinite PC is there to outlast you in countless hours of gaming. Challenge your own limits!
Infinite A
Windows 10 Home

8th Gen Intel® Core™ i7 -8700 processor with DDR4 memory

Up to MSI GeForce GTX 1070TI GAMING 8GB GDDR5 graphics

Exclusive Silent Storm Cooling 3 cooling system enhances system cooling and keeps it silent.

Mystic Light RGB LED design to customize your Gaming PC

Easy to upgrade - designed to upgrade your components with an ease.

Built-in carry handle – Take your Gaming Desktop everywhere with the easy to carry handle.

Vertical graphics optimal protection for your components during transport

Supports NVMe PCI-E Gen3 SSD speed up to 2.2GB/s

PCIe Steel Armor - Prevent the PCIe slot from breaking.

Nahimic 2.0+ Audio Enhancer

Audio Boost: Reward your ears with studio grade sound quality

High quality and durable components Military Class 5

Support INTEL Optane – speed up your storage device.

Exclusive MSI Command Center and MSI Dragon Eye apps

Super Charger 2: super power delivery, fast charge you mobile device

Super speed USB 3.1 Gen 1 Type C with reversible design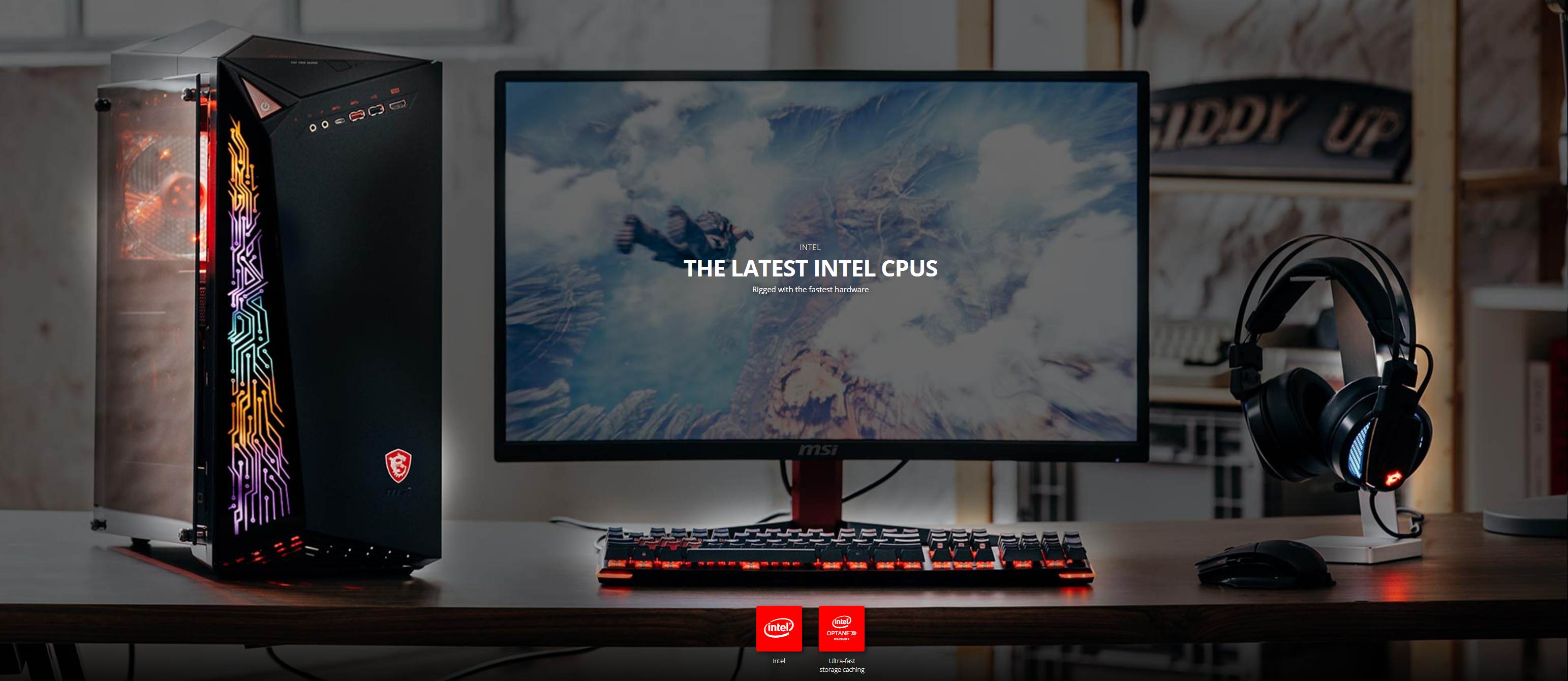 THE LATEST INTEL® CORE™ PROCESSSORS
This MSI gaming desktop comes with the latest 7th Generation Intel® Core™ processors*. Compared to its previous generation, the CPU multi-thread performance is 20% faster and the CPU multimedia performance is about 10% faster. 4K video playback with HDR visual quality is also significantly improved. So what does this mean for you? With these latest Intel processors, you can be totally immersed in full HD gaming, communicating with your teammates while live-streaming and capturing highlights for editing and posting later—all simultaneously and hassle-free!
*Specifications may vary by model and region
INTEL® OPTANE™ READY
Get in the game even faster with Intel® Optane™. This new technologic marvel brings game-changing performance to memory and storage devices. Allow Optane™ caching to boost your storage devices for an even faster system!
GAMING COMPONENTS : BUILT WITH REAL GAMING COMPONENTS
The components within an MSI Gaming Desktop are selected and tweaked to get you the best performance and experience while gaming. This is not just a PC. It's a True Gaming PC
REAL GAMING GRAPHICS
Armed with MSI's award-winning GAMING Graphics Card instead of a standard reference card, you'll enjoy the best in game performance while the supreme cooling technology keeps your graphics card cool and quiet. Welcome to a True Gaming PC!
BEST PROTECTION FOR TRANSPORTATION
To protect your most important component of your gaming PC, Gaming Graphics Card, we designed it in a vertical position. This will prevent bending of the card or damage to the PCI-E slot during transport.
UNMATCHED DESIGN : BREATHTAKING DESIGN
Housing all this high-powered hardware, MSI Gaming Desktops have a characteristic, breathtaking case design that is incredibly easy to use. Get the real gaming look!
MYSTIC LIGHT
Customize your Gaming Desktop with Mystic Light. Make your build look on fire or cold as ice. You are in control. You can select any of the colors from the palette to match your system's design, and plenty of LED effects to choose from.
CHOOSE YOUR SIDE PANEL
Like to glance at all the gaming components inside? Or prefer the classic look of a stylish gaming PC? We're letting you decide! Both the classic black side panel and the sturdy transparent glass side panel with a thickness of 4 mm are at your disposal with this gaming monster.
EASY TO CARRY
Going to a LAN-party, a friend or you just feel like you want to bring your Gaming Desktop anywhere you go? A useful handle situated on the chassis of the case can be used to pick up and carry this gaming beast around from one gaming den to the next.
EASY ACCESS TO COMPONENTS
Always get the best performance out of your system with the latest technologies. The components inside MSI Gaming Desktops are easily accessible and ready to be upgraded at any time. Whether you're expanding storage or upgrading your processor or graphics card, you can always keep your gaming rig up to date with the latest hardware.
COOLING : STAY COOL WHILE GAMING
Cooling is essential for Gaming systems, especially while playing the latest games. MSI Gaming Desktops have a customized thermal design to cool all essential components and make sure your system stays cool and runs stable at peak performance during long gaming sessions.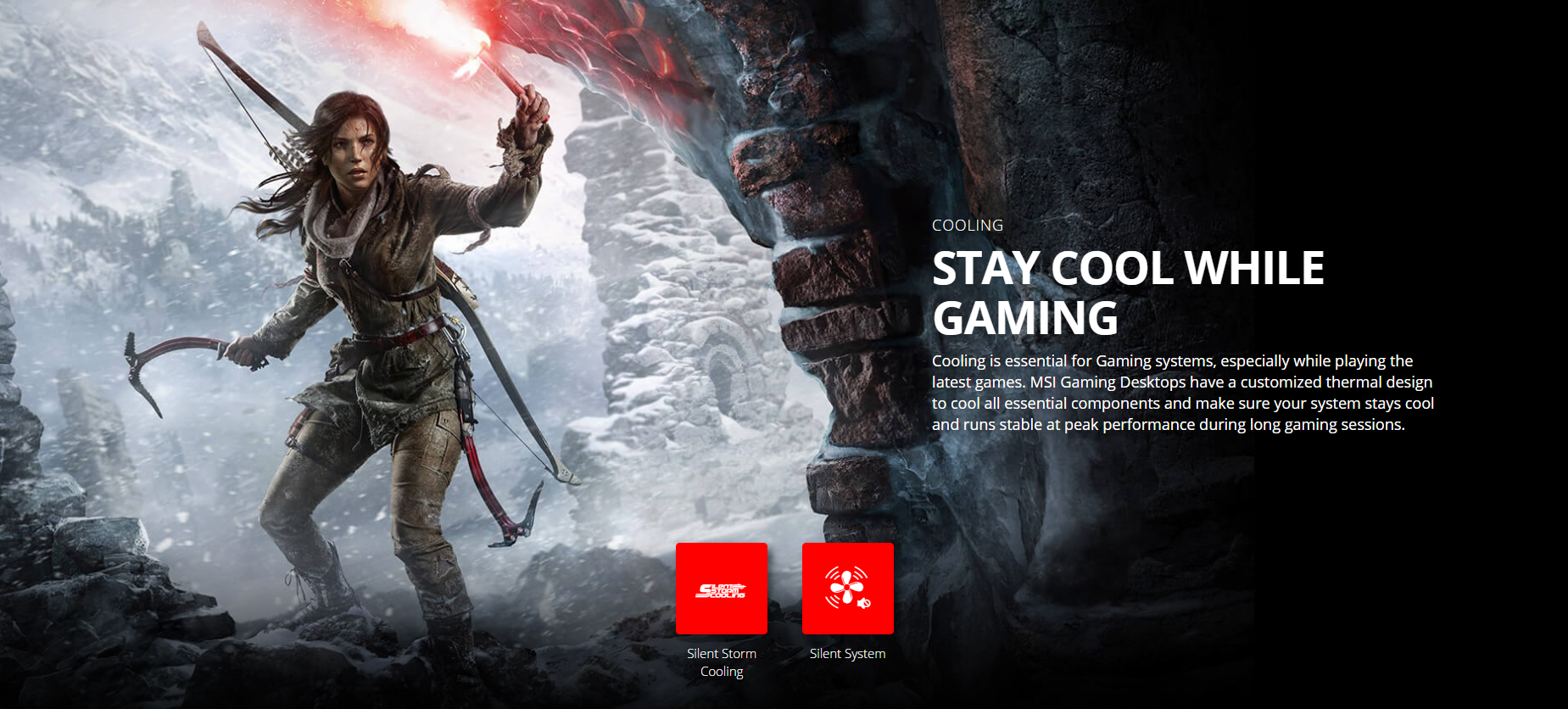 SILENT STORM COOLING 3
To get outstanding performance MSI Gaming Desktops are equipped with an exclusive, smart and powerful cooling system. MSI's Silent Storm Cooling embraces several separated chambers that individually take care of different components within the system. This unique design makes sure the system's temperature stays perfectly under control, supporting a cool and silent operation.
STAY COOL, STAY QUIET
The custom designed cooling systems inside MSI Gaming Desktops ensure a cool system while also keeping it very silent, so you can always hear the enemy coming.

AUDIO : SOUND THAT PULLS YOU INTO THE GAME
Get the most immersive sound experience when gaming. MSI Audio Boost delivers the highest sound quality through the use of premium quality audio components. This lets you enjoy breathtaking, game-changing sound to create the most exciting gameplay.
AUDIO BOOST
To deliver the crispest sound signal to gamers' ears, a special hardware amplifier called 'Audio Boost' is integrated onto the Codex's motherboard, especially benefiting gamers using a gaming headset.

NAHIMIC: SOUND THAT PUSHES THE LIMITS
NAHIMIC Sound Technology is known for its quality and precision in Military and Aeronautics projects. NAHIMIC allows you as a gamer to experience the next level in immersive gameplay. Unique features, including 'Sound Tracker' which visually shows the direction of in-game sounds, give you the upper hand on the battlefield.

NETWORK : DOMINATE THE GAME WITH THE LOWEST LATENCY
Get ready to crush your enemies on the battlefield with MSI GAMING LAN. Featuring the highest quality components tuned to deliver the best online gaming experience without lag.
OPTIMIZE ONLINE GAMING TRAFFIC FOR LOWER LATENCY!
MSI GAMING LAN Manager automatically classifies and prioritizes the latency-sensitive applications for online games, giving you the best online gaming experience with low latency.

MSI GAMING LAN MANAGER
- Automatically prioritizes games above other applications
- Allows you to change applications' traffic priority
- Allows you to customize bandwidth for each application
NEXT-GEN INTEL® WI-FI AC & BLUETOOTH
Use your LAN port for online gaming while using Wi-Fi for other online applications. This next-generation Intel® Wi-Fi / Bluetooth solution uses smart MU-MIMO technology, delivering AC speeds up to 433Mbps. Share your Screen while gaming with Intel® Wireless Display (WiDi), which also lets you stream movies, photos, presentations, and more.

SOFTWARE : APPS TO HELP YOU WIN
With years of experience in creating performance enhancing tools that are easy to use, only the highest quality applications are at your disposal. Use these tools to get the most out of your Gaming Desktop and achieve victory when gaming.
TOTAL FREEDOM, MAXIMUM EASE
Easily program your most-used commands and execute them with a single keystroke. You're free to choose any key you want, so choose wisely.
GAMING HOTKEY
Simply assign functions to any key whether to launch your favorite games, load profiles or do real-time overclocking with the push of a single button. The possibilities are endless!
A DIFFERENT VIEW ON GAMING
MSI Dragon Eye allows you to watch a YouTube video or Twitch Stream while playing a game simultaneously. Simply add a link or stream to the Dragon Eye application and select the size, position, volume and transparency and start gaming. The hotkeys allow you to start/pause your video or set the volume.
TAKE COMMAND OF YOUR SYSTEM 
MSI's Command Center software is the perfect tool to get the most out of your motherboard. With an intuitive interface, Command Center allows you to tune settings to increase system stability, maximize performance and optimize your system's cooling features.
YOUR GAME, YOUR STREAM, YOUR FAME
XSplit lets you easily record your gaming moments and broadcast your live gameplay sessions to Twitch, YouTube, UStream and more. It's simple, easy to use and ideal for capturing those perfect gaming moments and sharing it live with friends and the rest of the world.

FASTER THAN THE INTERNET
WTFast is the Gamers Private Network; like a global automated army of IT specialists all working together to optimize your game connection from end to end. WTFast reports rich connection stats for your online game, so you can see exactly what is happening with your game connection. Built just for MMO gamers. Reduce average ping. Greatly reduce connection flux, spikes and packet loss. With this gaming desktop you'll get an exclusive 2-month premium license.

Built just for MMO gamers

Reduce average ping

Greatly reduce connection flux, spikes and packet loss

MSI Exclusive 2-month premium license 
QUALITY : BUILT ON EVERLASTING QUALITY
Using only the finest quality components and integrating the latest technological innovations delivers the best possible gaming experience. Rigorous quality testing under the most extreme conditions ensures a super reliable, high performance Gaming system.
FORTIFY YOUR SYSTEM WITH PCI-E STEEL ARMOR
MSI PCI Express Steel Armor slots are armed with more solder points on the motherboard for a stronger hold, preventing any damage due to heavy-weight graphics cards. Steel Armor also protects PCI Express signals against electromagnetic interference for a pure gaming experience and even higher overclocking.
SUPER STABLE GAMING WITH THE HIGHEST QUALITY COMPONENTS
MSI uses Military Class 5 components, which is the latest evolution of the industries' highest quality standard. These high quality components are shielded by the best protection to make sure your system runs smoothly under the most extreme gaming conditions.
CERTIFIED FOR GAMING
Each model is tweaked to deliver the best FPS for a stutter-free gaming experience. Tested in 24-hour on- and offline gaming sessions with the most popular gaming gear by the world's best eSports players, so you can enjoy top performance and reliability in the world's most popular games.
BUILT-IN DUST FILTERG
To prevent dust from entering your desktop, a handy dust filter is situated at the bottom side of this gaming PC. It's easily removed and cleaned so your power supply and other components inside the case won't have to be smothered by dust, so you can just keep on gaming.
CONNECTIVITY : PLUG IN AND GAME ON
We built in more than enough ports to let you connect all your game devices. Plug in your portable storage, gaming monitor, gaming headset or keyboard and get into the action in an instant! 
REVERSIBLE CONNECTOR
Get all the performance benefits from USB 3.1 combined with the convenience of the USB Type-C connector. This reversible USB connector allows for effortless connecting of USB devices.
DEDICATED PORT FOR GAMING PERIPHERALS
The GAMING Device Port is optimized to deliver the best connectivity for high-end gaming peripherals to fully utilize their features and responsiveness. Customize your mouse DPI to enhance accuracy or program macro combinations using the easy-to-use Mouse Master software to perform multiple commands with just one click.
GAMING BENEFITS
3x more gold than regular connectors for the best signal

10x longer lifetime when plugging/un-plugging

More responsive, more precise movements

Customizable mouse settings

No keypress left behind with n-key rollover
SEE MORE GAME IN SURROUND MODE
Experience immersive gaming by expanding your gaming setup with 3 external displays in 4K UHD resolution with the Matrix Display technology. MSI Matrix Display with the latest Surround Mode technologies create an ideal environment for extreme gaming and pleasant multimedia entertainment.
SUPER CHARGE YOUR PHONE & GAMING GEAR
MSI Super Charger USB ports charge any connected device faster. It delivers more power than regular USB ports to your smartphone, tablet, USB game controller or portable console. Even when the system is turned off!
ULTRA 4K HD
Capable of Ultra 4K resolution, MSI Gaming Desktops offer incredibly sharp and crisp images, movies and gameplay.
General
Brand
MSI
Model
Infinite A 8RG-242US
Color
Black-RGB
Size
42 L
Highlights
MSI Infinite A 8RG-242US, Intel Core i7-8700 (3.2GHz - 4.6GHz) Processor, 16GB (2x 8GB) DDR4 2400MHz Memory, 256GB PCIe NVMe SSD + 2TB 7200RPM (3.5") HDD, NVIDIA GeForce GTX 1070Ti (8GB) GDDR5 Graphics Card, Microsoft Windows 10 Home, Gigabit LAN, Intel Dual Band Wireless-AC 3168, Bluetooth 4.2, DisplayPorts, HDMI, 2x USB 3.1 Type C, 4x USB 3.1 Type A, 3x USB 2.0, Mystic Light RGB LED, Gaming KB Mouse included
Processor
Type
Intel Coffee Lake Core i7-8700 Processor
# of Cores
6
# of Threads
12
Clock Speed
3.2 GHz
Max Turbo Frequency
4.6 GHz
Intel Smart Cache
12 MB
Chipset
B360
Operating System
Operating System
Microsoft Windows 10 Home
Graphics
GPU (Graphic Accelerator)
NVIDIA GeForce GTX 1070Ti ARMOR (8GB) GDDR5 Graphics Card
Memory
Standard Memory
16GB (2x 8GB) DDR4 2400MHz
Number of SODIMMS
4 Socket, Max Memory 64GB
Hard Drive & Optical Drive
HDD Capacity
256GB PCIe NVMe SSD + 2TB 7200RPM (3.5") Hard Drive
Optical Drive
N/A
Communication
Network / Communication
10/100/1000 Mbps LAN
Intel Dual Band Wireless-AC 3168 1x1 802.11ac (433 Mbps)
Bluetooth 4.2 Smart Ready
Audio
Audio
7.1 Channel HD Audio with Nahimic audio enhancer
Slots / Interface
Expansion Slots
1 x PCI-E 16X (with riser cable)
Video Port
1 x HDMI-out
3 x DisplayPorts
1 x DVI-D Port
Front I/O Port
1 x USB 3.1 Gen 1 (Type A)
1 x USB 3.1 Gen 1 (Type C)
1 x USB 2.0 (Type A) w/ Super Charger 2
1 x Mic in/Headphone out
Rear I/O Port
3 x USB 3.1 Gen1 (Type A)
1 x USB 3.1 Gen1 (Type C)
2 x USB 2.0
1 x DVI-D out
1 x RJ45
1 x Line in/Head
Input Device
Keyboard
Gaming KB Mouse
Power
Power Supply
550W
Power Efficiency Level
80 Plus bronze
Physical Spec
Dimension
19.22" x 17.72" x 8.27" (L x W x H)
Unit weight
24.58 lbs
Dimensions
42 liters
Warranty
Manufacturer Warranty
1 Year Warranty