ASUS ROG Zephyrus M (GM501GS-XS74) 15.6" 144Hz (3ms) IPS-Level G-Sync Full HD Gaming Laptop w / GTX 1070 8GB (Coffee Lake Core i7-8750H)
144Hz (3ms) IPS-Level Display w/ NVIDIA G-Sync, Core i7-8750H, GTX1070 8GB (VR Ready), 256GB PCIe NVMe SSD + 1TB SSHD, Thunderbolt, 4-Zone RGB Keyboard (1.7mm Key Travel), Win 10 Pro
GM501GS-XS74889349958612EX675370
27 In StockNew1 Year (Global)
ASUS ROG GM501GS-XS74 (Coffee Lake), Intel Core i7-8750H (2.2GHz - 4.1GHz) Processor, 15.6" 144Hz (3ms) IPS-Level G-Sync Full HD (1920 x 1080) Display, 16GB (1x 16GB) DDR4 2666MHz Memory, 256GB PCIe NVMe SSD + 1TB SSHD (8GB Cache) FireCuda, NVIDIA GeForce GTX 1070 (8GB) GDDR5 Graphics Card, Microsoft Windows 10 Professional (64-bit), Gigabit Ethernet LAN, Intel 9560 Gigabit WIFI, HDMI, Bluetooth 4.2, Thunderbolt, USB 3.1 Type C, 4x USB 3.1 Type A, Illuminated Chiclet 4-Zone RGB Keyboard (1.7mm Key Travel)
Description
Specification
Benchmarks
Customer Reviews
Related
Warehouse
ASUS ROG ZEPHYRUS M
ELEVATED PERFORMANCE. UNCOMPROMISED MOBILITY.
ROG Zephyrus M picks up where its predecessor, ROG Zephyrus, left off — delivering mighty performance in a minute package. It's powered by up to an 8th Generation Intel® Core™ i7 processor and up to NVIDIA® GeForce® GTX 1070 graphics, and features an IPS-level display with a superfast 144Hz refresh rate, lightning-quick 3ms response time, and NVIDIA G-SYNC™ technology. The revolutionary Active Aerodynamic System (AAS) ensures Zephyrus M runs cool and quiet even at high processor loads. ROG-exclusive software lets you switch between integrated and discrete GPU modes — the Optimus power-saving mode gives you impressive battery life,while the G-SYNC mode lets you experience its graphics prowess in all its glory!
DESIGN
MIGHTY. MOBILE. MODERN.
A brushed aluminum finish with a Black Titanium and Plasma Copper color scheme give Zephyrus M a modern and sophisticated look that sets it apart from other gaming laptops. ROG engineers found the sweet spot for maximum cooling performance and effective thermal management. They've managed to shoehorn the NVIDIA GeForce GTX 1070 graphics card, AAS system, and two anti-dust fans into a thin 17.5-19.9mm chassis to ensure Zephyrus M offers exceptional performance during gaming marathons.
COOLING TECHNOLOGY
ACTIVE AERODYNAMIC SYSTEM (AAS)
The cutting-edge AAS allows Zephyrus M to run cool and quiet without sacrificing performance. Opening the lid reveals an underside vent that leads to a 9mm-high air chamber. Compared to traditional laptop designs, the AAS creates 20% more space for air circulation, increases system air flow by up to 32%, and reduces internal temperatures by up to 20%. A four-quadrant anti-dust design prevents dust particles and dirt from entering the system when the lid is open; while the patented ADC system actively cleans itself by expelling dust particles and dirt through tunnels, preventing build-up in the thermal fins to increase system stability and lifespan. Two high-performance, dual-outlet fans blow air through ultraslim fins, while the unique heat-pipe architecture cools the CPU, GPU, and chipset power components independently.
PERFECTLY-MACHINED COOLING HOLES
In a perfect example of form following function, Zephyrus M has densely-packed cooling holes above the keyboard to help draw cool air into the system. These neatly-arranged holes above the keyboard are not only functional, but add a modern aesthetic touch to the laptop.

ANTI-DUST TUNNELS
An exclusive internal design forces dust and debris to exit the chassis through the fan module's two anti-dust tunnels. This prevents the thermal fins from becoming caked in grime, benefitting both performance and reliability.
 
12V DUAL OUTLET FANS
Compared to regular 5V fans, the two powerful 12V fans found in Zephyrus M spin 18% faster, and improve airflow by up to 18%. A total of four air outlets help keep internal temperatures low to ensure maximum graphics performance during intense gaming sessions.

ULTRATHIN FIN DESIGN
The cooling fins used in Zephyrus M are just 0.1mm thin — half the thickness of regular fins. Narrower fins allow for more fins to be used in the cooling module, this increases the surface area for heat dissipation by up to 13%, while at the same time reducing air resistance by 7%.

FAN OVERBOOST
While the dynamic fans automatically adjust their speed according to CPU and GPU temperatures, you can select different modes to suit the situation at hand. Overboost is the most aggressive setting, with the fastest fan speed for the cooling required to fully exploit the power of Zephyrus M. Silent mode lowers the fan speed, ideal when you're after some peace and quiet. A single press of the function key allows you to quickly and easily regulate fan performance to control noise levels and power consumption.
 
AEROACCELERATOR
The AAS incorporates AeroAccelerator technology to increase airspeed and airflow efficiency through the laptop. An intricate aluminum alloy shroud around the intake uses curved edges and raised guide fins to channel more cool air towards the fan. The fan features liquid-crystal polymer fan blades that are 33% thinner than standard designs. This allows for more blades to be used, improving airflow through the fan by 26%.
DEDICATED HEAT PIPES
The unique heat-pipe design cools not only the CPU and GPU independently to avoid thermal throttling, but also keeps chipset power components below 80°C — increasing system reliability and lifespan.
PERFORMANCE
ELEVATE YOUR GAMING EXPERIENCE
Zephyrus M brings gaming desktop-level performance to the gaming laptop scene. It's powered by an Intel Core i7-8750H processor with 16GB of DDR4 2666MHz dual-channel memory, and NVIDIA GeForce GTX 1070 graphics. The innovative AAS ensure additional cooling to cope with demanding gaming marathons. And to house your extensive game library, Zephyrus M features cutting-edge storage, including a 512GB M.2 NVMe PCIe® 3.0 x4 SSD and a 1TB Seagate® FireCuda™ SSHD.
* Specifications may vary according to configuration.
In 3DMark 11 (Performance) graphics and Fire Strike benchmark tests, the world's thinnest gaming laptop with NVIDIA® GeForce® GTX 1070 delivered amazing performance.
* Tested with: 3DMark 11 and Fire Strike.
* Specifications may vary according to configuration.
ROG-EXCLUSIVE SWITCHABLE GPU SOFTWARE
With Zephyrus M, it's no longer a trade-off between performance and battery life. It offers switchable GPU mode that lets you choose between the power-saving Optimus or the full-performance Discrete Graphics modes. Optimus mode turns off NVIDIA G-SYNC and lets you surf the net over Wi-Fi for up to six hours; G-SYNC mode unleashes the graphics prowess of Zephyrus M for the best gaming experience ever. These two sides to Zephyrus M are easily-accessed in just a few clicks on the ROG Gaming Center dashboard.
DISPLAY
SUPER SMOOTH AND SEAMLESS VISUALS
The ultra-responsive 15.6-inch IPS-level display boasts a 144Hz refresh rate, 3ms response time, and NVIDIA G-SYNC technology to provide super smooth and seamless visuals. The IPS-level panel has a wide 72% NTSC color gamut that guarantees great contrast and color reproduction for exceptional true-to-life visuals, while wide-view technology ensures colors stay true, even when viewed from angles of up to 178°. It's time to play the latest AAA games at maxed-out settings without visual tearing, lag, ghosting or obvious stutter!
* Specifications may vary according to configuration.
* Captured with a high-speed camera at 240 frames per second. Footage is played in slow motion at 30 frames per second. Panels with a fast response time provide sharper and clearer gaming visuals.
G-SYNC 
SEAMLESS GAMEPLAY
NVIDIA G-SYNC technology synchronizes the display's refresh rate with the GPU's frame rate to make gameplay silky smooth. G-SYNC minimizes perceived stuttering, reduces input lag, and eliminates visual tearing all without affecting system performance. Welcome to the smoothest and fastest gaming experiences yet!
VR READY
ULTIMATE VIRTUAL REALITY EXPERIENCES
Take the plunge into virtual reality. With NVIDIA GeForce GTX 1070 graphics, Zephyrus M delivers smooth, stutter-free VR performance at up to 90fps. Plug-and-play compatibility with leading VR headsets lets you easily enjoy fully immersive VR environments. It's time to play with a whole new perspective.
* GeForce® GTX 1060 or better is required for smooth VR experiences.
MULTI-DISPLAY TECHNOLOGY
BIGGER IS BETTER
Zephyrus M is compatible with large ROG G-SYNC monitors via DisplayPort™ over USB Type-C™ (USB-C™). Game on a bigger scale and at even higher refresh rates.
KEYBOARD
LIGHT IT UP WITH AURA SYNC
Outshine the competition with Aura Sync! Light up Zephyrus M with customizable RGB LEDs and sync it up with Aura Sync-enabled accessories like gaming mice, headsets, keyboards, and other peripherals. Aura Sync offers several unique preset lighting modes, including color cycle, music synchronization, and CPU temperature; you can even program your own color scheme to reflect your own style.
A KEYBOARD MADE FOR GAMING
The new layout follows the design of the best desktop-gaming keyboards. That means the entire keyboard module is now designed for the way your fingers are used to playing, with gaps between the function keys for easier identification, and isolated arrow keys for the most accurate fingertip control. The Space key has also been extended and reshaped for more comfort and fewer misses — gaining you crucial extra moments with every accurate press!

GAMING HOTKEYS
Four isolated hotkeys are placed above the conventional keyboard for easy and fast adjustments during gaming. These hotkeys are carefully spaced to avoid accidental presses, and with unique keycaps for easy identification by touch alone. The secondary functions of the F1-F12 keys have been designed specifically to help keep your concentration on the game, putting useful controls right where you need them.

FAST AND PRECISE CONTROL
ROG-exclusive Overstroke technology applies to every key you press, ensuring a perfectly-pitched maximum peak force of 62 grams-force (gf). Key presses are registered early, accurately and with extended over-stroke distance — and that means faster and smoother control.
WI-FI / BLUETOOTH
FASTER AND MORE STABLE WI-FI
The Intel Wireless-AC 9560 adapter provides Zephyrus M with Bluetooth® 4.2 support and 2x2 802.11ac Wi-Fi that surpasses Gigabit Ethernet speeds. Enjoy a maximum throughput of up to 1.73Gbps on the 160MHz channel — that's 5x faster than 802.11n 40MHz channel (300Mbps) and 2x faster than 802.11ac (867Mbps). Multi-user, multiple input, multiple output (MU-MIMO) technology lets you connect to more devices more efficiently and easily.
Ultimate Gaming Platform
Unleash your gaming dominance with the revolutionary new GPUs that turn your mobile rig into a sleek, powerful gaming weapon. GeForce GTX 10-Series GPUs have come to laptops, powered by the game-changing NVIDIA Pascal architecture. This means you can experience unbeatable energy-efficiency, innovative new gaming technologies, and breakthrough VR immersion wherever you game.
Performance
GeForce GTX 10-Series GPUs give you up to 3x the performance of previous-generation GPUs. They're built with ultra-fast FinFET, the latest high-bandwidth memory technologies, and support for DirectX 12 features to deliver the fastest, smoothest gaming notebook experiences.
The Latest Gaming Technology
These innovative GPUs were created to meet the demands of next-generation displays, including VR, ultra-high-resolution, and multiple monitors. NVIDIA GameWorks™ technologies give you extremely smooth, cinematic gameplay, plus revolutionary NVIDIA Ansel™ that lets you capture 360-degree in-game images and view them in VR.
VR Ready
Discover next-generation VR performance, the lowest latency, and plug-and-play compatibility with leading headsets — driven by NVIDIA VRWorks™ technologies. VR audio, physics, and haptics let you hear and feel every moment.
AUDIO
SMART-AMPLIFIER TECHNOLOGY
Smart-amplifier technology monitors the audio output and makes real-time adjustments, so you can pump up the volume without worrying about damaging the cones — and that makes output up to 250% louder than before, with increased dynamic range and bass. Audio is an integral part of the gaming experience — and Zephyrus M ensures you hear every precise detail!
SONIC STUDIO III
PUSHING THE LIMITS OF SOUND
Sonic Studio III audio-effects station has an intelligent routing feature made for streaming. The new routing feature ports streams to different outputs giving you full control over who hears what. With Sonic Studio III, you now can share your exciting in-game moments without worrying about frivolous DCMA takedown requests. Sonic Studio III also comes with app-level preferences for instant audio profiles, and improved noise filtering for conversations with total clarity!
By transforming audio signals into visual cues, Sonic Radar III helps you detect opponents through an on-screen overlay that shows the relative position of gunshots, footsteps and other in-game sound effects. Combined with Nahimic 3D-audio technology, this feature is the ultimate tool to enhance your senses and gain a strategic advantage in first-person shooters.
CONNECTIVITY
THUNDERBOLT™ 3: FASTEST AND THE MOST VERSATILE CONNECTION
Zephyrus M comes with Intel Thunderbolt™ 3, enabling a total of 40Gbps of bandwidth for data and display-signal streams, combined. Thunderbolt 3 is up to 8x faster than USB 3.0, and offers 2x the bandwidth and 4x the speed of USB 3.1 Gen 2. Its USB-C connector makes it the most advanced and versatile port available — providing single-cable docking and connections to up to two UHD displays, and 100W power delivery to quick charge devices. With Thunderbolt 3, Zephyrus M opens up a world of possibilities, all via a single port.

SOFTWARE
GET READY WITH ROG GAMING CENTER
Summon ROG Gaming Center with a single press of a hotkey to see a comprehensive dashboard with loads of useful information, including both CPU and GPU frequencies and temperatures — and use the control panel to make adjustments in real time. ROG GameFirst, Aura Sync, Aura Core, Sonic Studio III, Sonic Radar III, as well as XSplit Gamecaster, can also be accessed through ROG Gaming Center. ROG Gaming Center is even available as an Android app, so you can keep all the controls close at hand.
* Software may vary by product model.
GameFirst V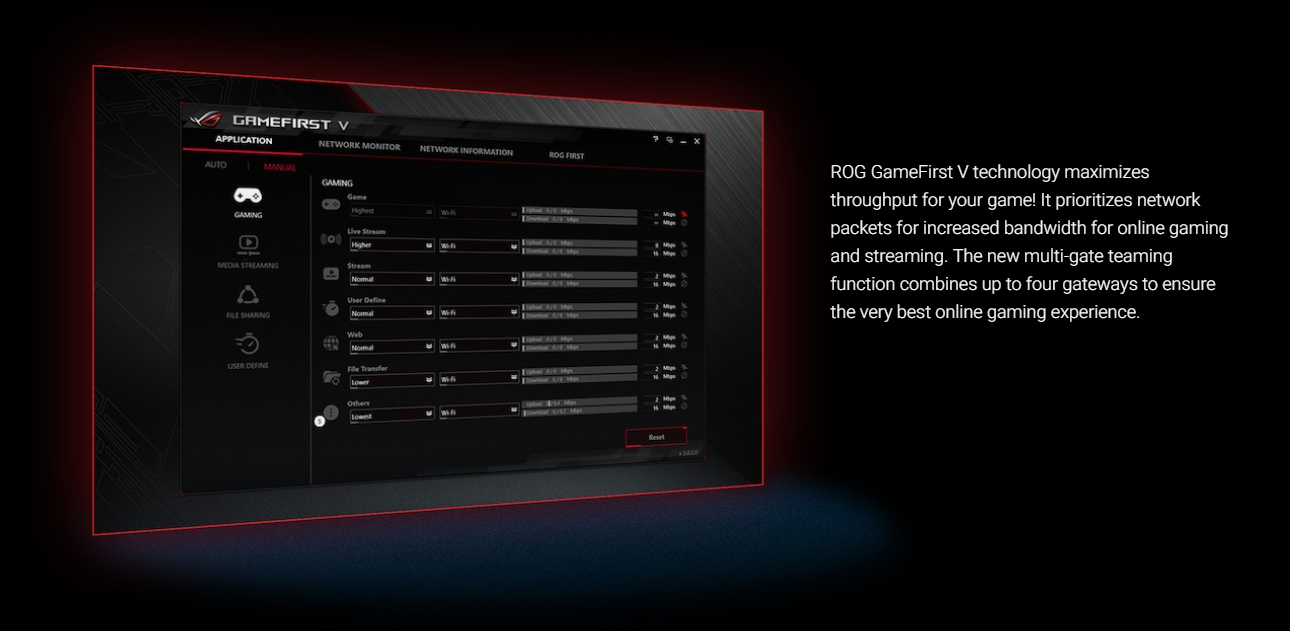 GameVisual
Aura Core
Xsplit Gamecaster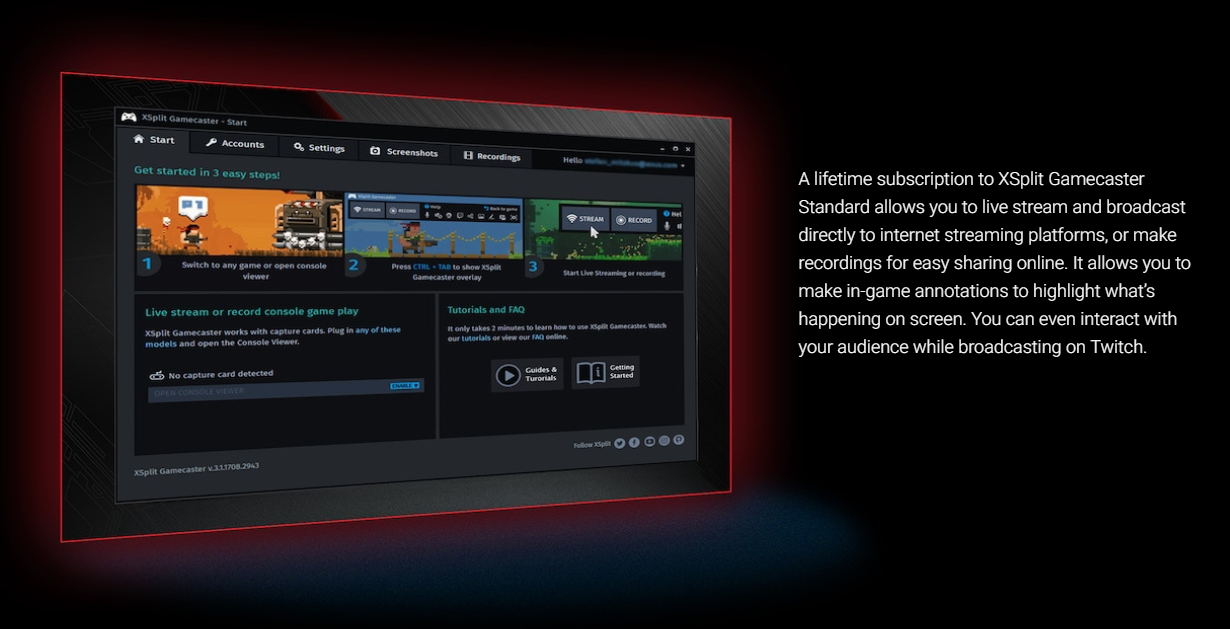 iOS&Android App
General
Brand
ASUS
Model
GM501GS-XS74
Color
ROG Metallic Black
Highlights
ASUS ROG GM501GS-XS74 (Coffee Lake), Intel Core i7-8750H (2.2GHz - 4.1GHz) Processor, 15.6" 144Hz (3ms) IPS-Level G-Sync Full HD (1920 x 1080) Display, 16GB (1x 16GB) DDR4 2666MHz Memory, 256GB PCIe NVMe SSD + 1TB SSHD (8GB Cache) FireCuda, NVIDIA GeForce GTX 1070 (8GB) GDDR5 Graphics Card, Microsoft Windows 10 Professional (64-bit), Gigabit Ethernet LAN, Intel 9560 Gigabit WIFI, HDMI, Bluetooth 4.2, Thunderbolt, USB 3.1 Type C, 4x USB 3.1 Type A, Illuminated Chiclet 4-Zone RGB Keyboard (1.7mm Key Travel)
Processor
Type
Intel Coffee Lake Core i7-8750H Processor
# of Cores
6
# of Threads
12
Clock Speed
2.2 GHz
Max Turbo Frequency
4.1 GHz
Cache
9MB
Chipset
Mobile Intel HM370 Express Chipsets
Operating System
Operating System
Microsoft Windows 10 Professional (64-bit)
LCD
Size
15.6" 144Hz (3ms) IPS-Level Full HD Anti-Glare Wide View with 72% NTSC Display w/ G-Sync
Resolution
1920 x 1080 (16:9)
Graphics
GPU (Graphic Accelerator)
NVIDIA GeForce GTX 1070 (8GB) GDDR5 Graphics Card (VR Ready)
Memory
Standard Memory
16GB (1x 16GB) DDR4 2666MHz
Number of SODIMMS
2 Sockets, Max Memory 32GB (one slot installed w/ 16GB, one slot open)
Hard Drive & Optical Drive
HDD Capacity
256GB PCIe NVMe SSD + 1TB 5400RPM FireCuda SSHD (8GB SSD Cache)
Optical Drive
N/A
Audio
Audio
2 x 3.5W speaker with Smart AMP technology
Built-in array microphone
Communication
Network / Communication
Wireless LAN : Intel 9560 Gigabit WIFI (2x2 802.11 ac) Wave 2
Bluetooth : Bluetooth v4.2
Slots / Interface
Card Reader
N/A
I/O Ports
4x USB 3.1 Type A (Gen 2)
1x USB 3.1 Type C (Gen 2)
1x Thunderbolt
1x 3.5mm Headphone-out & Audio-in Combo Jack
1x HDMI 2.0 (4K/2K@60Hz output)
Webcam Resolution
Webcam
HD Web Camera (720P HD)
Input Device
Keyboard
Illuminated Chiclet 4-Zone RGB Keyboard (1.7mm Key Travel)
Security
Password Protection
BIOS Booting User Password Protection
Notebook Lock
Kensington lock hole
Power
Battery Pack
55WHrs, 4S1P, 4-cell Li-ion
AC Adaptor
ø6.0
230W AC Adapter
Output : 19.5V DC, 11.8A, 230W
Input : 100~240V AC, 50/60Hz universal
Physical Spec
Dimension
15.1" x 10.3" x 0.7" ~ 0.8" (L x W x H)
Unit weight
5.4 lbs
Warranty
Manufacturer Warranty
1 Year Global Warranty (Include 1 Year Global)
 
Design and Performance Perfected: NVIDIA Introduces Max-Q for Gaming Laptops
Max-Q, an integral part of NASA's mission to launch man into space, is defined as the point at which the aerodynamic stress on a rocket in atmospheric flight is maximized. Thus, the design of the rocket is precision-engineered around Max-Q. NVIDIA has applied a similar philosophy to designing gaming laptops, enabling OEMs to build laptops that are 3x thinner with up to 3x more performance of previous generation products. The results: a high-performance gaming platform, that is as small as 18mm thick -- as thin as a MacBook Air -- with up to 70 percent more gaming performance than what is currently available.  
The Marvels of Max-Q 
At the heart of this performance is NVIDIA Pascal™, the world's most efficient gaming GPU architecture. To deliver more performance to thin laptops, NVIDIA has further optimized and configured Pascal for even higher efficiency.
And with Max-Q, everything in the design is precision engineered -- including the laptop, the GPU, the drivers, and the thermal and electrical components -- to ensure peak efficiency. With its blend of rocket science and exacting design, Max-Q pushes PC gaming on laptops into another stratosphere:
- Powerful GPUs at Max Efficiency :
Based on the NVIDIA Pascal GPU architecture, GeForce® GTX 1080 is manufactured on the leading-edge FinFET 16nm process, and features cutting-edge GDDR5X memory. Max-Q combines a new way of operating the GPU for peak efficiency, with optimizations such as a low voltage optimized clock curve that wrings out gaming performance while reducing power.
- Optimal Playable Settings:
In addition to efficient GPUs operating at max efficiency, NVIDIA Game Ready drivers have been tuned to deliver optimal system efficiency while delivering a great gaming experience for every game on every system.
- Advanced Thermal Solutions and Optimal Regulator Efficiency:
To squeeze even more performance out of a system, these Max-Q designed laptops are engineered with sophisticated thermal and electrical design. New advanced thermal solutions, along with unprecedented regulator efficiency, enable dramatically higher performance and quieter operations in thin gaming laptops than in anything else currently available.
The Ultimate Gaming Laptop
With Max-Q designed laptops, gamers can experience high-fidelity gaming and high-resolution entertainment whenever and wherever they want it. Max-Q designed laptops support the entire GeForce gaming platform, which includes the latest gaming technologies, Game Ready drivers, NVIDIA G-SYNC™ display technology, VR, 4K gaming, and more.
Max-Q designed laptops are also ready for NVIDIA GeForce Experience, a complete software platform that provides automatic game profiles to ensure gamers are playing with the right settings out of the box, ensuring an optimal gaming experience every time.
nic***@***ail.com
Pros:
Great laptop, slim, light, powerful
Cons:
Battery
Product reveiw
The only issue i have is when you try and change from windows 10 pro to home it auto changes the type of cpu you have in the laptop witch I think is stupid, but just something to look out for when buying. "I am receiving points in the ROG Elite Rewards loyalty program for my review"
---
lev***@***ail.com
Pros:
refresh rate, response time, gtx 1070 (not Max-Q), lightweight, sleek, powerful, great color accuracy (at least on mine), solid aluminum body
Cons:
speaker locations, power cable isn't very long, no ethernet or mini display ports (not really a big deal in my opinion), can't really use it on your lap comfortably
I absolutely love this thing
I bought this laptop because I wanted a portable powerhouse that could handle any game I throw at it. I also use it for photo, audio, and video editing, all of which it is excellent for. It shreds through just about every game I have on max settings. I does get very hot when gaming, but what else would you expect from a laptop this thin and powerful? That's not anything worth dropping the rating for on this laptop. I was pleasantly surprised to find that the entire body was aluminum, as I was under the impression that it had a polymer base. I got mine with 32GB RAM, which some(most) would say is overkill, but I see it as a blessing, especially for video editing purposes. I do wish that it had an ethernet port, as well as a mini display port, but you can get adapters for those on Amazon for pretty cheap. My only real complaints are the speaker locations (being on the bottom makes the sound have a muffled feel, although, they are rather loud), and the length of the power cable (would like the portion going from the power brick to the monitor to be a bit longer). Neither of these are that big of a deal though. Overall, I absolutely love this laptop. It was worth every penny.