*** DISCONTINUED *** GIGABYTE Aero 15X v8-BK4K4P 15.6" IPS 4K UHD (X-Rite™ Pantone® Certified) Gaming Laptop w / GTX 1070 8GB (Coffee Lake Core i7-8750H, Max-Q & Windows 10 Pro)
GIGABYTE Aero 15X v8-BK4K4P (Coffee Lake), Intel Core i7-8750H (2.2GHz - 4.1GHz) Processor, 15.6" IPS 4K UHD Adobe RGB 100% (3840 x 2160) X-Rite Pantone Certified Display, 16GB (1x 16GB) DDR4 2666MHz Memory, 512GB PCIe NVMe SSD, NVIDIA GeForce GTX 1070 8GB (Max-Q) GDDR5 Graphics Card, Microsoft Windows 10 Professional (64-bit), 802.11ac Wireless LAN, Bluetooth 4.2, HDMI 2.0, Mini DisplayPort 1.4, Thunderbolt 3, 2x USB 3.1 Type A (Gen 1), 2x USB 3.1 Type A (Gen 2), Per-key RGB Backlit FUSION Keyboard
Description
Specification
Customer Reviews
AERO 15X (i7-8750H)
NVIDIA® GeForce® GTX 1070 GDDR5 8GB with Max-Q design

8th Gen Intel® Core™ i7-8750H Processor

World's First Full HD 144Hz IPS Panel with Thin Bezel Design

4K UHD IPS Adobe RGB 100% Panel (Optional)

5mm Thin Bezel Design: Experience True Visual Immersion

X-Rite™ Pantone® Certified Display

94Wh Huge Battery Capacity for 10 Hours Productivity

Thunderbolt™ 3: Up to 40Gbps

USB 3.1 Type-C: 10Gbps / 5V 3A

Support UHS-II Card Reader

HDMI 2.0/miniDP 1.4: Ultra HD 4K 60Hz Output

Blazing-fast M.2 PCIe Gen.3 X4 SSD: Reach 2000MB/s (Optional)

DDR4 2666MHz

GIGABYTE Fusion Keyboard: Professional Meets Style

GIGABYTE Fusion Macro Software

Unique Aesthetics with Aluminum Robust Body

CNC Chassis: Brings Back the Art of Crafting

Dolby Atmos: Moving Audio
The Black Series
Handcrafted by Focus, and Performance
The AERO 15X uses state of the art technology in chassis manufacturing, the CNC (Computer Numerical Control) is an automation of precise machine tools which creates well-detailed chassis. Plus another unique GIGABYTE design feature, the Nano-Imprint Lithography triangle, the AERO 15 will suit your needs from performance to style.
4K UHD IPS High-Resolution Display
The new AERO 15X offers a 4k UHD IPS WVA display option, pushing the resolution to 3840 x 2160. By adding 100% Adobe RGB color gamut to it, the new AERO 15X gives you uncompromised visuals with more colors than the traditional sRGB spectrum. Furthermore, every AERO 15X display is perfectly tuned and calibrated through X-Rite™ Pantone® to ensure vivid and accurate colors throughout.
144Hz World's First FHD 144Hz IPS Panel with Slim Bezel Design
GIGABYTE AERO is all about creating more possibilities for you. This time we offer a brand new option: the FHD IPS panel with 144hz refresh rate. The higher refresh rate of 144Hz is not just for victory but it is also to provide a smooth visual sensation. With its 5mm near-borderless design and X-Rite™ Pantone® color calibration, the new AERO 15X ensures you perfect color reproduction and viewing angle that gives you the edge like no other.
*Panel specifications may differ by country and region. Please contact your local dealers or retailers for the latest product information.
All New Processor : Witness the Next Generation Processing Power
The AERO 15X comes with the latest 8th gen intel® Core™ i7-8750H processor, with over 50%* performance increase compared to the previous processor. Ultimate gaming, content-creation, and premium VR, all these can now truly be performed on your AERO 15X, meaning that professionals can focus creation on the go like never before.
*Claim based on comparison between Intel® Core™ i7-8750H vs Intel® Core™ i7-7700HQ on Cinebench R15 CPU.
Slim Yet Powerful
GeForce® GTX 1070 Graphics
The AERO 15X has broken all boundaries and opt for the latest NVIDIA® GeForce® GTX 1070 GDDR5 8GB graphics in a thin chassis, breaking the limits of laptop performance. The new GPU not only delivers the ultimate performance and efficiency, but also easily provides an immersive Virtual Reality (VR) experience and smooth high-res gameplay. Hardcore gamers can now possess over-the-top performance on the mobile platform with crystal clear, captivating motion graphics, and jaw-dropping visuals.
Supra Cool FAN x 2
The AERO 15X incorporates specially designed dual fan and heat pipes system that takes care of both GPU and CPU in order to maintain an optimal chassis temperature and performance. Giving you a smooth gaming experience every time you use the AERO 15X.
X-Rite™ Pantone® Color Calibration Certified
X-Rite™ Pantone® is the world-renowned authority on color and provider of color systems, known worldwide as the language of color communication from designer to manufacturer to retailer to customer. AERO 15 has teamed up with X-Rite™ Pantone® to provide accurate colors throughout the color spectrum. Each display on the laptop is fully calibrated through a professional calibration solution from X-Rite™ Pantone®. Gamers can now enjoy every gaming moment and also take advantage of the accurate color contrasts in order to distinguish between enemies from the environment.
Thunderbolt™ 3 : The Lead in Port Technology
Speed can create infinite possibilities for creative professionals. With the latest Thunderbolt™ 3 port, the AERO 15X is able to achieve the height of data transfer speeds, transmitting data of up to 40Gbps. Besides speed, the port is able to connect to an external 4K display. Not to mention that the port is also reversible, saving more time and frustration in order to create what you would like to be creating.


RGB Fusion Keyboard: Personalize your laptop
Make your AERO 15X completely unique with the RGB Fusion software, allowing you to personalize any key with macro and an RGB lighting from a panel of more than 16.7 million colors and maximize your productivity.
N-Key Rollover Anti-Ghosting Keyboard
The new AERO 15X further equipped with N-key* Rollover function. This anti-ghosting keyboard will give you powerful productivity with individual key combos and multi key presses.
*Supports 80 simultaneous key presses.
Go Inside the Action with Breakthrough Sound
Dolby Atmos® pulls you into the game with powerful, moving audio that sweeps all around and above you with amazing precision and realism. A leap forward from surround sound, it gives you a competitive edge, with audio that heightens your sense of awareness and immerses you in a more intense gaming experience.
Outstanding Battery Life
Your productivity and creativity shouldn't be restricted by your battery life. Therefore, the AERO 15X allows you to work longer thanks to its high-performance 94Wh battery. Plus different charging modes, including Express, Quality, and Customize, which makes your AERO even more personalized.
Battery Click
Because details count, we have added a "battery click" function to keep the track of the remaining battery life. You can now know exactly how much battery is left without even turing your laptop on, just by looking at the icon next to your trackpad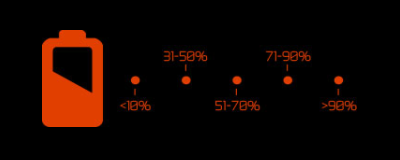 Easily Update and Recovery
Don't know how to recovery? Have no idea about if system is updated? We've designed a series of apps allowing you proceeded the recovery easily or update all drivers in seconds
Safe Guard
We offer 2 years international warranty on your laptops and 1 year international warranty on the battery. You can be sure to stay focused on the important tasks at hand.
*Warranty policies may differ by country and region. Please contact your local dealers or retailers for the latest product information.
HDMI 2.0 / miniDP 1.4
Let your creative juices flowing and maximize the use of your AERO 15. With multiple ports such as miniDP 1.4, HDMI 2.0 and Thunderbolt™ 3. You will have the options to power an 8K display, experience 4K at 60FPS or connect up to 3 external displays. Now you can multitask and have all the information you need right in front of you like never before.
Ambient Light Sensor
The AERO 15X is equipped with an Ambient Light Sensor, which is unique in its class. Constant display brightness adjustments are made according to your environment that results in a comfortable viewing experience and prolongs the battery life on the go.
General
Brand
GIGABYTE
Model
Aero 15X v8-BK4K4P
Color
Black
Highlights
GIGABYTE Aero 15X v8-BK4K4P (Coffee Lake), Intel Core i7-8750H (2.2GHz - 4.1GHz) Processor, 15.6" IPS 4K UHD Adobe RGB 100% (3840 x 2160) X-Rite Pantone Certified Display, 16GB (1x 16GB) DDR4 2666MHz Memory, 512GB PCIe NVMe SSD, NVIDIA GeForce GTX 1070 8GB (Max-Q) GDDR5 Graphics Card, Microsoft Windows 10 Professional (64-bit), 802.11ac Wireless LAN, Bluetooth 4.2, HDMI 2.0, Mini DisplayPort 1.4, Thunderbolt 3, 2x USB 3.1 Type A (Gen 1), 2x USB 3.1 Type A (Gen 2), Per-key RGB Backlit FUSION Keyboard
Processor
Type
Intel Coffee Lake Core i7-8750H Processor
# of Cores
6
# of Threads
12
Clock Speed
2.2GHz
Max Turbo Frequency
4.1GHz
Chipset
Mobile Intel HM370 Express Chipset
Operating System
Operating System
Microsoft Windows 10 Professional (64-bit)
LCD
Display
15.6" Thin Bezel UHD Adobe RGB 100% (3840 x 2160) IPS anti-glare display LCD
*X-Rite™ Pantone® certified display
Graphics
GPU (Graphic Accelerator)
Intel® UHD Graphics 630
NVIDIA® GeForce® GTX 1070 (Max-Q) Design GDDR5 8GB
Supports NVIDIA® Optimus™ Technology
Memory
Standard Memory
16GB (1x 16GB) DDR4 2666MHz
Number of SODIMMS
2 Sockets, Max Memory 32GB
Hard Drive & Optical Drive
HDD Capacity
512GB PCIe NVMe SSD
- 2 M.2 SSD slots, Type 2280 (1 supports NVMe PCIe & SATA, 1 supports PCIe)
*The storage capacity may differ by country and region. Please contact your local dealers or retailers for the latest product information.
Optical Drive
N/A
Audio
Audio
Microphone, Dolby® ATMOS Gaming
Speaker
2 Watt Speaker*2
Communication
Network / Communication
802.11 AC Wireless LAN
Bluetooth v4.2 + LE
Slots / Interface
Card Reader
SD Card Reader(UHS-II)
I/O Ports
2x USB 3.1 Type A (Gen 1)
1x USB 3.1 Type A (Gen 2)
1x Thunderbolt 3 1x HDMI 2.0 x HDCP2.2
1x Mini DisplayPort 1.4
1x Headphone-out jack (Audio-in Combo)
1x DC-in Jack
1x RJ-45
Webcam Resolution
Webcam
HD Camera
Input Device
Keyboard
Gigabyte Fusion Per Key RGB Keyboard
Touchpad
Multi Touch
Security
Security
Implements TPM by CPU, supports Intel® Platform Trust Technology (Intel® PTT)
Kensington Lock
Power
Battery
Li Polymer 94.24Wh
AC Adaptor
180-watt AC adapter
Physical Spec
Dimension (W x D x H)
14.0" x 9.80" x 0.78" (W x D x H)
Weight
4.62 lbs (w/Battery, M.2 SSD)
Warranty
Manufacturer Warranty
2 Years Global Warranty
sar***@***ail.com
Pros:
Fast,Sturdy, Clean Design
Cons:
None
Great laptop
I haven't had this long, but I am impressed with it so far. Its light, but built sturdy and the design is clean. It also seems reasonably fast.
---
ner***@***ail.com
Pros:
Fast, thin, light, 4k screen, ports galore, expandable
Cons:
Throttling
Great laptop for gaming and productivity
Great laptop - comparable specs to Blade 15, MSI GS65, and others. Love the keyboard, the 4k screen, the abundant usb 3.x ports. Bonuses - SD card reader (which I use frequently). Easy expansion to 32gb. Easy expansion with 2nd nvme SSD.
---
isa***@***ard.com
Pros:
Perfomance, Battery, Screen
Cons:
Touchpad, Uneven keyboard lighting, Screen
All The Features
This has been a great laptop. Good performance, nice form factor and ports. Battery life is solid. 4K screen is pretty but it is has some edge bleed on the blacks. Camera could be better and the placement is odd. Touchpad isn't great but workable if configured right.