*** DISCONTINUED *** AORUS X7 DT v8-CL4D 17.3" 144Hz IPS Full HD Display (X-Rite™ Pantone® Certified) Gaming Laptop w / GTX 1080 8GB GDDR5X (Coffee Lake Core i7-8850H / G-SYNC)
AORUS X7 DT v8-CL4D (Coffee Lake), Intel Core i7-8850H (2.6GHz - 4.3GHz) Processor, 17.3" 144Hz IPS Full HD (1920 x 1080) X-Rite Pantone Certified Display, 16GB (2x 8GB) DDR4 2666MHz Memory, 512GB PCIe NVMe SSD + 1TB 7200RPM HDD, NVIDIA GeForce GTX 1080 (8GB) GDDR5X Graphics Card, Killer LAN, Killer Wireless-AC 1535 (802.11ac), Bluetooth 4.1, Thunderbolt 3, USB 3.1 Type A, USB 3.1 Type C, 3x USB 3.0 Type A, Microsoft Windows 10 Home, AORUS RGB FUSION Keyboard with per key backlit control, ESS Sabre Hi-Fi Audio DAC
Description
Specification
Customer Reviews
X7 DT v8
8th Gen. Intel® Core™ i7-8850H Overclockable Processor (2.6~4.3Ghz)

NVIDIA® GeForce® GTX 1080 GDDR5X 8GB

17.3" FHD 1920x1080 144Hz IPS Anti-Glare Display

DDR4 2666Hz: Up to 64GB

ESS Sabre Hi-Fi Audio DAC

X-Rite™ Pantone® Certified Display

Island-Style AORUS RGB Fusion Keyboard: Per-Key RGB Backlight

Thunderbolt™ 3: Up to 40Gbps Transfer Speed

NVIDIA® G-SYNC™: Tear-free, Super Smooth Display

Chassis Designed for Cooling

Multi External Display Support: 3 Surround Display

Versatile Fan Control | 15 Stage Deep Fan Control

M.2 PCIe Gen3x4: 2000MB/s

USB 3.1 Type-C: 10Gbps

N-Key Rollover + Per Key Macro

mDP 1.4 | External 8K Display Output

HDMI 2.0: True 4K at 60Hz

XSplit Gamecaster + Broadcaster: Professional Streaming Software

Killer DoubleShot Pro: Optimized Gaming Network

AORUS Exclusive | International 1+1 Years Warranty

Game in a Greener Environment With Decomposable Packaging (iF award)
Super thin & Lightweight: A Gaming Milestone
The flowing sculpted lines and quality matte black are scented with understated luxury without losing its original aggression. The aerodynamic streamlines connect expanded vents, giving the ultimate gaming flagship a breath of speed.Squeezing such smashing performance into a slim chassis takes tremendous expertise and the best thermal know-how. Own this ultimate gaming flagship to find out the top-tier craftsmanship.
Coffee Lake CPU | Wake Up to the Extreme
The next upgrade is here, introducing the all new Intel® Core™ i7-8850H . Moving up from the previous Kaby Lake architecture CPU's, the all new Coffee Lake architecture increases the performance with a whopping additional 40% in multitasking performance, with better energy efficiency and processing power that lets you steam, record and play at the same time without worries. The wait is over. Introducing the Intel® Core™ i7-8850H with AORUS v8. The greatest meets the greatest.
AORUS Overclock | Laptop Overclocking Made Easy
It is mind blowing to know that the insanity does not stop here. On top of the already-extreme core clock speed, AORUS provides "one click" overclocking function to your command. Take it to the next level when others can't provide and be part of the overclocking performance sensation.
M.2 PCIe SSD: The Next Storage Revolution
With mSATA technology limiting SSD's full potential; it's time to be out with the old, and in with the new! Perfected PCI Express SSD technology with the next generation form factor, M.2 is like a breath of fresh air to storage performance with its mind blowing speed! With a single drive reaching 2000 MB/s, game loading and system booting all happen in the blink of an eye. Being 4x faster than any traditional SATA SSD, the benefits are obvious: the faster it is, the better it is. All these are found in the X7 DT v8 which houses two 512GB M.2 PCIe SSD and one 2TB HDD, providing you a massive storage up to 3TB!
*Product specifications may vary by region. SSD performance may vary by test environment.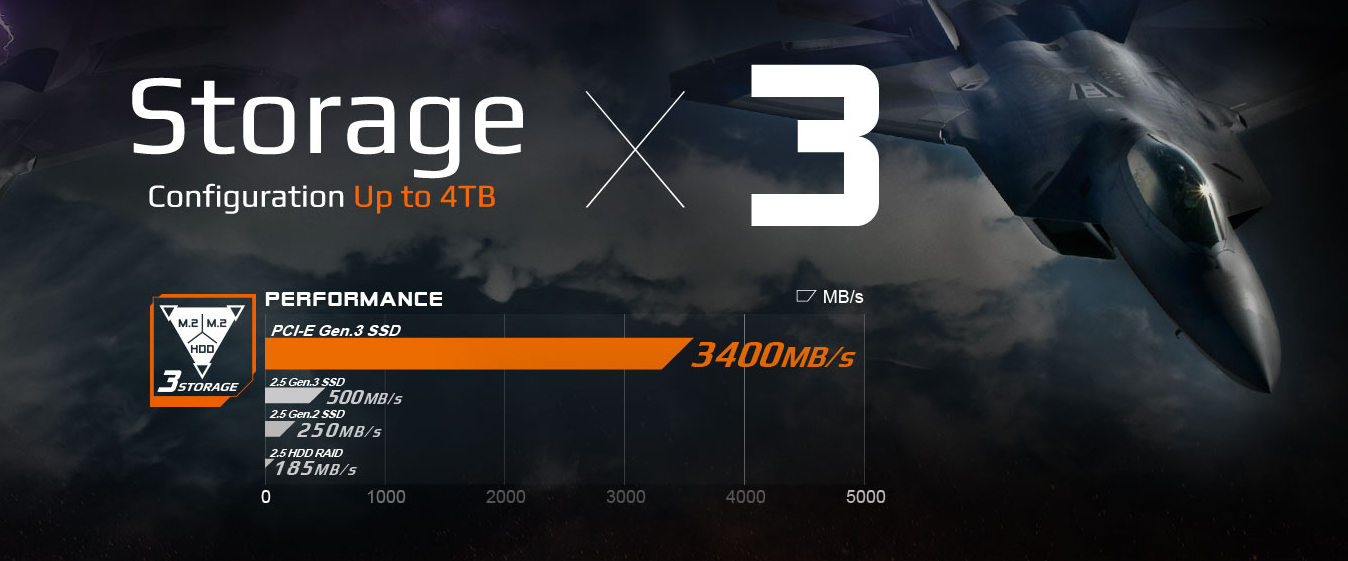 DDR4 2666Hz | Memory Speed for 4K Gaming
Games are becoming more demanding with the introduction of 4K gaming. Ram speed needs to catch up in order to meet the demands. AORUS decided to up the game by upping the DDR4 speed to the latest and extreme speed of 2666Hz. Feel the difference right away and let ram demanding games be a thing of the past.
Thunderbolt™ 3 | The Fastest, Most Powerful All In One Port
The Thunderbolt™ 3 comes with outstanding capabilities such as transfer speeds up to 40Gbps, device charging with 5V/3A currents and connecting plug 'n' play external graphics. The Thunderbolt™ 3 is the most powerful compact and versatile port to date.
UHS-II SD Card Reader | Extreme Transfer Speed
Don't let slow transfer speeds get in your way. Whether if you need to get your media work done or transferring large files between friends, the USH-II built in SD card reader won't disappoint with a transfer speed of up to 300MB/s. Get the transfers done so you can spend your time on gaming with the AORUS X7 DT v8 extreme gaming laptop.
NVIDIA® GeForce® GTX 1080: The Ultimate Performance
The new NVIDIA® GeForce® GTX 10 series GPU features the latest Pascal™ architecture, breaking the limits of laptop performance. The new GPU delivers not only the ultimate performance and efficiency, but also easily provides an immersive Virtual Reality (VR) experience and smooth high-res gameplay. Hardcore gamers can now possess over-the-top performance on the mobile platform with crystal clear, captivating motion graphics, and jaw-dropping visuals. 
THE ULTIMATE PC GAMING PLATFORM
Get Game Ready with GeForce® GTX. GeForce GTX delivers the fastest performance, with the most advance gaming technologies (NVIDIA GameWorks™) and the best gaming ecosystem (GeForce Experience™).
NVIDIA® Ansel
Ansel is a revolutionary new way to capture in-game shots and view in 360. Compose your screenshots from any position, adjust them with post-process filters, capture HDR images in high-fidelity formats, and share them in 360 degrees using your mobile phone, PC, or VR headset.
HDR Ready
HDR Ready games and movies are rendered in rich, vibrant colors to deliver sharper and more realistic images.
VR Works
Discover next-generation VR performance, the lowest latency, and plug-and-play compatibility with leading headsets—driven by NVIDIA VRWorks™ technologies. VR audio, physics, and haptics let you hear and feel every moment.
NVIDIA® G-SYNC™ | No Screen Tear
NVIDIA® G-SYNC™ achieves a smooth GPU to display image sync that brings you screen- tear free experience. Without the FPS drawbacks of the V-sync, NVIDIA® G-SYNC™ provides you with buttery smooth visuals, minimizing display stutter, input lag and retains FPS performance.
*Product specifications and product appearance may differ by country and region. Please contact your local dealers or retailers for the latest product information.
FHD 144Hz IPS | Buttery Smooth
Seeking for more is what winners do. Taking advantage of the higher refresh rate of 144Hz is not just for victory but it is also to provide a smooth visual sensation. What's more, the 144Hz panel is an IPS panel and is calibrated through X-rite Pantone calibration before it leaves the factory. The result is having perfect color reproduction and viewing angle that gives you the edge like no other.
*Panel specifications may differ by country and region. Please contact your local dealers or retailers for the latest product information.

X-Rite™ Pantone® Calibration | Experience True Colors
The complexity of in-game colors is what brings the game to life. Without proper color calibration, the intended colors are well hidden away. AORUS has teamed up with X-Rite™ Pantone®- a world-renowned authority on color and provider of leading color technologies- to provide accurate colors throughout the color spectrum. Each display on the laptop is fully calibrated through a professional calibration solution from X-Rite™ Pantone®. Experience vibrant yet accurate colors shown as intended by game developers.Gamers can now enjoy every gaming moment and also take advantage of the accurate color contrasts in order to distinguish between enemies from the environment.
*Calibration environment: Display brightness: 100%; System operation: Windows 10 Home Premium; Calibration device: Provided By X-Rite™ Pantone®, Designed especially for AORUS.
Multi External Display Support | Build Up Your War Room
Open up to more possibilities with the X9. With the introduction of Thunderbolt™ 3 port, you can now connect up to a total of 3 external 4K displays. Watch a strategic gaming video while gaming, check and control your music without exiting the game or go all out immersive with NVIDIA® Surround. Do more and enjoy more, now made possible with the X9.
*Connect 3 external displays through the combination of HDMI, mini-DP and Thunderbolt™ 3 ports.
Smooth VR | The Only Machine You Need
It comes to no surprise that the AORUS X9 DT with NVIDIA GeForce GTX graphics can power any VR device that you throw at it. With a specialized plug and play port design, you will find it real easy to set up your VR and submerge in the smoothest virtual gaming experience without worrying about hardware performance. All you need is the X9 DT.
Chassis Designed for Cooling | Optimal Air & Heat Flow
With AORUS putting a great emphasis on slimness we are always looking for ways to improve our thermal design for a cooler and quieter experience. With the new ID changes, comes the addition of two new air intake vents. With more intake airflow, we've seen a 9°C improvement in GPU and CPU temperature. Together with 6 heat pipes, 4 exhaust vents, 2 fans, along with AORUS exclusive Custom fan control, your system will run even cooler and perform above and beyond.
Versatile Fan Control | 15 Stage Deep Fan Control
Beyond the specialized cooling chassis design, AORUS further adds an intuitive fan customization UI that will defiantly suit any gamer needs. Take control of the fan in different situations, with quiet, normal, gaming, customize and deep control profiles to choose from. Gamers can go even further with a fan curve, 15 stage fan control setting (deep control profile) that lets gamers assign different fan speeds to individual temperature for the ultimate fan tweak customization.

ESS SABRE Hi-Fi Audio DAC | Catering for Your Audio Needs
The X9 features a class leading DAC (Digital to Analog Converter) from industry leaders ESS. Featuring its patented HyperStream® architecture the DAC handles audio streams with bitrates up to 24 bits and sample rates of up to 192KHz, for that extra clear audio during any gameplay or media consumption. Furthermore, the X9 brings benefits such as higher digital signal-to-noise ratios, as well as higher pure output power - eliminating the need for an external headphone amplifier. Experience true audio with the ESS DAC.
Immerse with AORUS Audio
Enhance your audio experience with AORUS Audio. With 4 modes (games, music, movies, meeting) to choose from, the AORUS Audio provides you lifelike sound which allows you to immerse yourself in any usage situation. For example, the Game mode includes 4 other modes such as first-person-shooter (FPS) and racing and role-playing games (RPGs). Each sound is produced with accuracy and clarity, bringing battlefield to life.
RGB Fusion Keyboard | In The Dark There is Light
The all-new AORUS RGB Fusion features island-style per-key RGB backlighting in 16.7 million color variations, delivering virtually unlimited customization. Each and every key can be customized to light up only the required keys for each application, allowing the user to instantly identify which keys to press. Users can go a step further and setup animated illumination effects like breathing, waves, and ripples.
Per-key backlighting can achieve not only practical benefits of quick identification, but also a unique visual experience and endless customization. The Fusion app can combine audio, backlight, and macro settings to profiles, and switch automatically between games or applications.
N-Key Rollover + Macro | Ultimate Key Control
From gaming to productivity, combination keys are endless. Craving macros? With the AORUS Fusion software, you can make any key or key combination into a macro, eliminating the need for dedicated keys. Cast spells or perform complex tasks with a single keypress. What's more, the keyboard features N-key rollover for a smooth, error free "key combo" experience.
* N-key rollover is tested with 80-keys pressed at the same time.
AORUS Touchpad |Tradition Redefined
Selected from a multitude of material combinations, AORUS has come up with the most silky-smooth and robust trackpad to date. You will find a striking AORUS logo on the trackpad for extra aesthetics, with a unique procedure that reflects different color shades as you look at it from different angles.
*The color and color option of the AORUS trackpad logo may vary. Please contact the point of purchase or reseller for more information.

Killer™ DoubleShot™ Pro | Full Bandwidth Utilization
Killer™ DoubleShot™ Pro provides unprecedented speed, intelligence, and control for systems with Killer™ Wireless adapter and a Killer™ Ethernet controller. DoubleShot™ Pro automatically picks the fastest network connection and sends all high priority traffic over that interface. All standard traffic is then sent over the other interface. This ensures the highest priority traffic will always be put on the fastest and most reliable link, giving you lag free gaming experience even while running multiple downloads the same time.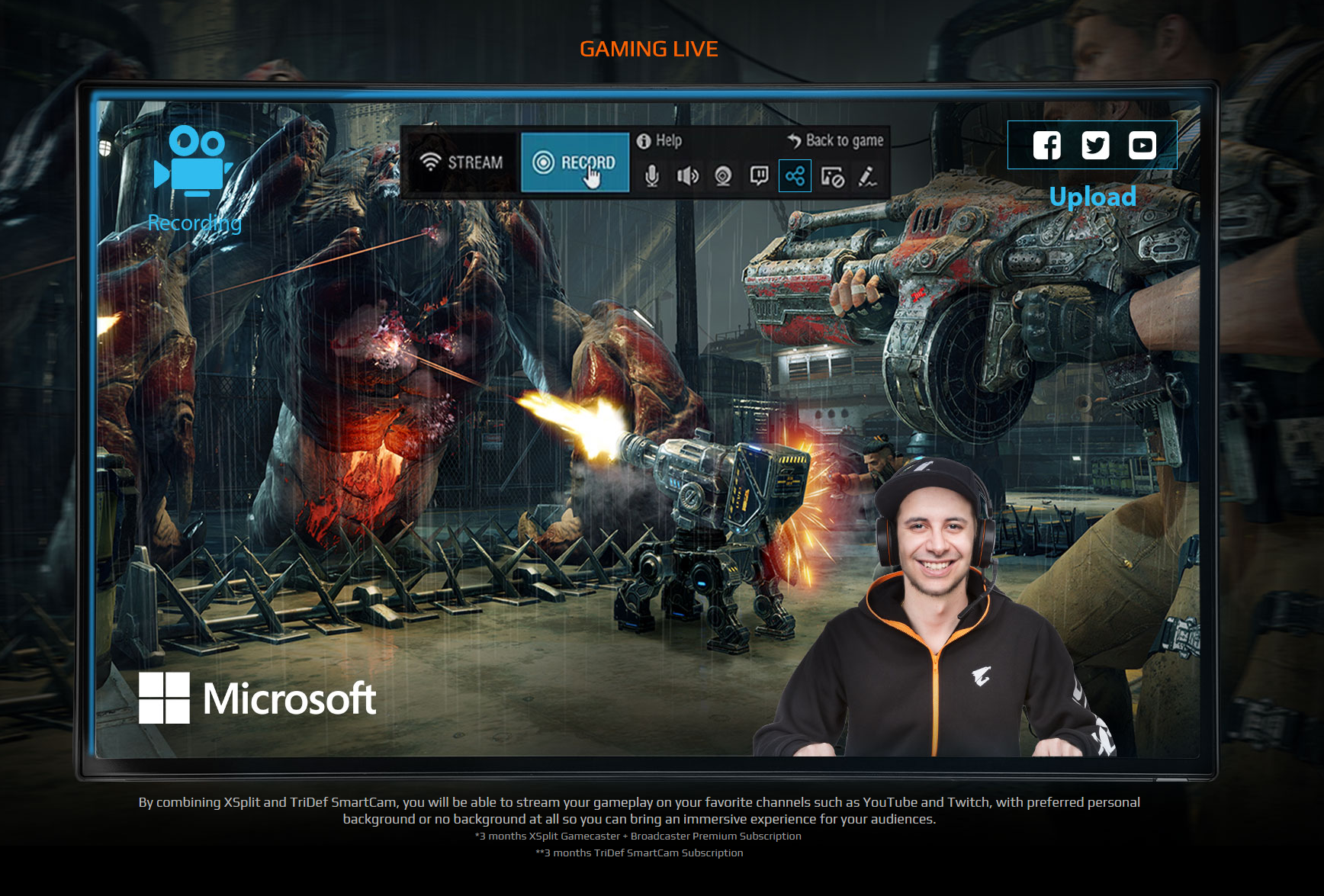 Do Not Disturb | Don't Let Anything Get in Your Way
Remember the time a system update has disturbed you gaming session? AORUS came up with a solution called DND (Do Not Disturb) mode, for when you are in need of an interruption free gaming session. Say goodbye to sudden system updates that results in sudden drop/spike in connection speed or system restarts. All you need to do is activate the DND mode with a simple click through the AORUS C&C interface. Take your game experience to the next level without any obstructions.
*AORUS strongly recommends keeping apps, games and system up to date for a secure user experience.


AORUS Exclusive | International 1+1 Year Warranty
AORUS is committed to provide the best in hardware and after-sales service. AORUS has further set the standard in the industry by offering an additional 1-year international warranty on top of the norm. Enjoy every moment with your AORUS laptop with the exclusive 1+1 year international warranty.
*2 years international warranty on laptops and 1-year international warranty on the battery. For further details on the AORUS exclusive warranty, please visit the AORUS website.
*Warranty policies may differ by country and region. Please contact your local dealers or retailers for the latest product information.

Game in a Greener Environment | iF Design Award
AORUS provide gamers with the ultimate in hardware and software performance. What's more, AORUS has redesigned the packaging by using natural smelling rice husks that is eco-friendly and fully decomposable, yet retaining the same protection as before. Create a better environment while we game to victory. Now accredit with the internationally renowned iF Design Award win.
General
Brand
AORUS
Model
X7 DT v8-CL4D
Color
Aluminum-Black
Highlights
AORUS X7 DT v8-CL4D (Coffee Lake), Intel Core i7-8850H (2.6GHz - 4.3GHz) Processor, 17.3" 144Hz IPS Full HD (1920 x 1080) X-Rite Pantone Certified Display, 16GB (2x 8GB) DDR4 2666MHz Memory, 512GB PCIe NVMe SSD + 1TB 7200RPM HDD, NVIDIA GeForce GTX 1080 (8GB) GDDR5X Graphics Card, Killer LAN, Killer Wireless-AC 1535 (802.11ac), Bluetooth 4.1, Thunderbolt 3, USB 3.1 Type A, USB 3.1 Type C, 3x USB 3.0 Type A, Microsoft Windows 10 Home, AORUS RGB FUSION Keyboard with per key backlit control, ESS Sabre Hi-Fi Audio DAC
Processor & Chipset
Processor
Intel Coffee Lake Core i7-8850H Processor
# of Cores
6
# of Threads
12
Clock Speed
2.6 GHz
Max Turbo Frequency
4.3 GHz
Chipset
Cannon Lake PCH-H HM370 Express Chipset
Operating System
Operating System
Microsoft Windows 10 Home
Display & Graphics
LCD Display
17.3" IPS Full HD (1920 x 1080) 144Hz anti-glare Display support NVIDIA G-SYNC (X-Rite color calibration)
* X-Rite Pantone Certified Display
* Each display on the X7 DT v8 has been calibrated and certified by a professional calibration solution from X-Rite™ Panetone®
Graphics Controller
NVIDIA GeForce GTX 1080 (8GB) GDDR5X Graphics Card
Video Camera
HD Camera
Memory
Standard Memory
16GB (2x 8GB) DDR4 2666MHz Memory
Number of SODIMMS
4 Slots, Max 64GB
Hard Drive & Optical Drive
Hard Drive
512GB PCIe NVMe SSD + 1TB 7200RPM Hard Drive
*Support 3 Storage System
-1 x 2.5" HDD/2.5" SSD
-2 x M.2 SSD slots (Type 2280, supports 1 x NVMe PCIe & SATA/ 1 x NVMe PCIe)
*The storage capacity may differ by country and region. Please contact your local dealers or retailers for the latest product information.
Optical Drive
N/A
Audio
Speaker
2W speaker*2
2W woofer*2
Audio
Microphone
ESS Sabre Audio Hi-Fi DAC
AORUS Audio Technology
Webcam Resolution
Webcam
HD Camera
Communication
Network / Communication
LAN: Killer LAN Chip
Wireless LAN: Killer Wireless-AC 1535 (802.11ac)
Bluetooth: Bluetooth V4.1 + LE
Interfaces/Ports
Card Reader
SD Card Reader (UHS-II)
I/O Ports
3x USB 3.0 Type A
1x USB 3.1 Type A (Gen 2)
1x USB 3.1 Type C (Gen 2) 1x Thunderbolt 3
1x HDMI 2.0 x HDCP2.2
1x Mini Display Port 1.4
1x RJ45 LAN Jack
1x Microphone-in
1x Earphone-out (Hi-Fi/With SPDIF out)
1x SD Card Reader
1x DC Jack
Input Devices
Keyboard
Island-style AORUS RGB Fusion Keyboard with per-key backlit control
Individual Macro Keys + N-key rollover
Touch Pad
Yes
Security
Password Protection
Implements TPM by CPU, supports Intel® Platform Trust Technology (Intel® PTT)
Notebook Lock
Kensington lock hole
Power
Battery Pack
Li Polymer 94.24Wh
Adapter
250W
Physical Characteristics
Dimension
16.85" x 12.01" x 0.9-1.0" (W x D x H)
Weight
7.05 lbs
Warranty
Manufacturer Warranty
2 Years Global Warranty
die***@***ail.com
Pros:
Keyboard feel, gaming performance, build quality
Cons:
Logo on trackpad, lack of Nvidia Optimus
Initial Review: Great laptop- look for its successor
I bought this Aorus to replace my aging 2008 MacBook Pro 15". Coming from that thing this laptop is a breath of fresh air, even though dealing with Windows 10 has been a PITA so far. I'll start on the outside. The case is beautiful: it's angular, has a nice matte black finish, isn't too flashy and doesn't scream "boy gamer" like so many of its competitors. The design is reminiscent of Admiral Marcus's USS Vengeance in Star Trek: Into Darkness or an F-117 Nighthawk. The design language is just great. The only issue I have with its exterior appearance is the Aorus Eagle on the trackpad; luckily it is a dark-ish blue that blends well and I can totally live with that. Besides, Eagles = America. I'm a big fan of the port selection too. Plenty of USB ports- nothing annoys me more than a laptop with only two USB ports. Moving on to the insides, I must admit that it wouldn't take too much to impress me in this regard. My previous laptop could barely play The Elder Scrolls 3: Morrowind. Nevertheless, this Aorus outperforms my gaming PC that I built back in 2013 which was essentially top-of-the-line back then. The GTX 1080 has chewed through The Witcher 3 with Hairworks and all other settings at absolute max. Temperatures have remained reasonable, but I'm not even going to bother reporting them until I'm down tinkering with XTU and Afterburner. I haven't tried any other games yet because I'm still in minor shock due to the Windows 7 to 10 transition. Moving on to software, I appreciate that Gigabyte/Aorus doesn't load this thing up with too much bloatware. They've got their utility for controlling the keyboard lights which I couldn't care less about (I set it to white and forget it). They have some other utilities, including their control center which operates the overclocking and fan control. I'm still not messing with that; I've got to get used to W10 first. I can't blame Aorus for how much of a pain W10 is. I haven't tested battery life much yet but I can tell it's not going to be spectacular. I knew that coming into this relationship. Without Nvidia Optimus you're pretty much running on the GTX 1080 at all times, and that has its cost. That's fine with me; I bought this thing to play games, not write screenplays at the local Starbucks. That's pretty much it for my initial thoughts on this laptop. Hopefully it provides long-term reliability. I intend to adjust the software to keep temps as low as possible to facilitate that. It's a shame they discontinued it, though I suppose with the release of the RTX-series GPUs that was inevitable. I'd encourage you to look for this laptop's successor; it should be as good or better than this one. I encourage Aorus to continue keeping it real with their laptops: a single, strong GPU surrounded by quality components and a large enough chassis and cooling system to keep the heat at bay. It's working for me with the X7 DT V8.