(OPEN-BOX) ASUS ZenBook Pro UX501VW-DS71T 15.6" IPS UHD (3840 x 2160) Touchscreen (Glossy) Laptop w / GTX 960M 2GB (Skylake)
No Box
UX501VW-DS71T_OPEN-BOX889349251362EX671754
In StockOpen Box30 days
ASUS ZenBook Pro UX501VW-DS71T Intel Skylake Core i7-6700HQ (2.6GHz - 3.5GHz) Processor, 15.6" IPS 4K UHD (3840 x 2160) Touchscreen Glossy Display, 16GB DDR4 2133MHz Memory, 512GB PCIe 3.0 (4-Lane) SSD + TPM, NVIDIA GeForce GTX 960M 2GB GDDR5 Graphics Card, Wireless 802.11AC + Bluetooth 4.0, HDMI 1.4 + Thunderbolt + USB 3.0, Card Reader (SD/MMC), Microsoft Windows 10, Illuminated Chiclet Keyboard
ZenBook Pro UX501
The Art of Power
The stunningly-beautiful ZenBook Pro UX501 doesn't just lead its class - it redefines it. Using the best materials, the finest craftsmanship and the most advanced high-performance components, ZenBook Pro has jaw-dropping style and breathtaking performance. The timelessly-elegant design of the ZenBook family, with the iconic spun-metal finish echoing the spirit of Zen, is subtly enhanced with brilliant diamond-cut highlights and brushed-metal surfaces that add a touch of sophistication. The elegant theme is continued in the stylish ripple-effect pattern laser-engraved on its surface. ZenBook Pro is more than an incredibly-powerful laptop - it's a true work of art.
Extremely Fine Pixels Looks So Fine
4K/UHD ASUS VisualMaster display
With an astonishing resolution of 3840 by 2160 pixels - that's four times more than Full HD - the state-of-the-art 4K/UHD VisualMaster display on ZenBook Pro is something you'll never tired of looking at. We've engineered 282 pixels into every single inch of the screen to make sure that everything is pin-sharp, from the finest details in photos and videos to the to the tiniest text.
ASUS Splendid technology provides three optimized display settings to satisfy various using scenarios - vivid mode, eye care mode, and normal mode. The vivid mode is optimized for photo browsing and movie playback, while eye care mode being specially-designed for long-time reading that can prevent eye train. When it comes to daily working and common usages, normal mode fits the best. Besides three optimized modes, users also have the flexibility to adjust panel color temperature according to personal preference easily.
More colors. Better colors.
Full-bodied 100% sRGB display make better artworks
The ASUS VisualMaster display on ZenBook Pro features an ultra-wide color gamut of 72% NTSC, 100% sRGB and 74% Adobe RGB. In plain language, this means it can display more colors, more accurate colors and more vivid colors than any standard display. IPS technology ensures that contrast and color reproduction are not degraded at wide viewing angles up to 178 degrees, and with factory-calibrated color temperature for consistent color. ZenBook Pro sets a new standard for laptop displays.
All-Powerful
The best performance in class
The 'Pro' in ZenBook Pro isn't just an empty promise. Every single component - without exception - is chosen to deliver outstanding performance. A high-performance Intel Core i7 processor, teamed with 16GB of RAM and gaming-grade NVIDIA GeForce GTX 960M graphics provide desktop-level performance, and the ultra-fast up to 512GB PCIe x4 SSD storage with its transfer speeds of 1400MB/s ensures maximum responsiveness. The latest dual-band 802.11ac Wi-Fi and Bluetooth 4.0 let you can connect to the outside world at the fastest possible speeds, and three SuperSpeed USB 3.0 ports plus HDMI, mini DisplayPort and optional Thunderbolt connectivity give you access to the latest high-performance peripherals. Professionals deserve nothing less.
Breathtaking Performance
Four brains think faster than one
At the heart of ZenBook Pro is the incredibly powerful quad-core Intel® Core™ i7-6700HQ (Skylake) processor, giving effortless performance for any task you can think of. With a massive 16GB of RAM, ZenBook Pro gives you super-smooth multitasking and plenty of processing horsepower in reserve for even the most intensive number-crunching tasks. ZenBook Pro will never run out of steam, whether you're manipulating multiple large office documents like spreadsheets and graphics-loaded presentations, watching 4K videos, rendering complex 3D graphics or simply relaxing with the latest and most resource-hungry 3D games.
Ultimate Graphics for Exclusive Experience
A display as superb as that on ZenBook Pro deserves only the most powerful graphics, so we chose the amazing NVIDIA GeForce GTX 960M for its gaming-grade performance. With up to 4GB of fast GDDR5 video RAM, you'll enjoy silky-smooth 4K/UHD video playback, effortless 3D rendering, and immersive gaming with ultra-high frame-rates.
Blazing-fast actions for smoother gaming
For the most immersive and enjoyable gaming experience you need a graphics powerhouse that can take all the latest games in its stride, with high frame-rates for smooth gameplay even at the highest resolution and detail levels. The NVIDIA GeForce GTX 960M GPU fits the bill perfectly, with DirectX 11.0 support for compatibility with all the latest, hottest games.
Sophisticated photography calls for advanced imaging
The combination of a color-accurate 4K/UHD VisualMaster display and the superb performance and quality of the NVIDIA graphics is the dream combination for photo-editing. With over eight million pixels on the screen, you can edit and enhance photos faster and more accurately than ever before, with a level of detail and clarity you never thought possible.
Video editing made easy with unparalleled performance
Editing high-definition videos can be a frustrating task on an underpowered laptop. ZenBook Pro has all the ingredients needed to make sure your creativity isn't hampered by waiting: a powerful processor, lots of high-speed RAM, ultra-fast flash storage and, of course, a high-performance NVIDIA graphics chip. The smooth, fluid and responsive graphics performance ensures your editing will flow, not stutter along.
The World's Fastest SSD
Ultimate speed designed for professionals
A high-performance solid-state disk (SSD) with a PCIe x4 interface gives ZenBook Pro the fastest storage available - its read/write speeds of up to 1400 MB/s are twice as fast as competing PCIe x2 models - so you'll never be kept waiting for the operating system to boot or for applications to load. Data transfers are not only blindingly-fast, but are reliable and totally silent, making ZenBook Pro a real joy to use.
Next-Generation Wi-Fi
ZenBook Pro includes next-generation dual-band 802.11ac Wi-Fi, with speeds of up to 867Mbit/s - three times as fast as previous-generation 802.11n. With twice the coverage, you can work or play anywhere, anytime. And what's more, it works perfectly with all your existing wireless devices.
6+ Hours of Computing Satisfaction
Web, video, work or anything you enjoy
With ZenBook Pro's high-capacity 96Wh lithium-polymer battery and clever ASUS thermal engineering gives you up to six hours battery life even with its high-resolution 4K/UHD display - which is pretty impressive when you consider the amazing performance. ZenBook Pro is designed to be the perfect traveling companion: it turns on in an instant so it's always ready to go, and it lasts for up to two weeks in standby mode. Your data is always safe too, as ZenBook Pro automatically saves it to the hard disk if the battery charge level drops below 5%.
Connect Faster
USB 3 ports get all connected and powered
All three USB ports on ZenBook Pro are SuperSpeed USB 3.0 ports. With up to ten-times faster data transfers than USB 2.0, you can open even the largest files in a fraction of the time. USB 3.0 also has more power for charging mobile devices, and is fully compatible with all your existing USB devices. And with the exclusive ASUS USB Charger+ technology, mobile devices charge quicker - even when ZenBook Pro is powered off.
SonicMaster Premium : Truly Incredible Sound
ZenBook Pro features SonicMaster Premium, incorporating ICEpower, Bang & Olufsen technology, developed by the ASUS Golden Ear audio engineering team for the ultimate audio experience. SonicMaster Premium produces sound that's best-in-class and unlike anything you've ever heard from a laptop, with deep rich bass and crystal-clear vocals, even at high volume levels.
Easy Audio Tuning
Different sound sources need different audio settings, a task that is made incredibly easy with the exclusive AudioWizard software. With five presets for different types of audio - music, movies, speech, gaming and recording - AudioWizard ensures that you always get the best possible sound, whatever you're listening to or recording. And if you want even more fine-tuning, the powerful and intuitive ICEsound® software gives you full manual control of advanced audio settings.
Designed to Sound Amazing
To achieve its premium sound quality, ZenBook Pro uses custom-built, high-quality speakers with oval voice coils and oversize shielded magnets for improved bass response. Combined with large resonant chambers and the aluminum chassis design, these produce a powerful full-frequency sound.
Enjoy Noise-Free Voice Chat
The integrated dual-element array microphone on ZenBook Pro gives you high-quality audio for video chats, gaming and video-conferencing. Noise suppression filters out ambient noise, while acoustic echo-cancelling reduces feedback and echoes. Beamforming focuses the recording area to a 60-degree cone so only your voice is picked up, not the background chatter.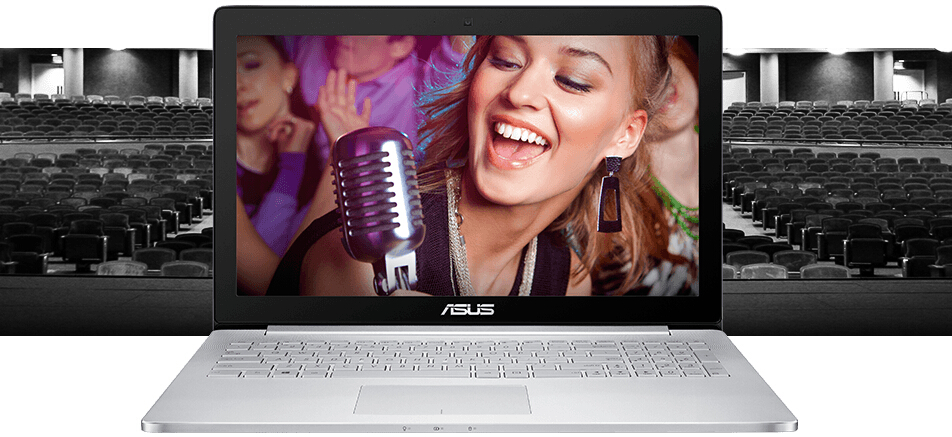 The Power of Touch
The smarter touchpad
Featuring the same 16:9 aspect ratio as the VisualMaster display, the large glass-coated multi-touch touchpad on ZenBook Pro is designed to be as intuitive and accurate as possible. Smart Gestures simulate many of Windows 8.1's touchscreen functions on the touchpad, such as the right-edge swipe that shows the Charms bar. Smart Gestures also work in a wide range of applications.
Backlit for a better typing experience
A keyboard is still the best way to get things done for most professionals, so naturally we gave ZenBook Pro the best available. The keys are expertly tuned to require just the right amount of force to press and have just the right amount of travel -1.6mm to be precise - so it's both quiet and comfortable for extended periods of typing. The separate number keys are a boon for data entry, and the backlight lets you always be able to see the keys, wherever you're working - even in complete darkness.
A touch of precision
Touch is at the very heart of ZenBook Pro. Its ultra-responsive 10-point multi-touch display uses high-fidelity touch sensors that are 30% smaller and two times more sensitive than the industry standard requires. This gives you instant, accurate touch performance for writing, drawing, navigating and more.
Do more with Windows 10
Windows 10 is all about you. New multitasking features make it easy to do two things at once, too. Just snap two apps side-by-side and you can browse the web while watching a video, or chat with a colleague while editing a document. And with its Bing-powered search feature that shows your file, app and web search results in one unified view, Windows 10 means you spend less time searching and more time doing.
Your ZenBook Pro, Your Cloud
ASUS cloud services are an integral part of ZenBook Pro, giving you a complete platform for online living and working, and accessible anywhere from a multitude of devices. Each ZenBook Pro includes a 16GB ASUS WebStorage account, which is completely free for one year. With WebStorage, your personal stuff is always with you on any internet-connected device. Your files are synchronized between all your devices, so you always have instant access to the latest versions. Sharing files is simple, too, whether via email, instant messaging or your favorite social network. It's how the cloud was meant to be.
General
Brand
ASUS
Model
UX501VW-DS71T
Highlights
ASUS ZenBook Pro UX501VW-DS71T Intel Skylake Core i7-6700HQ (2.6GHz - 3.5GHz) Processor, 15.6" IPS 4K UHD (3840 x 2160) Touchscreen Glossy Display, 16GB DDR4 2133MHz Memory, 512GB PCIe 3.0 (4-Lane) SSD + TPM, NVIDIA GeForce GTX 960M 2GB GDDR5 Graphics Card, Wireless 802.11AC + Bluetooth 4.0, HDMI 1.4 + Thunderbolt + USB 3.0, Card Reader (SD/MMC), Microsoft Windows 10, Illuminated Chiclet Keyboard
Processor & Chipset
Processor
Intel Skylake Core i7-6700HQ Processor
# of Cores
4
# of Threads
8
Clock Speed
2.6 GHz
Max Turbo Frequency
3.5 GHz
Intel Smart Cache
6 MB
Memory
Standard Memory
16GB (8GB x 2) DDR4 2133MHz
Memory Technology
DDR4
Storage
Hard Drive
* 512GB PCIe 3.0 (4-Lane) M.2 SSD (1000+ MB/s Read/Write) + TPM
* Hidden partition in the hard drive allow users to reformat the hard drive and reinstall the operating system and pre-loaded software as when it was shipped.
Optical Drive
N/A
Card Reader
SD, MMC
Display & Graphics
LCD Display
15.6" IPS UHD (3840 x 2160) 4K Touchscreen Glossy Display
Graphics Controller
NVIDIA GeForce GTX 960M 2GB GDDR5 Graphics Card
Video Camera
1.2MP HD Camera
Network & Communication
Network
WLAN: 802.11 AC (B/G/N Backward Compatible)
LAN: 10/100/1000 Base T
Bluetooth: Bluetooth V4.0
Interfaces/Ports
Ports
1 x Microphone-in/Headphone-out jack
3 x USB 3.0 port(s)
1 x HDMI 1.4
1 x Thunderbolt Port
Input Device
Keyboard
Full Sized Illuminating Backlit Chiclet-Style Keyboard
Point Device
Integrated Touchpad with Scrolling Function
Audio
Sound & Speakers
Integrated Sound Card w/ SonicMaster
Built-in Speakers
Built-in Microphone
Software
Operating System
Microsoft Windows 10
Power
Battery Pack
6-Cell Li-polymer Battery
Physical Characteristics
Machine Dimension
15.1" x 10" x 0.8" (W x D x H)
Weight
5 lbs w/ 6-Cell Battery
What's in the box
What's in the box
Carry bag
USB2.0 to RJ45 Cable
mDP to VGA Cable
User E-Manual
Warranty Card
Warranty & Support
Manufacturer Warranty
1 - Standard 1 Year Global Warranty
0 - 30 days Zero Bright Dot Guaranty LCD replacement (ZBD)
2 - Free 2-way Standard Shipping for warranty related services
24 - Technical Support: 24/7 (except holidays)
ASUS Notebook Hotline: +1-888-678-3688 (Toll-free)
One Year Accidental Damage Protection (ADP):
To register go to http://notebookcare.asus.com/Content/US/ADP/ADP.aspx