ASUS ROG STRIX GD30CI-DS73 Gaming Desktop w / NVIDIA GTX1070 8GB (Kabylake)
ASUS GD30CI-DS73-GTX1070, Intel Core i7-7700 (3.6GHz - 4.2GHz) Processor, 16GB (2x 8GB) DDR4 2400MHz Memory, 256GB SATA SSD + 1TB 7200RPM HDD, DVD Super Multi Writer, NVIDIA GeForce GTX1070 (8GB) GDDR5 Graphics Card (2x HDMI, 2x DisplayPort, DVI), Microsoft Windows 10 (64-bit), Gigabit LAN, 802.11 AC Wireless LAN, Bluetooth 4.1, Backlit Keyboard & USB Mouse Included
ROG Strix GD30 has a brand-new look with a unique black and white design and interchangeable, customizable front panels. It features a up to 7th Generation Intel® Core™ i7 processor and NVIDIA® GeForce® GTX 1080 graphics for unrivalled performance together with an advanced cooling system to handle its extreme firepower.
DESIGN
TAILORED TO YOUR UNIQUE STYLE
When designing ROG Strix GD30, we were inspired by futurism, space travel, science fiction, and cyberpunk themes. We combined these elements to create a brand-new design concept that breaks the status quo, resulting in a product that is totally unique, more powerful, and more special than other gaming desktops.
DESIGN
ARMOR UP YOUR ROG STRIX GD30
ROG Strix GD30 comes with two removable front panels that you can attach or remove in any combination for a total of six possible styles. Inside, there is room for up to six HDDs, two SSDs, five fans, and a water-cooling system, letting you expand and grow your gaming system as needed. Additional thoughtful design detail includes easy cable routing to keep things neat.
HEADPHONE HANGER
ALWAYS READY TO PLAY
An integrated, removable hanger keeps your headphones within reach and ready to go at a moment's notice.
LIGHTING
LIGHT IT UP WITH ASUS AURA
ASUS Aura RGB lighting allows you to match the look and feel of your system to the game you're currently playing with a choice of over 8-million colors and multiple effects. The motherboard can display pulsing or static effects in a single color or up to ten colors in a continuous cycle. Additionally, the cooling fans are ringed with red LEDs that provide a colorful accent and provide a serious look that shows your system is ready for battle.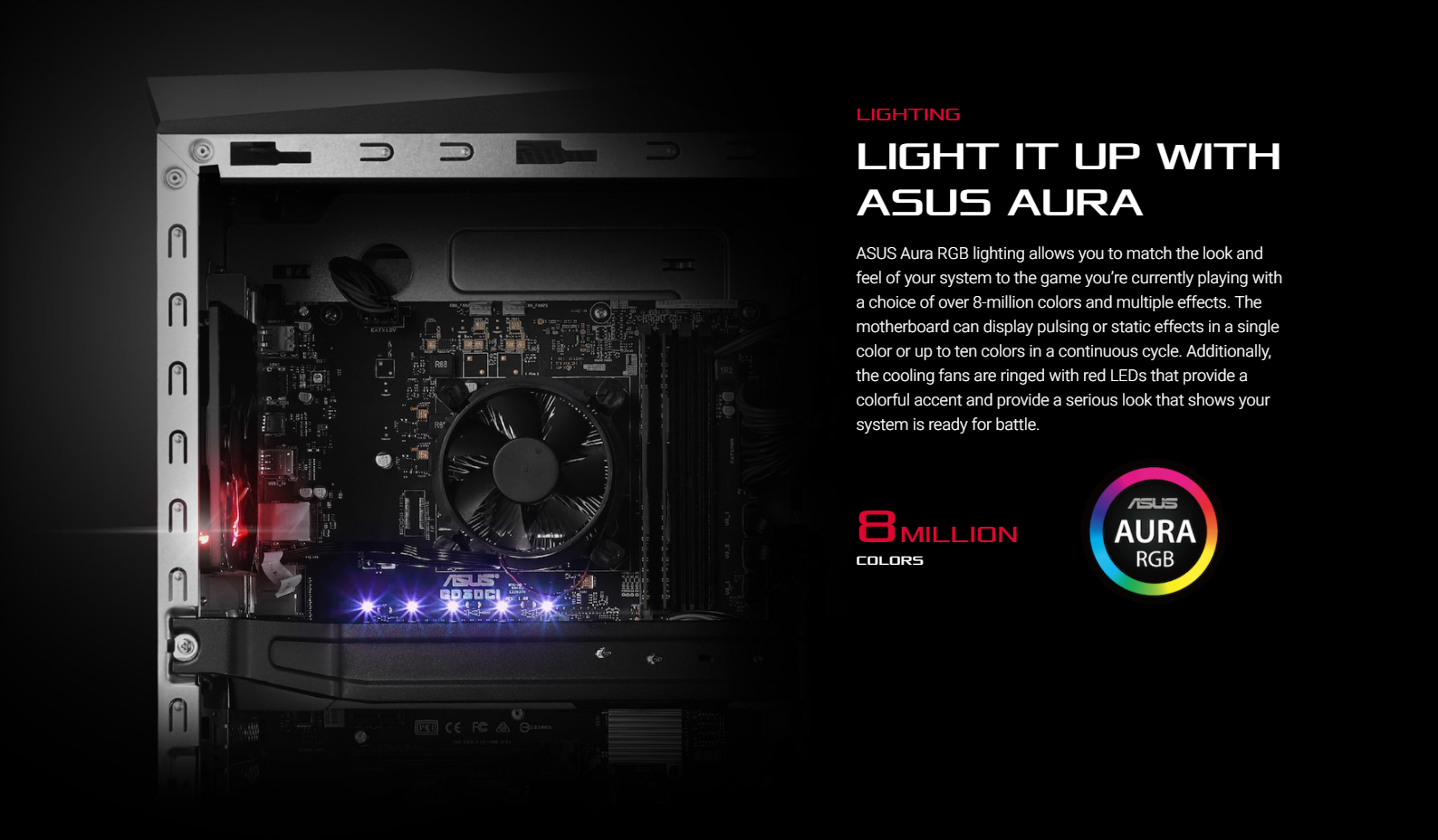 PROCESSOR
UNLEASH THE POWER WITHIN
ROG Strix GD30 features up to the latest 7th Generation Intel® Core™ i7 processor with Turbo Boost for clock speeds of up to 4.2GHz - up to 10% faster than previous-generation processors. This powerful performance lets you enjoy gaming and multimedia experiences that are smoother and better than ever before.
GRAPHICS
UNSTOPPABLE GRAPHICS PERFORMANCE
ROG Strix GD30 is equipped with the latest NVIDIA® GeForce® 10 series graphics cards, up to the GeForce® GTX 1080. Powered by the new NVIDIA Pascal™ architecture, GeForce® GTX 1080 is the most advanced gaming graphics card ever created. It delivers up to 3x the performance of previous-generation graphics cards for incredible gaming and VR experiences, while providing superior energy-efficiency. NVIDIA VRWorks™ technology provides next-gen VR performance, the lowest latency, and plug-and-play compatibility with leading VR headsets. Additionally, NVIDIA G-SYNC™ gets rid of lag, minimizes perceived stutter, and eliminates visual tearing - providing smooth and fast gaming graphics, without affecting system performance!
GAME TEST
TESTED FOR OPTIMAL GAMING EXPERIENCES
In product development tests, the GeForce® GTX 1080-equipped ROG Strix GD30 performed 30% better than a GeForce® GTX 980-equipped system. Our goal is to ensure amazing visual performance when playing AAA games, and internal testing provided superb results. ROG Strix GD30 ran Watch Dogs 2 at 4K UHD resolution with frame rates of up to 66fps!* At FHD resolution and Ultra graphics settings, ROG Strix GD30 achieved frame rates exceeding 97fps!
* 3DMark benchmark test: ROG Strix GD30 with NVIDIA® GeForce® GTX 1080 graphics card, 7th Gen Intel® Core™ i7-7700 processor, and 16GB DDR4 RAM running Watch Dogs 2 at "medium" graphics settings.
DISPLAY
THREE MONITOR SURROUND + ACCESSORY DISPLAY
With support for playing on up to three displays, ROG Strix GD30 lets you see more of the battlefield for a tactical advantage in first-person shooters and real-time strategy games. There are currently over one hundred games that support multi-monitor configurations. Use your accessory display to show chat boxes or in-game maps. You can even use it to catch up on e-sport streams, TV shows or movies, and surf the web. In time, developers may add official support for the accessory display, allowing you to use it for real-time maps and other game-enhancing tools.
* Monitor and accessory display are not included.
VR READY
VR READY, STEADY-GO!
Together with NVIDIA VRWorks™ technology, ROG Strix GD30 delivers next-gen VR performance, the lowest latency, and plug-and-play compatibility with leading VR headsets. Unleash your VR experiences with audio, physics, and haptics that let you hear and feel every moment. So, strap on your VR headset and let ROG STRIX GD30 and the latest NVIDIA® VR technologies immerse you in expansive gaming worlds.
* VR Ready capability may vary by product specification. Please check with your supplier for detailed information.
Ultimate Gaming Platform
NVIDIA's new flagship GeForce® GTX 1080 is the most advanced gaming GPU on the planet. Driven by the new NVIDIA Pascal™ architecture, the GeForce GTX 1080 delivers the amazing performance, innovative new gaming technologies, and immersive, next-gen VR.
Performance
The flagship GeForce GTX 1080 is a quantum leap in performance and power efficiency. It's built using ultra-fast FinFET and high-bandwidth GDDR5X technologies, and supports DirectX 12 features for the fastest, smoothest, most power-efficient gaming experiences.
Next-Gen Gaming Technologies - NVIDIA Pascal
GeForce GTX 1080 uses the power of Pascal to meet the demands of the latest displays, including VR, ultra-high-resolution, and multiple monitors. It features NVIDIA GameWorks™ technologies for smooth gameplay and cinematic experiences, as well as revolutionary 360-degree image capture-even in VR.
VR Ready
Discover next-generation VR performance, the lowest latency, and plug-and-play compatibility with leading headsets-driven by NVIDIA VRWorks™ technologies. VR audio, physics, and haptics let you hear and feel every moment.
STORAGE
NEXT-GENERATION FLASH STORAGE
ROG Strix GD30 boots up and loads apps quickly, and reduces in-game waiting times. It features the very latest NVM Express® (NVMe) and PCI Express® (PCIe) technologies for superfast data access speeds. The latest M.2 PCIe Gen 3 x4 SSD gives you up to six times (6x) the speed of standard SATA 3 SSDs, and an amazing twenty four times (24x) that of average SATA 3 hard disk drives.
THERMAL SOLUTION
PLAY IT COOL
ROG engineers created an intelligent thermal solution to effectively cool the system, with large front and underside air intakes for increased airflow and more efficient cooling. The cover of the power supply unit isolates airflow for better cooling of the power supply and the SSD, and improves system heat dissipation.
CONNECTIVITY
FAST DATA TRANSFERS WITH USB 3.1 GEN 1
ROG Strix GD30 features USB 3.1 Gen 1 (USB-C™) ports that provide fast data transfer rates of up to 5Gbps. The reversible USB-C™ connector also supports Quick Charge 15 W (3A/5V). USB-C™ gives you a two-way connection for the added convenience of fast device charging and high-speed data transfers at the same time.
EXCLUSIVE SOFTWARE
CONTROL IN YOUR HAND
The Aegis III system performance monitoring app enhances gaming experiences by allowing you to track CPU/memory use and as well as download and upload status. It also lets you to control fan speeds and lighting effects, and automatically warns you if the system exceeds temperature or voltage thresholds. Aegis III also includes XSplit Gamecaster, which allows you to record and edit gameplay videos so you can share your frags on social media.

AUDIO
LOUD AND CLEAR COMMUNICATION
Sonic Studio offers a host of functions designed to provide high-end gaming audio and improved internet calls, audio streaming and recording quality. Perfect Voice Technology provides upgraded noise cancellation for crystal-clear VoIP calls, while Casting Enhancer improves streaming and audio recording quality, reduces noise and stabilizes the overall volume of voice communications.
SAFETY
ENGINEERED TO THE HIGHEST STANDARDS
All ROG products are built with high quality and safety standards to provide gamers the best, most enjoyable experiences. The transparent side-panel on ROG Strix GD30 not only shows off the incredible ASUS AURA lighting effects on the motherboard, but also features a honeycomb-shaped iron screen designed to reduce electromagnetic emissions, which may pose potential health risks at elevated levels of exposure. ASUS safety standards for electromagnetic emissions from computers are stricter than international standards. Test results from our in-house EMI lab showed that the level of Radiated Spurious Emissions - a measure of electromagnetic interference (EMI) - from ROG Strix GD30 was not only lower than international safety standards, but also lower than internal regulations, which are among the strictest in the industry. With ROG Strix GD30, you can enjoy a gaming system engineered to the highest performance and safety standards.
CREATIVITY
SHOW OFF YOUR BEST DESIGN
To commemorate its launch, ROG Strix GD30 comes with a 3D printer file that lets you create a miniature ROG Strix GD30 system model that you can even customize further with your own creative touches. Additionally, we've also provided a downloadable template of ROG Strix GD30's front-panel layout that you can use to create your own custom design stickers for your system. Get ready to show off your creativity!
General
Brand
ASUS
Model
GD30CI-DS73-GTX1070
Color
White
Size
67L
Highlights
ASUS GD30CI-DS73-GTX1070, Intel Core i7-7700 (3.6GHz - 4.2GHz) Processor, 16GB (2x 8GB) DDR4 2400MHz Memory, 256GB SATA SSD + 1TB 7200RPM HDD, DVD Super Multi Writer, NVIDIA GeForce GTX1070 (8GB) GDDR5 Graphics Card (2x HDMI, 2x DisplayPort, DVI), Microsoft Windows 10 (64-bit), Gigabit LAN, 802.11 AC Wireless LAN, Bluetooth 4.1, Backlit Keyboard & USB Mouse Included
Processor
Type
Intel Core i7-7700 (HD Graphics 630) Processor
# of Cores
4
# of Threads
8
Clock Speed
3.6 GHz
Max Turbo Frequency
4.2 GHz
Intel Smart Cache
8 MB
Chipset
Intel H270
Operating System
Operating System
Microsoft Windows 10 (64-bit)
Graphics
GPU (Graphic Accelerator)
NVIDIA GeForce GTX1070 (8GB) GDDR5 Graphics Card
Memory
Standard Memory
16GB (2x 8GB) DDR4 2400MHz
Number of SODIMMS
4 Sockets, Max Memory 64GB
Hard Drive & Optical Drive
HDD Capacity
256GB SATA SSD + 1TB 7200RPM Hard Drive
Optical Drive
SuperMulti DVD RW
Communication
Network / Communication
10/100/1000 Mbps LAN
IEEE (802.11 AC) Wireless LAN
Bluetooth 4.1
Slots / Interface
Front I/O Port
1x Headphone
1x Microphone
2x USB2.0
2x USB3.1 Gen 1
1x 6-in-1 Card Reader
Rear I/O Port
1x Rear Speaker Out
1x Mic-in
1x Center / Sub Woofer
1x Front Speaker Out (Line Out)
1x Side Speaker Out
1x Line-in
1x RJ45 LAN
2x USB2.0
4x USB3.1 Gen 1
1x USB3.1 Gen 2 (Type C)
Input Device
Keyboard
Backlit Keyboard & USB mouse
Power
Power Supply
500W
Physical Spec
Dimension
9.1" x 21.7" x 21.3" (L x W x H)
Unit weight
37.5 lbs
Warranty
Manufacturer Warranty
1 Year Warranty