Synology RS2416+ 12-bay RackStation NAS
Quad Core 2.4 GHz | 2GB RAM (Up to 6GB) | Quad Gigabit (Link Aggregation/Failover Support) | Hardware Encryption Engine (AES-NI) | Virtualization Ready (VMware, Citrix, and MS Hyper-V) | Award-winning DSM 5.2 OS
RS2416+846504002047EX635924
In StockNew3 Year
Cutting-edge data protection and integrity for modern business - Designed for growing businesses, RS2416+/RS2416RP+ is a powerful network-attached storage solution featuring schedulable snapshots and resilient data integrity powered by the Btrfs file system, on-the-fly scalability up to 24 drives, as well as reliable performance required by modern workplaces.
Description
Specification
Related
Synology RS2416+ 12-bay RackStation NAS
Safeguards Your Big Data with Superior Performance
In the era of big data, finding a place to store and share tones of business files while maintaining data safety is extremely important for small and medium-sized businesses, and Synology RS2416+/RS2416RP+ is the ideal solution. With a brand-new quad-core CPU, built-in AES-NI hardware encryption engine, expandable RAM module up to 6GB, and read/write-optimized SSD cache, RS2416+/RS2416RP+ delivers up to an average 450.47 MB/s reading and 381.92 MB/s writing speed under RAID 5 configuration in a Windows environment, and an encrypted data transmission at over 399.89 MB/s reading and 198.72 MB/s writing.
Product Highlights:
Advanced snapshot technology for data protection
Introduced Btrfs file-system with built-in data integrity check
High availability technology & redundant power supplies (RS2416RP+ only) ensure service uptime
Scale up to 24 drives with Synology RX1214/RX1214RP2
SSD read/write cache boost overall system performance
Four Gigabit LAN ports with failover and Link Aggregation support
VMware, Microsoft Hyper-V, and Citrix ready
Next-generation data protection and integrity
When dealing with large-scale data storage, businesses require a solution that offers reliable backup and prevents file corruption. With support for the next-generation Btrfs file system, RS2416+/​RS2416RP+ ensures information is stored with a high level of data integrity, while providing flexible and efficient data protection tools. See the white paper for more technical details regarding Btrfs and data protection.
Fast and efficient snapshots
Snapshots preserve the history of a shared folder allowing you to save up to 2561 backup copies for point-in-time recovery. Snapshots can be automatically captured up to every 5 minutes, without noticeably impacting system performance.

Metadata mirroring and survivability
Btrfs file system stores two copies of critical metadata on a volume, improving the availability and survivability of your business's important data.


Corruption detection and correction
By generating checksums for files and metadata, the system can automatically detect and attempt to repair corrupted data or report errors to the administrator.


Customizable quotas for shared folders
With Btrfs, you can specify a storage limit for each shared folder, making it possible to precisely control space consumption when multiple teams or departments save files on the same Synology NAS server. 
Quad-core CPU for speedy performance
RS2416+/RS2416RP+ is powered by a quad-core CPU running at 2.4 GHz. Combined with 2GB of DDR3 RAM (expandable to 6GB), it delivers blazing-fast performance over 450 MB/s reading and 380 MB/s writing2. This kind of power makes it easy for RS2416+/RS2416RP+ to run multiple applications and deliver consistently high throughput to all connected clients.
On-the-fly scalability up to 24 drives
As your data storage needs grow, RS2416+/RS2416RP+ can be connected to a dedicated RX1214/RX1214RP expansion unit3, allowing you to expand storage capacity to 24 drives for a total of 168TB4 without disrupting service. The specially-designed connection cables ensure high-speed data transmission between the main server and expansion unit.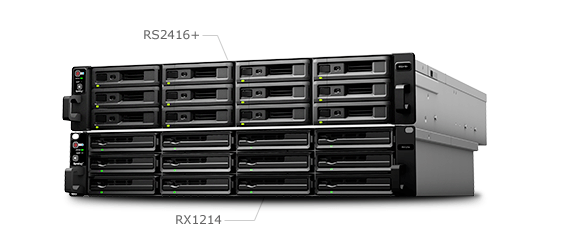 Speedy data encryption with AES-NI
As businesses store more and more critical information in digital form, data encryption has become an essential aspect of any healthy security policy. Equipped with a dedicated AES-NI hardware encryption engine, RS2416+/RS2416RP+ delivers encrypted data transmission speeds over 399 MB/s reading and 198 MB/s writing, making it the ideal digital locker for your sensitive data.
Redundancy mechanisms for higher uptime
RS2416+/RS2416RP+ includes redundant hardware mechanisms to ensure business continuity. The four built-in Ethernet ports with Link Aggregation and failover provide reliability in the event of unexpected hardware failure, while the hot-swappable drives to minimize system downtime during drive replacement. Redundant power supply units5 minimizes the chance of a complete system shutdown due to sudden power loss.
SSD cache technology
RS2416+/RS2416RP+ supports a combination of hard drives and read/write-optimized SSD cache, boosting throughput efficiently while minimizing cost per gigabyte. With full SSD cache reading and writing support, RS2416+/RS2416RP+ offers a significant reduction in I/O latency without crippling your budget. With only a small upfront investment, businesses can benefit from a significant enhancement in server performance.
Award winning OS - DiskStation Manager
Synology DiskStation Manager (DSM) is a sleek, browser-based operating system running on every DiskStation and RackStation, which makes managing your Synology NAS a breeze. Featuring an intuitive user interface, DSM makes accessing and sharing your data smarter and simpler. Synology's Package Center lets you download and install useful add-on packages designed specifically for individual or business needs, meaning you can enjoy more entertainment in your life or better productivity at work.
Fit into business environments easily
With the support of Windows AD, LDAP, and Domain Trust, RS2416+/​RS2416RP+ enables seamless account integration. The User Home feature can automatically create a "home" folder for every user account to minimize the administrator's effort in repeatedly creating "home" folders for all accounts. Windows ACL support on RS2416+/​RS2416RP+ allows IT administrators to fine tune access controls and set up privileges to files and folders on RS2416+/​RS2416RP+ through the familiar Windows user interface. With compatibility for major protocols, RS2416+/​RS2416RP+ can eliminate server configuration overhead and enhance IT administrators' efficiency.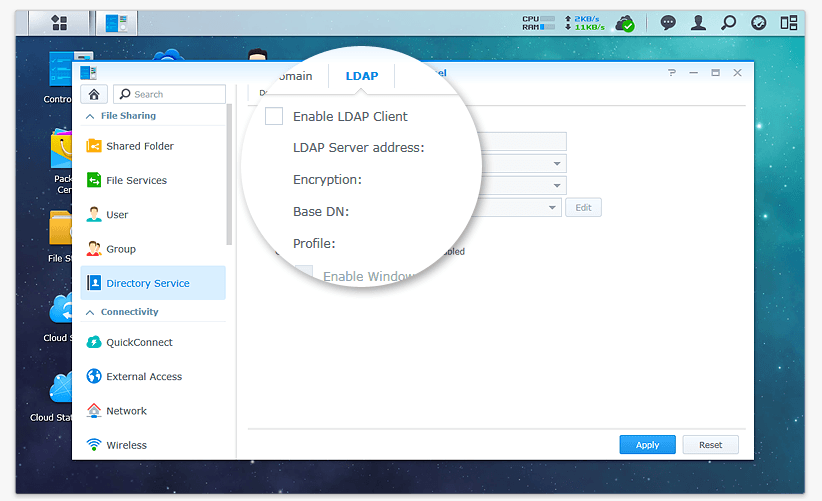 Unified storage system
RS2416+/​RS2416RP+ enables businesses to cost-effectively manage multi-protocol data by integrating file-level (NAS) and block-level (SAN) storage into one unified storage system. Files can be shared across Windows®, Mac®, and Linux® platforms seamlessly with comprehensive network protocol support (CIFS/SMB, AFP, and NFS). RS2416+/​RS2416RP+ provides a cost-effective iSCSI solution, allowing large scale businesses to consolidate storage into data center storage arrays. With thin provisioning available for file-level iSCSI LUN, you can maximize storage utilization by oversubscribing provisions and grow storage space as needed.

Seamless storage solution for virtualization environments
RS2416+/​RS2416RP+ provides seamless storage solutions for virtualization environments, including VMware, Citrix, and Microsoft Hyper-V. With VMware vSphere® 5 & VAAI integration, RS2416+/​RS2416RP+ helps offload specific storage operations and optimizes computation power in VMware environments. Windows ODX support speeds up data manipulation as the data transfer is offloaded. iSCSI also lets SMB users consolidate storage into data center storage arrays while providing hosts with the illusion of locally-attached disks.
Protection by LUN backup, snapshot, and clone
RS2416+/​RS2416RP+ enhances the ease of moving and copying data in a virtualized environment with the features - LUN Backup, LUN Snapshot, and LUN Clone. RS2416+/​RS2416RP+ offers iSCSI LUN backup at storage level without extra charge. Synology LUN Clone and LUN Snapshot only take up 1/1000 of the original size which highly optimizes storage usage. In addition, Synology's LUN Snapshot lets you create up 256 snapshots per LUN using point-in-time technology without having any impact on system performance. With better support to servers under VMware vSphere or Windows environment, IT managers can expect guaranteed VM status and data consistency through application-consistent snapshots.
All-in-one server
With just one RS2416+/​RS2416RP+, it's possible to handle a vast amount of tasks. RS2416+/​RS2416RP+ helps your company gain a competitive edge by acting as your multi-function server. Directory Server provides LDAP service, while DNS and DHCP packages allow you to host a domain name server and automate network IP assignment at no extra cost. With Synology's Proxy Server, you can regulate content access and monitor who can access which website while saving bandwidth. You can host up to 30 websites with Web Station, safeguard the office environments with Surveillance Station, send and receive mails using your own email domain with Mail Station, share printing capability with Printer Server, make RS2416+/​RS2416RP+ act as a VPN server to access company's resources remotely, and more.
Ensuring business continuity
Uninterrupted availability is a critical goal for all businesses. RS2416+/​RS2416RP+ supports Synology High Availability (SHA) technology which combines an active and passive server into one cluster, the former always mirrored to the latter. The Heartbeat mechanism detects regular "heartbeats" between the two servers. If the main server encounters unexpected downtime, the passive server immediately takes over. With multiple LAN ports, RS2416+/​RS2416RP+ also ensures redundancy in the event of unexpected network failure.
Secure your data
RS2416+/​RS2416RP+ offers advanced security measures to protect you from potential security holes. Security Advisor analyzes system settings, password strength, network preferences and removes any possible malware. AppArmor blocks malicious programs from accessing unauthorized system resources. You can also customize the trust level in Package Center to avoid installing packages from untrusted sources, safeguarding your NAS from unknown or tampered files. In addition, RS2416+/​RS2416RP+ provides other security add-ons, such as AES encryption, 2-Step verification, IP block & allow list, Antivirus packages, firewall, and DoS attack prevention.
General
Brand
Synology
Model
RS2416+
Highlights
Designed for growing businesses, RS2416+/RS2416RP+ is a powerful network-attached storage solution featuring schedulable snapshots and resilient data integrity powered by the Btrfs file system, on-the-fly scalability up to 24 drives, as well as reliable performance required by modern workplaces.
CPU
CPU Model
Intel Atom C2538
CPU Frequency
Quad Core 2.4 GHz
Floating Point
Yes
Hardware Encryption Engine (AES-NI)
Yes
Memory
System Memory
2 GB DDR3
Memory Module Pre-installed
2 GB X 1
Total Memory Slots
2
Memory Expandable up to
6 GB (2 GB + 4 GB)
Storage
Drive Bay(s)
12
Max. Drive Bays with Expansion Unit
24
Drive Type
• 3.5" SATA(III) / SATA(II) HDD
• 2.5" SATA(III) / SATA(II) HDD
• 2.5" SATA(III) / SATA(II) SSD
Max. Internal Capacity
96 TB (8 TB HDD X 12) (Capacity may vary by RAID types)
Hot Swappable Drive
Yes
External Ports
USB 2.0 Port
2
USB 3.0 Port
2
Expansion Port
1
File System
Internal Drives
• Btrfs
• EXT4
External Drives
• Btrfs
• EXT4
• EXT3
• FAT
• NTFS
• HFS+
Appearance
Size (Height X Width X Depth)
88 mm X 430 mm X 692 mm
Weight
12.56 kg 13.24 kg (for RP model)
Others
RJ-45 1GbE LAN Port
4 (with Link Aggregation / Failover support)
Wake on LAN/WAN
Yes
System Fan
80 mm X 80 mm X 4 pcs
Fan Speed Mode
• Cool Mode
• Quiet Mode
Easy Replacement System Fan
Yes
Wireless Support (dongle)
Yes
Power Recovery
Yes
Noise Level
41.5 dB(A) 44.3 dB(A) (for RP model)
Scheduled Power On/Off
Yes
Power Supply Unit / Adapter
500W 2 X 500W (for RP model)
AC Input Power Voltage
100V to 240V AC
Power Frequency
50/60 Hz, Single Phase
Power Consumption
70.58 W (Access) 39.11 W (HDD Hibernation) 83.26 W (Access, for RP model) 46.61 W (HDD Hibernation, for RP model)
British Thermal Unit
240.99 BTU/hr (Access) 133.54 BTU/hr (HDD Hibernation) 284.29 BTU/hr (Access, for RP model) 159.15 BTU/hr (HDD Hibernation, for RP model)
Redundant Power Supply (for xs+ and RP model)
Yes
Environment Temperature
Operating Temperature
5°C to 35°C (40°F to 95°F)
Storage Temperature
-20°C to 60°C (-5°F to 140°F)
Relative Humidity
5% to 95% RH
Certification
Certification
• FCC Class A
• CE Class A
• BSMI Class A
Warranty
Warranty
3 Years
Storage Management
Maximum Single Volume Size
108 TB
Maximum Internal Volume Number
512
Maximum iSCSI Target Number
32
Maximum iSCSI LUN
256
iSCSI LUN Clone/Snapshot, Windows ODX
Yes
Supported RAID Type
• Synology Hybrid RAID
• Basic
• JBOD
• RAID 0
• RAID 1
• RAID 5
• RAID 6
• RAID 10
RAID Migration
• Basic to RAID 1
• Basic to RAID 5
• RAID 1 to RAID 5
• RAID 5 to RAID 6
Volume Expansion with Larger HDDs
• Synology Hybrid RAID
• RAID 1
• RAID 5
• RAID 6
Volume Expansion by Adding a HDD
• Synology Hybrid RAID
• RAID 5
• RAID 6
• JBOD
Global Hot Spare Supported RAID Type
• Synology Hybrid RAID
• RAID 1
• RAID 5
• RAID 6
• RAID 10
SSD Support
SSD Read/Write Cache
Yes
File Sharing Capacity
Maximum User Accounts
2048
Maximum Groups
256
Maximum Shared Folder
512
Maximum Shared Folder Sync Tasks
8
Maximum Concurrent CIFS/AFP/FTP Connections
512
Windows Access Control List (ACL) Integration
Yes
NFS Kerberos Authentication
Yes
Data Protection Manager
Maximum Snapshots per Shared Folder
• 256 (at least 4GB RAM is required)
• 64
High Availability Manager
High Availability Manager
Yes
Log Center
Log Center
Yes
Syslog Events per Second
800
Virtualization
VMware vSphere 5 with VAAI
Yes
Windows Server 2012
Yes
Windows Server 2012 R2
Yes
Citrix Ready
Yes
Notes
Performance figures could vary on different environments.
Add-on Packages
Antivirus Essential
Yes
Antivirus by McAfee (Trial)
Yes
Audio Station
Yes
Central Management System
Yes
Cloud Station
Yes
Maximum Concurrent File Transfers
512
Cloud Sync
Yes
Directory Server
Yes
DNS Server
Yes
Download Station
Yes
Maximum Concurrent Download Tasks
80
Glacier Backup
Yes
HiDrive Backup
Yes
iTunes Server
Yes
Java Manager
Yes
Mail Server
Yes
Mail Station
Yes
Media Server
Yes
DLNA Compliance
Yes
Note Station
Yes
Photo Station
Yes
RADIUS Server
Yes
Surveillance Station
Yes
Max IP cam (Licenses required)
40 (including 2 Free License)
Total FPS (H.264)
1200 FPS @ 720p (1280x720) 480 FPS @ 1080p (1920×1080) 250 FPS @ 3M (2048x1536) 200 FPS @ 5M (2591x1944)
Total FPS (MJPEG)
300 FPS @ 720p (1280x720) 150 FPS @ 1080p (1920×1080) 100 FPS @ 3M (2048x1536) 60 FPS @ 5M (2591x1944)
Video Station
Yes
Video Transcoding
Group 1
VPN Server
Yes
Maximum Connections
20
Notes
Surveillance Station throughput is tested with Axis P1347 (H.264@1280x720@30FPS), using continuous recording with live view from Surveillance Station and motion detection by camera. Live view and recording are sharing the same stream from the camera. Recording video is saved every 5 minutes with the limit of archive folder up to 1GB.
Environment & Packaging
Environment
RoHS Compliant
Packaging Content
• Main Unit X 1
• Welcome Note X 1
• Accessory Pack X 1
• AC Power Cord X 1
• AC Power Cord X 2 (for RP model)
Optional Accessories
• Camera License Pack
• 4GB DDR3 RAM Module
• Expansion Unit: RX1214/RX1214RP X 1
• VS360HD
• Synology RKS1314 - Rail Kit Sliding