Synology BeyondCloud BC115J-1200 1-Bay 2TB DiskStation Preconfigured NAS
Synology BeyondCloud BC115J-1200 1-Bay 2TB DiskStation, it is a preconfigured DS115j, MARVELL Armada 370 800 MHz CPU, 256 MB DDR3 System Memory, 2TB Storage, 2 x USB 2.0 Port, The perfect Synology for a beginner, the BeyondCloud comes with hard drives preinstalled, packages configured, and requires minimal setup to get started.
DiskStation BeyondCloud 1-Bay 2TB (Preconfigured DS115j w/ 2TB Storage)
Play. Collaborate. Achieve.
The perfect Synology for a beginner, the BeyondCloud comes with hard drives preinstalled, packages configured, and requires minimal setup to get started. Explore what you can do with a Synology BeyondCloud.
One Bay vs Mirrored
BeyondCloud comes with Seagate's reliable NAS drives, Synology's award-winning NAS OS and popular applications already installed. On top of Seagate's existing 3-year warranty users have the option to select Seagate's data recovery service*, providing peace of mind. Users are saved the time and trouble of selecting disks, and performing the installations themselves. Upon adding a device to their networks, users can quickly begin storing, accessing, and sharing data right away. BeyondCloud comes in three configurations:
Hassle-free installation
The BeyondCloud comes ready to use with Seagate NAS hard drives preinstalled. After plugging in your unit and turning it on, you simply have to log in in order to start adding your data to your new NAS. To learn how to access your NAS from outside of your network, along with many other options, you can simply go to synology.com/learn and follow our video tutorials.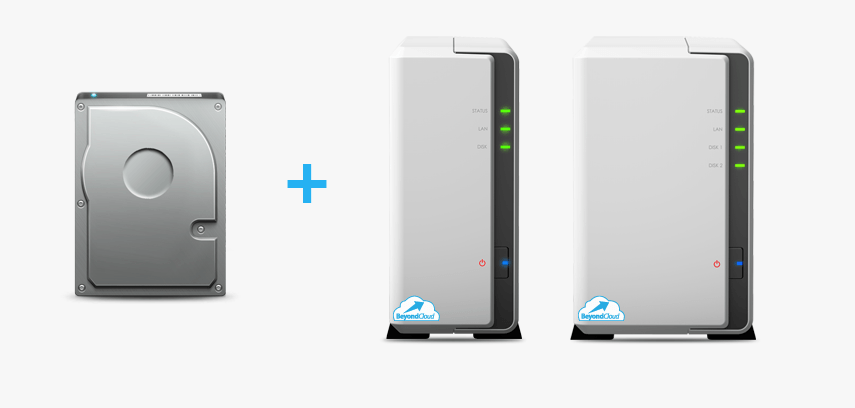 Packages Pre-Installed
BeyondCloud provides you with a central platform to organize, backup, and share photos, music, and video collections. Featuring a streamlined and sleek interface, Synology pre-installed packages - Photo Station, Audio Station, Note Station and Video Station - let you build a seamless entertainment hub effortlessly. Since everything is saved on your BeyondCloud, you can enjoy your media and share your files, and no worries about extra monthly fees for storage capacity.
Photo Station 
Video Station 
Audio Station 
Note Station 
Connect your data quickly and easily
Synology aims to provide you the most convenient way to enjoy all services on BeyondCloud. With Synology QuickConnect, you don't have to deal with difficult remote access setup. QuickConnect frees you from complicated router configuration and port-forwarding, so your entertainment and work files can be accessed on any computer, laptop, or mobile devices instantly without extra charge.
Ultimate file center
File Station is a fast and secure feature for sharing and managing your files stored on BeyondCloud. Just drag-n-drop and upload data from Mac or PC. Advanced filters make it easy to search for documents, photos, or videos. With built-in FTP or email clients, BeyondCloud lets you organize and share files through an advanced web application effortlessly. You can even share files and folders with others by simply sending a link. Files can be reached on mobile devices via the companion mobile app DS file. HTTPS, SSL/TSL encryption, and link expiry dates also ensure file sharing over the Internet is highly secure.
Stream content to your TV
BeyondCloud is highly compatible with other devices, letting you manage and enjoy digital content with the devices you already have: computers, mobile devices, TVs, DLNA devices, and stereos. Synology offers the latest support for TV streaming, including Samsung TV, Roku players, Apple TV, and Google Chromecast, meaning you can stream digital content stored on BeyondCloud to your widescreen TV effortlessly.
Samsung TV
Apple TV
Chromecast
Roku 
Your files anywhere with cloud service
BeyondCloud brings you comprehensive cloud service. Cloud Station lets you sync files among DiskStations and multiple devices, including Windows PC, Mac, Linux, iOS, Android, as well as Windows mobile devices, whereas 2-way sync allows file synchronization among different DiskStations. You can even sync your DiskStation with Google Drive, OneDrive, Dropbox, Box, hubiC, and Baidu Cloud - establish your hybrid cloud to enjoy more storage flexibility and prevent data loss.
Get mobility with our apps
Synology develops versatile mobile apps - DS note, DS audio, DS video, DS photo+, DS cloud, DS file, DS download and DS cam - allowing you to access and manage the contents of your BeyondCloud with smartphones and tablets. QuickConnect brings an easier network experience as it eliminates complicated router configuration or port forwarding. With Synology mobile apps, your multimedia collection and work files are always on the go.
General
Brand
Synology
Series
BeyondCloud
Model
BC115J-1200
Highlights
Synology BeyondCloud BC115J-1200 1-Bay 2TB DiskStation, it is a preconfigured DS115j, MARVELL Armada 370 800 MHz CPU, 256 MB DDR3 System Memory, 2TB Storage, 2 x USB 2.0 Port, The perfect Synology for a beginner, the BeyondCloud comes with hard drives preinstalled, packages configured, and requires minimal setup to get started.
CPU
CPU Model
Marvell Armada 370
CPU Frequency
800 MHz
Floating Point
Yes
Hardware Encryption Engine
Yes
Hardware Encryption Engine (AES-NI)
N/A
Hardware Transcoding Engine
N/A
Memory
System Memory
256 MB DDR3
Memory Module Pre-installed
N/A
Total Memory Slots
N/A
Memory Expandable up to
N/A
Storage
Drive Bay(s)
1
Maximum Drive Bays with Expansion Unit
N/A
Dedicated SSD Cache Bays
N/A
Compatible Drive Type
3.5" SATA(III) / SATA(II) HDD
2.5" SATA(III) / SATA(II) HDD (with optional 2.5" Disk Holder)
2.5" SATA(III) / SATA(II) SSD (with optional 2.5" Disk Holder)
Maximum Internal Raw Capacity
6 TB (6 TB HDD X 1) (Capacity may vary by RAID types)
Hot Swappable Drive
N/A
External Ports
USB 2.0 Port
2
USB 3.0 Port
N/A
eSATA Port
N/A
Expansion Port
N/A
SD Card Reader
N/A
SDCopy
N/A
USBCopy
N/A
File System
Internal Drives
EXT4
External Drives
EXT4
EXT3
FAT
NTFS
HFS+ (Read Only, with max. volume size 2TB)
Appearance
Size (Height X Width X Depth)
166 mm X 71 mm X 224 mm
Weight
0.71 kg
Others
RJ-45 1GbE LAN Port
1
Wake on LAN/WAN
N/A
SFP+ 10GbE LAN Port*
N/A
PCIe x8 Slot for Network Card
N/A
System Fan
60 mm X 60 mm X 1 pcs
Easy Replacement System Fan
N/A
Wireless Support (dongle)
Yes
Noise Level
18.1 dB(A)
Power Recovery
Yes
Scheduled Power On/Off
N/A
Power Supply Unit / Adapter
36W
AC Input Power Voltage
100V to 240V AC
Power Frequency
50/60 HZ, Single Phase
Power Consumption
10.52W (Access)
4.97W (HDD Hibernation)
Redundant Power Supply (for xs+ and RP model)
N/A
Temperature
Operating Temperature
5°C to 35°C (40°F to 95°F)
Storage Temperature
-20°C to 60°C (-5°F to 140°F)
Relative Humidity
5% to 95% RH
Certification
Certification
FCC Class B
CE Class B
BSMI Class B
Warranty
Warranty
2 Years
Storage Management
Max File System Size
16 TB
Max Internal Volume Number
1
Max iSCSI Target Number
10
Max iSCSI LUN
10
iSCSI LUN Clone/Snapshot, Windows ODX
N/A
Supported RAID Type
Basic
RAID Migration
N/A
Volume Expansion with Larger HDDs
N/A
Volume Expansion by Adding a HDD
N/A
Global Hot Spare Supported RAID Type
N/A
SSD Support
SSD Read/Write Cache (White Paper)
N/A
SSD TRIM
N/A
File Sharing Capacity
Max User Accounts
512
Max Groups
128
Max Shared Folder
256
Max Shared Folder Sync Tasks
2
Max Concurrent CIFS/AFP/FTP Connections
64
Windows Access Control List (ACL) Integration
Yes
NFS Kerberos Authentication
Yes
High Availability Manager
N/A
Log Center
Log Center
Yes
Syslog Events per Second
50
Virtualization
VMware vSphere 4
N/A
VMware vSphere 5 with VAAI
N/A
Windows Server 2008
N/A
Windows Server 2012
N/A
Windows Server 2012 R2
N/A
Citrix Ready
N/A
Add-on Packages
Antivirus Essential
Yes
Antivirus by McAfee (Trial)
N/A
Audio Station
Yes
Central Management System
N/A
Cloud Station
Yes
Maximum Concurrent File Transfers
64
Cloud Sync
Yes
Directory Server
Yes
DNS Server
Yes
Download Station
Yes
Maximum Concurrent Download Tasks
20
Glacier Backup
Yes
HiDrive Backup
Yes
iTunes Server
Yes
Java Manager
Yes
Mail Server
Yes
Mail Station
Yes
Media Server
Yes
DLNA Certification
N/A
DLNA Compliance
Yes
Photo Station
Yes
RADIUS Server
Yes
Surveillance Station
Yes
Max IP cam (Licenses required)
5 (including 2 Free License)
Total FPS (H.264)
50 FPS @ 720p (1280x800)
20 FPS @ 1080p (1920×1080)
10 FPS @ 3M (2048x1536)
10 FPS @ 5M (2591x1944)
Total FPS (MJPEG)
20 FPS @ 720p (1280x800)
10 FPS @ 1080p (1920×1080)
10 FPS @ 3M (2048x1536)
6 FPS @ 5M (2591x1944)
Video Station
Yes
Video Transcoding
Group 2
VPN Server
Yes
Maximum Connections
5
Environment & Packaging
Environment
RoHS Compliant
Packaging Content
Main Unit X 1
Welcome Note X 1
Accessory Pack X 1
AC Power Adapter X 1
RJ-45 LAN Cable X 1
Optional Accessories
Remote
Camera License Pack
Disk Holder: Type C
VS240HD