QNAP REXP-1200U-RP 12-bay 2U Rackmount Expansion Enclosure
REXP-1200U-RP885022003433EX628645
In StockNew3 Year
QNAP REXP-1200U-RP 12-bay 2U Rackmount SAS/SATA/SSD RAID Expansion Enclosure for Turbo NAS
QNAP REXP-1200U-RP
SAS/SATA/SSD RAID Expansion Enclosure for Turbo NAS
Up to 8 expansion enclosures with Max.96 HDDs supported
48TB per expansion enclosure with Max. 384TB raw capacity
Flexible storage scalability for Turbo NAS. Simple & reliable.

The QNAP REXP-1200U-RP expansion enclosure is designed for expanding the storage space on the Turbo NAS and can support maximum 384TB raw capacity* by connecting multiple expansion enclosures via high-speed mini SAS cables. This is especially useful for large data applications, such as video surveillance, data archiving, and TV broadcast storage.

*Supported Turbo NAS models and maximum number of applicable expansion enclosures.
Plug and use, seamless capacity expansion

Simply connect a REXP-1200U-RP to a Turbo NAS* and power it on. The Turbo NAS will detect the hard drives in the REXP-1200U-RP as newly installed local drives. The Turbo NAS capacity can be expanded seamlessly by using the powerful QTS Storage Manager.

*QTS 4.0.4 or newer is required for the Turbo NAS.
Missing mode protection

When the disconnection of a RAID expansion enclosure is detected, the Turbo NAS blocks IO access to protect data. The system can recover from the missing mode to the normal state with data staying intact.
High density, high efficiency and high scalability

The REXP-1200U-RP supports 12 hard drives and 48TB raw capacity in 2U rack space. The REXP-1200U-RP has two SAS wide ports (IN port and OUT port) for host connectivity and daisy-chain respectively. Each SAS wide port combines four SAS channels(maximum 8 SAS channels supported per expansion enclosure). The solution delivers unprecedented performance of up to 24Gbps per host connection.
Powerful QTS Storage Manager

The QTS Storage Manager neatly presents tools and options for managing system storage with an intuitive graphical interface, which simplifies the process of NAS capacity expansion and REXP-1200U-RP management. IT administrators can easily monitor the health status of REXP-1200U-RP and disks in it. When cascading multiple expansion enclosures in a rack, the Locate Disk and Locate Enclosure functions assist IT administrators for quick maintenance.
An excellent backup solution for the Turbo NAS

In addition to expanding an existing volume, IT administrator can use the REXP-1200U-RP as a budget-friendly external storage to perform speedy and secure backup tasks for the Turbo NAS. The QNAP RTRR (Real-Time Remote Replication) or rsync service lets IT administrator back up the Turbo NAS data to the REXP-1200U-RP on a real time or scheduled basis.
Flexible drive type and capacity

The REXP-1200U-RP offers high flexibility in hard drive selection. IT administrators can choose enterprise-level SAS hard drives with high performance and high reliability for mission critical application, low-cost but high-capacity SATA hard drives for large data archiving, or high-speed and high stability SSD for I/O intensive operations. Just make the best use of each drive.
Software Specification
Expansion Enclosure Management

The functions listed below are managed via the QNAP QTS operating system.
Support for hard disk's S.M.A.R.T. capacity
RAID expansion enclosure LED identifier
Location indication of RAID expansion enclosure
Location indication of hard disks on RAID expansion enclosure
QNAP Flexible Volume

The disks, RAID Groups, storage pools, and volumes in the RAID expansion enclosures are configured via the QTS operating system.
Support for multiple RAID groups in a storage pool to ensure data safety
Online storage pool expansion
Support for thin-provisioned volume with space reclamation
Support for thin-provisioned iSCSI LUN with space reclamation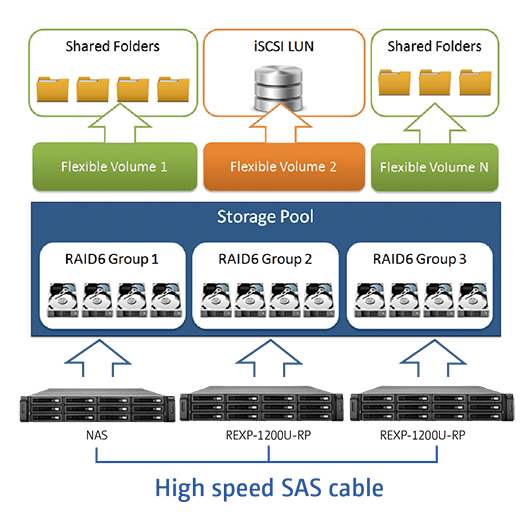 Intelligent Storage Manager

The QTS 4.0 Storage Manager neatly presents tools and options for managing system storage with an intuitive graphical interface. From reviewing the system storage allocation in the Dashboard, to managing volumes, Storage Pools, disks and iSCSI storage, the Storage Manager provides a centralized place to ease the work of storage management.
General
Brand
QNAP
Model
REXP-1200U-RP
Highlights
QNAP REXP-1200U-RP 12-bay 2U Rackmount SAS/SATA/SSD RAID Expansion Enclosure for Turbo NAS
Hardware Specification
Host Interface
Two SAS 6Gbps 4x wide port (IN port, OUT port)
Hard Drive
12 x 3.5-inch SAS/SATA 6Gb/s, SAS/SATA 3Gb/s hard drive or 2.5-inch SAS/SATA, SSD hard drive
Note:
The standard system is shipped without hard drives.
LED Indicators
Front panel: Status, fault, system over heat, fan error
Rear panel: SAS link, SAS error, enclosure ID
Form Factor
2U, rackmount
Dimensions
88 x 439 x 520 mm (H x W x D)
3.46 x 17.28 x 20.47 inch (H x W x D)
Weight
Net weight (NAS only) : 14.8 kg / 32.63 lb
Gross weight (with packing and accessories) : 21.18 kg / 46.69 lb
Sound Level
Standby: 43.30dB
In operation: 44.10dB
(with 12 x 1TB hard drive installed)
Power Consumption
Idle mode: 105W
In Operation: 147W
(with 12 x 500GB hard drive installed)
Temperature
0-40˚C
Relative Humidity
0-60%
Power Supply
Input: 100-240V AC, 50-60Hz
Output: 600W
COM Port
Reserved for system maintenance
Fan
3 x 6 cm smart cooling fan (hot-swappable fan module)
Packaging
Package Content
REXP-1200U-RP x 1
0.5m SAS Cable x 1
Power Cord x 2
Flat head screw x 48 (for 2.5" HDD)
Flat head screw x 48 (for 3.5" HDD)
Quick Installation Guide x 1
Hardware Installation CD x 1