ASUSTOR AS-304T 4-bay NAS
ASUSTOR AS-304T 4-bay NAS, Diskless, Intel Atom (1.60GHz) Dual-Core Processor, 1GB DDR3 RAM, A blend of data protection and entertainment - Designed for your home office.
Description
Specification
Expert Review
Related
EXcaliberPC's Buyer Comparison Guide (Essentials at a glance)

The key differences between these models are highlighted below:

AS-604T: The only 4-bay NAS equipped with a LCD readout and the fastest Intel Atom processor rated at 2.13GHz, memory is expandable to 3GB, comes with more USB ports and added eSATA ports. Dual LAN as oppose to single LAN on rest of the product group. Most powerful 4-bay NAS w/ HDMI output from ASUSTOR up to date.

AS-304T: Mid-range Intel Atom processor rated at 1.6GHz, single LAN, HDMI 1.4a output, 3.5mm Audio Jack and infrared receiver.

AS-204TE: Entry-level Intel Atom processor rated at 1.2GHz, single LAN, HDMI 1.4a output, 3.5mm Audio Jack and infrared receiver.

AS-204T: Entry-level Intel Atom processor rated at 1.2GHz, single LAN, no HDMI output.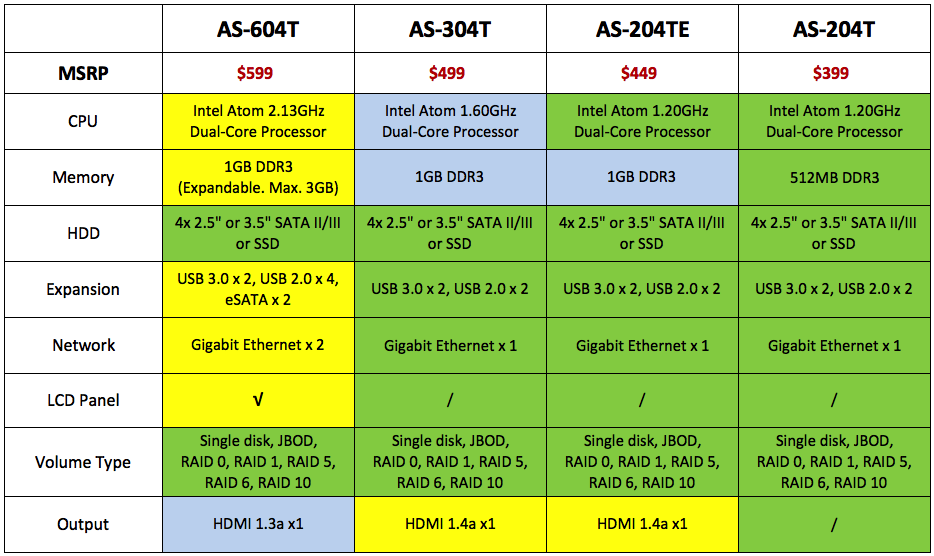 *Click on Comparison Chart above to enlarge*
To experience the ADM 2.5 online, please click on Live Demo and log in.
(User Name & Password: demo / asustor)
ASUSTOR AS-304T
A blend of data protection and entertainment - Designed for your home office
Featuring an elegant user interface, rich variety of features and rock-solid stability
Exceptionally cost-effective private cloud storage
Powerful built-in HD multimedia player
Flawless integration of AirPlay streaming
Support for a variety of mobile applications
Designed to reliably protect your data
Energy efficient with quiet operation
Create the Ultimate Home Multimedia Center
Enjoy electrifying digital entertainment on demand with ASUSTOR NAS. The built-in HDMI interface and variety of multimedia Apps let you to enjoy all of your favorite multimedia from your NAS by directly connecting it to an LCD/LED TV or amplifier.

ASUSTOR NAS supports Full HD (1080p) output, allowing you to savor your movies, TV shows, music and photos in high definition. What's more, through ASUSTOR's App Central, you can install additional multimedia server Apps such as UPnP Media Server and iTunes Server giving your NAS the ability to stream multimedia content to your computers, TVs and mobile devices.
ASUSTOR Portal
A new way to use your NAS's local display
There's no need to turn on your computer when you want to play videos or browse the internet. Simply connect your NAS to any HDMI ready display and leave the rest to the ASUSTOR Portal! Within the ASUSTOR Portal you will be able to use Boxee and XBMC which instantly turn your NAS into a multimedia player. Moreover, you can directly browse the Internet using the built-in Google Chrome browser. No matter if it's logging in to ADM to manage your NAS, watching clips on YouTube or monitoring live feeds from Surveillance Center, the ASUSTOR Portal helps you get it done from the convenience of your TV.
Customizable Settings
You are free to add all of your favorite websites to the ASUSTOR Portal. Simply clicking on their shortcut icons will allow you to quickly access them. You can also adjust the order of the shortcut icons as well as the desktop wallpaper allowing you to customize the ASUSTOR Portal according to your preferences.
Easy Remote Control
ASUSTOR provides a variety of methods that allow you to remotely control ASUSTOR Portal.
The AiRemote app for use with your mobile devices

* The ASUSTOR Remote is available for use with the following models: AS-302T, AS-304T, AS-202TE, AS-204TE
* AS-6 series users will need to purchase an IR receiver before being able to use the ASUSTOR Remote with their NAS.
Cloud Access On The Go
ASUSTOR's dedicated mobile apps for iOS and Android allow you to get easy access to your NAS while you are out and about.
AiMaster
AiMaster is dedicated NAS management software for your mobile device. No matter if you are an individual user or IT administrator, AiMaster lets you conveniently manage your NAS while its comprehensive support for push notifications ensures that you stay up to date with the status of your system.

AiData
AiData lets you safely browse and access all the files stored on your NAS from your mobile device. Additionally, it allows you to stream multimedia content and view photos from your NAS as well as providing integration with Dropbox that gives you easy data management across the cloud.
AiDownload
Use your mobile device to control Download Center on your ASUSTOR NAS. Whether it's searching, downloading or managing tasks, AiDownload gets it done in the blink of an eye. Furthermore, when your downloads are completed, your mobile device will receive immediate notification.
Protect your priceless memories and data
ASUSTOR understands how important data security is to you. No matter the file type, RAID data protection can ensure the protection of your most treasured data. When used in conjunction with the multitude of built-in data backup features offered by ADM, you can rest assured that your most important digital assets are safely guarded. ADM's built-in data backup features include:

Rsync Backup, FTP Backup, Cloud Backup, External Backup & One Touch Backup. All come with 2-way transfer support!
Apple Time Machine support for Mac OS
With our in-house designed backup utility - Backup Plan, you can also schedule regular backups of the data on your Windows PC to your NAS device. Backup Plan also supports real-time backup. Files that are added or changed on your computer will be automatically uploaded to your NAS device.
Your Ideal Private Cloud
Worried about how safe the data that you have put in public cloud storage is?

You can now use ASUSTOR NAS devices to effortlessly create a private cloud storage space for yourself. Using our exclusive Cloud Connect technology, you can access the data on your NAS device from almost anywhere on the planet. Whether by computer or mobile device, you need only an internet connection to access your NAS device from anywhere and at any time.
Unleash Unlimited Potential
The applications that come pre-installed with each ASUSTOR NAS device are just the beginning. At your convenience, you can browse through and download any applications that peak your interest from App Central. App Central allows you to explore the unlimited potential of ASUSTOR NAS devices while creating a personalized NAS device for yourself.

Whether your interests lie in business, website construction or even digital home entertainment, App Central provides you with the boundless variety of applications that you require to satisfy your digital lifestyle needs.

AMD 2.0
An intuitive experience, attuned to your digital lifestyle.
Simplified Management
Seamless system migration
Outgrowing your system? Time for an upgrade? With ASUSTOR NAS, switching to a higher capacity NAS model is a piece of cake. When it's time to move your storage volumes to a new system, simply take out your existing hard drives and then insert them into the new system. That's it. Your new system will be up and running instantly.
Dr. ASUSTOR
As the name might suggest, Dr. ASUSTOR acts like a family physician and performs general checkups on all of your settings. If certain settings are found to be compromising the security of your system or data, Dr. ASUSTOR will provide you with the appropriate set of instructions to fully restore security and protection.
Searchlight
Quickly find the items you need
Can't find that song on your NAS that you want to share? Use Searchlight to instantly find that song and send a Share Link to your friend! Developed by ASUSTOR, Searchlight is a rapid search technology that is built into ADM and provides quick and precise searches allowing you to easily find the files that you need. Searchlight also features instant file previewing and fuzzy searches, substantially increasing your efficiency and productivity.
System Notifications
Enjoy peace of mind
Always checking up on your NAS? Worried about your data and other digital assets? ASUSTOR NAS features real-time system event notifications allowing you to enjoy peace of mind knowing that you'll be notified about any major system events. Notifications can be sent via Email, SMS or push notification giving you a variety of ways to instantly stay on top of the latest developments.
Multitasking
True multitasking
Something else need your attention? With true multitasking you can instantly switch to another application and then switch back to the previous one to pick up right where you left off. ADM allows you to simultaneously run different applications all at once while giving you the power to seamlessly switch between them.
Background operation
Sometimes, tasks such as uploading or downloading multimedia may take some time. ADM is able to perform tasks such as these in the background, effectively freeing you up to complete other tasks.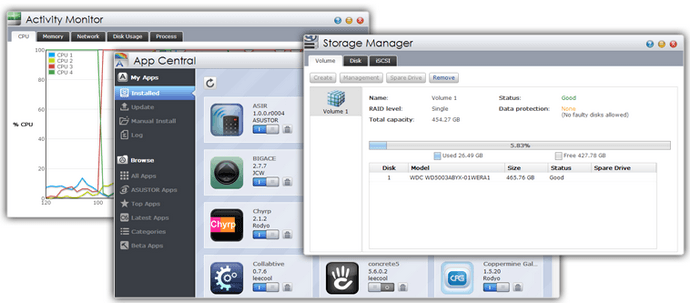 User Interface
Intuitive controls
Using a NAS has never been easier. ADM's fresh and vibrant user interface features intuitive and familiar modern OS controls. With ASUSTOR NAS you'll never have to worry about a steep learning curve.
My Favorites
The My Favorites feature lets you quickly open your most frequently used applications by pinning them to the taskbar, increasing your productivity and efficiency.
Personalized desktop
Customize your desktop to your liking. Whether it's organizing your Apps or changing your home screen wallpaper, ADM gives you the freedom to design the look and feel of your desktop. Furthermore, the "My Favorites" feature lets you pin frequently used applications to the taskbar allowing for easy access.
Package Content
General
Brand
ASUSTOR
Model
AS-304T
Highlights
ASUSTOR AS-304T 4-bay NAS, Diskless, Intel Atom (1.60GHz) Dual-Core Processor, 1GB DDR3 RAM, A blend of data protection and entertainment - Designed for your home office.
Hardware Specification
CPU
Intel Atom 1.6GHz Dual-Core Processor
Memory
1GB DDR3
HDD
4 x (2.5" / 3.5" SATA II/ III or SSD)
Expansion
2 x USB 3.0
2 x USB 2.0
Network
1 x Gigabit Ethernet
Output
1 x HDMI
System Fan
1 x 120mm
Infrared Receiver
Yes
3.5mm Audio Jack
Yes
Input Power Voltage
100V to 240V AC
Certification
FCC, CE, VCCI, BSMI, C-TICK
Operation
Power Consumption
36.7W (Operation)
23.6W (Disk Hibernation)
0.8W (Sleep Mode)
Noise Level
19.4 dB(A)
Operation Temperature
5°C~35°C (40°F~95°F)
Humidity
5% to 95% RH
Size and Weight
Size
185.5 x 170 x 230 mm (H x W x D)
7.30 x 6.69 x 9.06 in (H x W x D)
Weight
3.4 kg / 7.51 lb
Package Contents
Package Contents
1 x AS-304T Unit
1 x Installation CD
1 x AC Power Cord
1 x RJ-45 LAN Cable (Cat 5e)
16 x Flat Head Screw (for 3.5" HDD)
16 x Flat Head Screw (for 2.5" HDD)
Remote Control (Optional Purchase)
Software & Features
Operating System
ADM 1.0 Onwards
Built-in App Central for Various Apps
Supported OS
Windows XP, Vista, 7, Server 2003, Server 2008
Mac OS X 10.4 Onward
UNIX, Linux, and BSD
Supported Languages
Deutsch, English, Français, Italiano, Nederlands, Русский, 日本語, 한글, 简体中文, 繁體中文, Česká, Polski
Supported Browsers
Internet Explorer 9
FireFox
Chrome
Safari
Network Protocols
CIFS/SMB, AFP, NFS, FTP, WebDAV, Rsync, SSH, SFTP, iSCSI, HTTP, HTTPS
File System
Internal Disk: EXT4
External Disk: FAT32, NTFS, EXT3, EXT4, HFS+
Storage Management
Support Multiple Volumes with Spare Disks
Volume Type: Single disk, JBOD, RAID 0, RAID 1, RAID 5, RAID 6, RAID 10
Support for Online RAID Level Migration
Support for Online RAID Capacity Expansion
iSCSI
Maximum Targets: 256
Maximum LUNs: 256
Target Masking
LUN Mapping
ISO File Mounting
Supports MPIO & MCS
Persistent (SCSI-3) Reservations
Disk Management
Scheduled Bad Block Scans
Scheduled S.M.A.R.T Scans
Network
TCP/IP (IPv4 & IPv6)
Link Aggregation: 0
Jumbo Frame (MTU)
VLAN
Cloud Connect
Wireless Network
DDNS and EZ-Router
Backup Solutions
Rsync (Remote Sync) Backup
Cloud Backup
FTP Backup
External Backup
One Touch Backup
System Administration
Log Type: System Log, Connection Log, File Access Log
Real-time Online User Monitor
Real-time System Monitor
Network Recycle Bin
User Quota
Virtual Drive (ISO Mounting, Maximum 16)
UPS Support
Access Control
Maximum Number of Users: 4096
Maximum Number of Groups: 512
Maximum Number of Shared Folders: 512
Maximum Number of Concurrent Connections: 512
Supports Windows Active Directory
Security
AES 256-Bit Folder Encryption
Firewall: Prevent Unauthorized Access
Network Defender: Prevent Network Attacks
Alert Notifications: E-mail, SMS
Encrypted Connections: HTTPS, FTP over SSL/TLS, SSH, SFTP, Rsync over SSH
Featured Apps
File Explorer
Web-based File Management
ISO File Mounting
Share Links
Surveillance Center
Live Monitoring (4 Free Channels)
Multiple Channel Playback with Audio
Supported Browsers: Internet Explorer, Chrome, FireFox (Windows only)
Event Notification
UPnP Media Server
Supports PS3 and other Digital Media Player Capable Devices
Supports On-The-Fly Transcoding for Most RAW Images and Audio(OGG, FLAC)
Supported Image Formats: BMP, GIF, ICO, JPG, PNG, PSD, TIF, RAW Image³ (3FR, ARW, CR2, CRW, DCR, DNG, ERF, KDC, MEF, MOS, MRW, NEF, NRW, ORF, PEF, RAF, RAW, RW2, SR2, X3F)
Supported Audio Formats: 3GP, AAC, AC3, AIFC, AIFF, AMR, APE, AU, AWB, FLAC1, M4A, M4R, MP2, MP3, OGG Vorbis1, PCM, WAV, WMA
Supported Video Formats: 3GP, 3G2, ASF, AVI, DAT, FLV, ISO, M2T, M2V, M2TS, M4V, MKV, MPv4, MPEG1, MPEG2, MPEG4, MTS, MOV, QT, SWF, TP, TRP, TS, VOB, WMV, RMVB, VDR, MPE
FTP Explorer
Directory Structure View with Drag & Drop Transfers
Task Monitor
Stopping of Transmission Task & Resumption of Connection
Encrypted Connections: Explicit over TLS, Implicit over TLS
FTP Site Manager
Bandwidth Control
Maximum Simultaneous Transfer Control
VPN Client
Supported VPN Protocols: PPTP, OpenVPN
Transmission Package Monitor
PPTP Authentication: PAP, CHAP, MS CHAP, MS CHAP2
PPTP Encryption: No MPPE, MPPE (40, 128 bit), Maximum MPPE (128 bit)
OpenVPN Port Control
OpenVPN Link Compression
iTunes Server
For iTunes on Mac & Windows
Supports AirPlay
Supports iOS Remote Pairing
Supported Audio Formats: AIF, M4A (AAC & Apple Loseless), M4P, M4R, MP3, WAV
Supported Video Formats: M4V, MOV, MP4
Supported Playlist Formats: M3U, WPL
Download Center
Supports BT(Torrent & Magnet Link), HTTP and FTP Downloads
Torrent Search
Choose Files Before a BT Task Starts
Customizable Download Schedule
Bandwidth Control
RSS Subscription and Automatic Downloading (Broadcatching)
ASUSTOR Download Assistant for Windows & Mac
AiDownload for iOS & Android
Boxee / XBMC (Beta)
Play All Media Content Stored on NAS
Video Output via HDMI
TV Shows, Movies, Apps and More
ASUSTOR Customized Features
AiRemote Mobile App
* Currently, Boxee is only available on the 6 series while XBMC is only available on the 3 series.
SoundsGood
Import Personal/Public Music Collection
Personal/Public Music Collection Permission Control
Playlist Editor
ID3 Tag Editor
Local Speaker Support: HDMI, USB, Audio Jack
Supported Audio Formats for Browser: MP3, WAV, Ogg
Supported Audio Formats for Transcoding Through Browser: AAC, AIFF, Flac, Apple lossless, WMA
Supported Audio Formats for Local Speaker: MP3, WAV, Ogg, AAC, AIFF, Flac, Apple lossless, WMA
ASUS DAC Support