ASUS MeMO Pad 7 Spectrum Cover - Black
90-XB3TOKSL001E0-886227392360EX623787
In StockNew1 Year
ASUS MeMOPad 7 Spectrum Cover, Color: Black, Make your MeMOPad 7 Tablets more comfortable.
Spectrum Cover
Dress your MeMO up in colorful textured cover
One-piece impact resistant slim cover uses hardened plastic
Includes scratch-preventing screen overlay
Custom pattern matches MeMO design for beauty beyond the device
Every port and button remains accessible but gains protection from dust
Available in four vibrant colors and snaps into place with a single push!
Practicality and beauty converge in a snap-on cover designed especially for MeMO Pad. Made of durable materials to protect against impacts and screen damage, it offers a stylish look with choice of three distinct colors. Built to last, the cover has been fabricated with a cool texture, and keeps functionality maxed with openings for all ports and buttons. If you want to make the most of your MeMO Pad experience while enhancing its looks, this is the accessory to choose.
Completed protection-Cover with screen protector!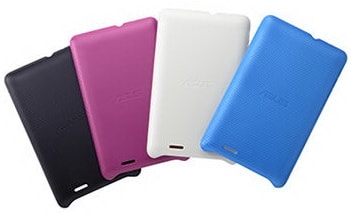 Spectrum Cover
Custom pattern matches MeMo design for beauty beyond the device
Screen Protector
Includes scratch-preventing screen overlay
General
Brand
ASUS
Model
90-XB3TOKSL001E0-
Color
Black
Highlights
ASUS MeMOPad 7 Spectrum Cover, Color: Black, Make your MeMOPad 7 Tablets more comfortable.
Specifications
Compatible Model
ASUS MeMO Pad
Dimensions
Spectrum Cover: 19.98(L) x 12.29(W) x 1.39(H) cm
Screen Protector: 19.2 (L) x 11.5(W) x 0.012(H) cm
Weight
Spectrum Cover: 48g
Screen Protector: 8 g
Material
Spectrum Cover: PC+ABS
Screen Protector: PET