Transcend TS4GUSDHC4 4GB (MicroSDHC) Flash Card - Retail
TS4GUSDHC4760557819820EX622454
In StockNewLifetime
Featuring a minimum write speed of 4 MB/s. Transcend's Class 4 microSDHC cards are a smart and cost-effective choice for you to capture and store more of your everyday life with your mobile gadgets.
One Card Per eBay Account Only*
We will only send ONE Card out even you order multiple*
FREE Shipping via USPS First-Class Mail Only
30 Day Replacement Warranty
Transcend TS4GUSDHC4

Today's mobile devices are becoming increasingly more advanced and powerful. With new gadgets being launched so frequently, consumers need a compact, versatile card that can keep up with their upgrades. Transcend's Class 4 microSDHC card is an ideal card for cost-conscious users looking to extend storage capacity and improve performance on their devices.
Upgrade to Full-Speed
Measuring at 1.1cm x 1.5cm x 0.1cm, Transcend's Class 4 microSDHC card is a performance powerhouse close to the size of a finger nail. Industry standard Class 4 guarantees a read/write transfer speed of up to 19MB/s and 5MB/s. This allows users to enjoy faster app-launching speed and skip-free media playback.
Easy-to-Use, Plug & Play Operation
Transcend's Class 4 microSDHC card is perfect for today`s high-end mobile devices, including smart phones, digital cameras, eBook readers, portable gaming consoles, tablet PCs and much more. To begin, simply insert the card into an available microSDHC port on your mobile device.
Extended SDHC Device Compatibility
Transcend's Class 4 micro SD Card supports all SD 2.0 devices is backward compatible with all SD 1.0 devices. For added convenience, the card comes with a full-size SDHC adapter which allows the card to be inserted into devices with SDHC port, such as digital cameras and camcorders. Users can also take advantage of faster speed by pairing the memory card with our RDF8 card reader. Downloading and uploading contents between devices will be quick and seamless.
Built-in Error Correction Code (ECC)
The microSDHC card is equipped with built-in Error Correction Code, which automatically detects and corrects potential transfer errors to protect data integrity. Enhanced with a write-protection switch, users will never have worry about data loss.
RecoveRx Software
Transcend's Class 4 microSDHC card includes a free download of our exclusive RecoveRx software - a user-friendly application that allows the users to conduct an in-depth search within their storage device for traces of erased data that can be recovered.
Quality Assurance
Transcend's Class 4 micro SD Card is manufactured with premium quality NAND Flash memory chips and is extensively tested for performance and reliability.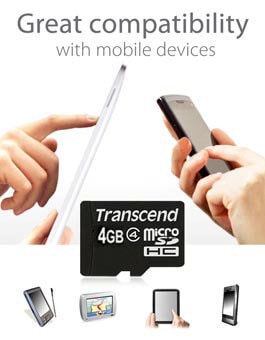 General
Brand
Transcend
Model
TS4GUSDHC4
Specifications
Product Type
MicroSD High Capacity (microSDHC)
Number of Memory Cards
1
Storage Capacity
4 GB
Speed Class Rating
Class 4
Form Factor
MicroSD High Capacity (microSDHC)
Thickness
39.4 mil
Green Compliant
Yes
Green Compliance Certificate/Authority
RoHS
Limited Warranty
Lifetime