Synology DS213+ 2-bay Customizable NAS
DS213+846504001347EX619780
1 In StockNew2 Year
Synology DS213+ 2-bay NAS, Diskless, Portable Form Factor, 1.067GHz Duo Core Processor, 512MB DDR3 RAM, USB 3.0 / SD Card Slot / eSATA port, it is a high-performance 2-bay all-in-1 NAS server for SMB users.
DiskStation DS213+
Synology DiskStation DS213+ is a high-performance 2-bay all-in-1 NAS server for SMB users. Offering high-performance, energy efficiency, and full list of business features in a network attached storage solution that helps small and medium-sized businesses centralize backup, protect critical assets and share files quickly and efficiently.
Highlights
Dual Core CPU with Floating-Point Unit
Extra Power-saving System Hibernation
111.2 MB/sec Reading, 81.4 MB/sec Writing
Hardware Encryption Engine
Features SuperSpeed USB 3.0
Windows ADS and LDAP Directory Service Support
Hassle-free System Installation
Running on Synology DiskStation Manager (DSM)
Connections & Buttons
Dual Core Performance with Smart Energy Management
With Duo Core processing power, Synology DS213+ delivers an average 81.4 MB/sec writing speed under RAID 1 configuration in a Windows environment, and 111.2 MB/sec reading1. The built-in Floating-Point Unit makes for faster thumbnail processing to enhance photo viewing at different resolutions. Coming with USB 3.0 support which offers transmission speeds of up to 5 Gbps, namely 10 times faster than USB 2.0, DS213+ takes less time for data transfer for external hard drives and consumes less power.
Synology DS213+ delivers high performance when needed, but during low activity level it also uses very small amount of power. During System Hibernation mode, DS213+ consumes only 2.6 watts of power to listen for network activities, and resumes back to operation in very short amount of time upon demand. Compared to shutting off the whole system, System Hibernation brings a closer balance between smart energy management and system responsiveness.
Fit to Business Environment
Comprehensive network protocol support assures seamless file sharing across Windows, Mac, and Linux platforms. Windows ADS and LDAP integration allows the Synology DS213+ to quickly and easily fit in an existing business network environment with no need to recreate user accounts. Windows ACL support provides much finer-grained access control and efficient privilege settings, allowing users to enjoy native Windows experience.
Internet file access is simplified by the encrypted FTP server and the web-based File Station. HTTPS, the built-in firewall, and IP auto-block support ensure file sharing over the Internet is protected at a high security level.
Rich Office Applications
Synology DiskStation DS213+ runs on renowned multitasking operating system, the Synology DiskStation Manager (DSM). Offering a comprehensive list of business applications, the DS213+ can be customized to run multiple applications of your choice to fulfill the requirement of your business environment. The DS213+ replaces several pieces of traditional network hardware with rich features designed specifically for workgroups and offices such as antivirus, video surveillance, webmail, VPN, and LDAP directory services.
Figure 1) Time Backup
Synology's Time Backup is an innovative backup solution that lets you easily browse through different backup versions, and restore with a click whenever there is a need.
Applications are managed in the Package Center, an application portal that hosts applications as ready-to-use packages; to ensure high software integration as well as one-click-installation to eliminate guess work during installation. Additional approved 3rd party PHP web application such as content management, customer relationship management & e-commerce system can be hosted on DS213+ by using Web Station with support for PHP/MySQL web content.
Effective Backup Solutions
Synology DS213+ offers a centralized backup target to consolidate fragmented and unstructured data across a network. PC users can back up their data to Synology DS213+ using Synology Data Replicator software, and Mac OS X users enjoy native Apple Time Machine integration.
A backup wizard is provided for backing up data from DS213+ to another Synology DiskStation or any rsync server via an encrypted connection, or to an external hard drive via USB 3.0 or eSATA connection. The wizard also makes it easy to back up DiskStation data to the cloud via Amazon S3 or STRATO HiDrive. In addition, users can back up and restore DiskStation shared folders in multiple versions using Synology Time Backup package.
Shared Folder Sync allows users to synchronize a specific folder from Synology DS213+ to another DiskStation - a server-to-client backup mechanism that takes place whenever something is changed on the server side. Users will be able to share documents within their local office seamlessly and safely with encrypted connection. When your DiskStation is down, you will be able to have an immediate backup running in no time.
Hassle-free System Installation
Web Assistant is a web-based utility to makes every DiskStation as easy to install as possible. Installation is done inside your existing web browser by setting up all vital system components in few simple steps. Combined with a quick start widget, users can simultaneously tour the DSM operating system and setup to use right away.
Energy Efficient with Cool and Quiet Design
Synology DS213+ is designed with energy efficiency in mind. Not only does it provide a 92x92 mm fan and the smart airflow to keep the system running cool 24/7, its noise dampening design makes it really quiet compared to PC counterparts. The support of multiple scheduled power on/off and System Hibernation can further reduce power consumption and operation cost.
All Synology products are produced with RoHS compliant parts and packed with recyclable packing materials. Synology acknowledges the responsibility as a global citizen to continually work to reduce the environmental impact of every product produced.
Synology continues to seek solutions to smooth out the challenges users are confronted with. As a result, DSM is continually evolving to fulfill user expectation. The following topics are our commitment to cloud services, digital content management, easy storage configuration, support in virtualization, and multi-function NAS application.
Synology Cloud Services
Users at any level, from home to businesses, can setup their own private cloud on DiskStation effortlessly by using Synology's Cloud Services and enjoy the benefits of automatic file sync between computers and mobile devices, one-click Internet setup and a cost free DDNS service.
Complete Multimedia Platform
Create yourself a connected lifestyle with Synology DiskStation and make all digital contents accessible anytime, anywhere, and on all kinds of screens. Put together movies, live TV, music, and photos so you can simply enjoys everything on one single platform, with the best user experience yet.
Virtualization Support
DSM supports all major virtualization solutions, as Synology strives to provide the most up to date support, including VMware vSphere 5 and Windows Server 2012 support. With such commitment, businesses can become more flexible with their IT deployment.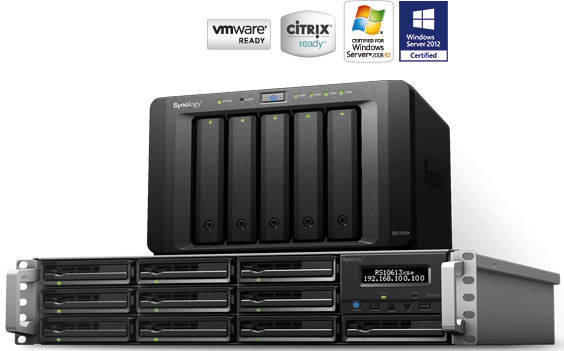 Domain Integration
Synology NAS supports Active Directory and LDAP domain service. IT managers can centralize user account and permission control in one place for end users to access Synology NAS and its various DSM services with single domain account. You can also host your own LDAP server to manage network devices with ease.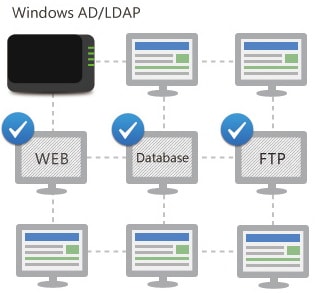 Domain Integration
Synology NAS supports Active Directory and LDAP domain service. IT managers can centralize user account and permission control in one place for end users to access Synology NAS and its various DSM services with single domain account. You can also host your own LDAP server to manage network devices with ease.
General
Brand
Synology
Model
DS213+
Highlights
Synology DS213+ 2-bay NAS, Diskless, Portable Form Factor, 1.067GHz Duo Core Processor, 512MB DDR3 RAM, USB 3.0 / SD Card Slot / eSATA port, it is a high-performance 2-bay all-in-1 NAS server for SMB users.
Hardware
CPU Frequency
1.067GHz Duo Core
Floating Point
Yes
Hardware Encryption Engine
Yes
Memory
DDR3 512MB
Internal HDD/SSD
3.5" or 2.5" SATA(II) X 2 (hard drives not included)
Max Internal Capacity
8TB (2X 4TB hard drives) (The actual capacity will differ according to volume types.)
Hot Swappable HDD
Yes
External Storage Interface
1X USB 2.0 port, 2X USB 3.0 ports, 1X eSATA port, 1X SD card slot
Size
165mm X 108mm X 233.2mm (H x W x D)
Weight
1.25kg
LAN
1X Gigabit
Wireless Support
Yes (wireless dongles not included)
Wake on LAN/WAN
Yes
Noise Level
19.9 dB(A)
AC Input Power Voltage
100V to 240V
Power Frequency
50Hz to 60Hz, Single Phase
Power Consumption
22.2 W (Access); 2.64 W (System Hibernation)
Operating Temperature
5°C to 35°C (40°F to 95°F)
Storage Temperature
-10°C to 70°C (15°F to 155°F)
Relative Humidity
5% to 95%RH
Applications
File Station
Virtual Drive, Remote Folder
Backup Solutions
Network Backup, Local Backup, Desktop Backup (Window: Synology Data Replicator; Mac:
Apple Time Machine backup application), Shared Folder Sync - Max Task Number : 4,
Configuraiton Backup, USBCopy/SDCopy, LUN Backup - Max Concurrent Task Number: 2
Mail Server
Supported Mail Server Protocols : POP3, SMTP, IMAP
FTP Server
Bandwidth Control, Custom FTP Passive Port Range, Anonymous FTP, Transfer Log
Web Station
Virtual Host (up to 30 websites), PHP/MySQL, 3rd-Party Applications Support
Printer Server
Max Printer #: 2, Printing Protocols: LPR, CIFS, IPP, Apple AirPrint, Google Cloud Print, Multi Functional Print Server (MFP functions are for Windows PC only)
iOS/Android Applications
DS photo+, DS audio, DS cam, DS file, DS finder
Windows Phone Applications
DS finder
Add-on Packages
Surveillance Station
Default IP cam #: 1, MAX IP cam # (licenses required): 12 (1 free license to install 1 IP camera. Additional licenses can be purchased to expand the license quota.)
Directory Server
LDAP Directory Server, Backup and Restore LDAP Database
VPN Server
Maximum Connections : 15, VPN Method: PPTP, OpenVPN
DHCP Server
Independent DHCP Server on Different Network Interfaces, Multiple Subnets Support, Address Reservation
Syslog Server
SSL Connection, Log Rotation: 6 months, 1 year, 2 years, 3 years, Email Notificaiton
Mail Station
Webmail Interface for Mail Server, Receiving Mails from Multiple POP3 Mailboxes, Customizable SMTP Server
Antivirus Essential
Full System Scan, Scheduled Scan, White List Customization, Virus Definition Auto Update
Time Backup
Maximum Task Number : 4, Multiple File Versions Retained, Instant File Restoration
Cloud Station
Maximum User Accounts : 16, Retain Historical and Deleted File Versions
DLNA/UPnP Media Server
PS3/Xbox 360 Support
Download Station
Supported Download Protocols: BT/HTTP/FTP/NZB/eMule
Maximum Concurrent Download Tasks : 50
Other Packages
Photo Station, Audio Station, iTunes Server, 3rd-Party Packages
General
Networking Protocols
CIFS, AFP, FTP, iSCSI, Telnet, SSH, NFS, SNMP, WebDAV, CalDAV
File System
EXT4
EXT3 (External Disk Only)
FAT32 (External Disk Only)
NTFS (External Disk Only)
Storage Management
Max File System Size: 16TB, Max Internal Volume #: 256, Max iSCSI Target #: 10, Max iSCSI LUN#:
10, Supported RAID Type : Synology Hybrid RAID, Basic, JBOD, RAID 0, RAID 1
File Sharing Capability
Max User Account: 2048
Max Group: 256
Max Shared Folder: 256
Max Concurrent Connections (CIFS, FTP, AFP): 256
Privilege
Windows Access Control List (ACL)
Directory Service
Windows ADS Domain Integration, LDAP Integration
Security
FTP over SSL/TLS
IP Auto-Block
Firewall
Encrypted Network Backup over rsync
HTTPS Connection
Utilities
Synology Web Assistant, Synology Assistant, Synology Data Replicator
Supported Clients
Windows XP onward, Mac OS X 10.5 onward, Ubuntu 9.04 onward
Support Browsers
Chrome, Internet Explorer: 8, 9, Firefox, Safari (Mac): 5
Environment and Packaging
Environment
RoHS Compliant
Package Content
DS213+ Main Unit, Installation Disc, Welcome Note, Assembling Kit, AC Power Cord, AC Power Adapter, RJ-45 LAN Cable X1
Optional Accessories
Remote
Camera License Pack
Warranty
2 years